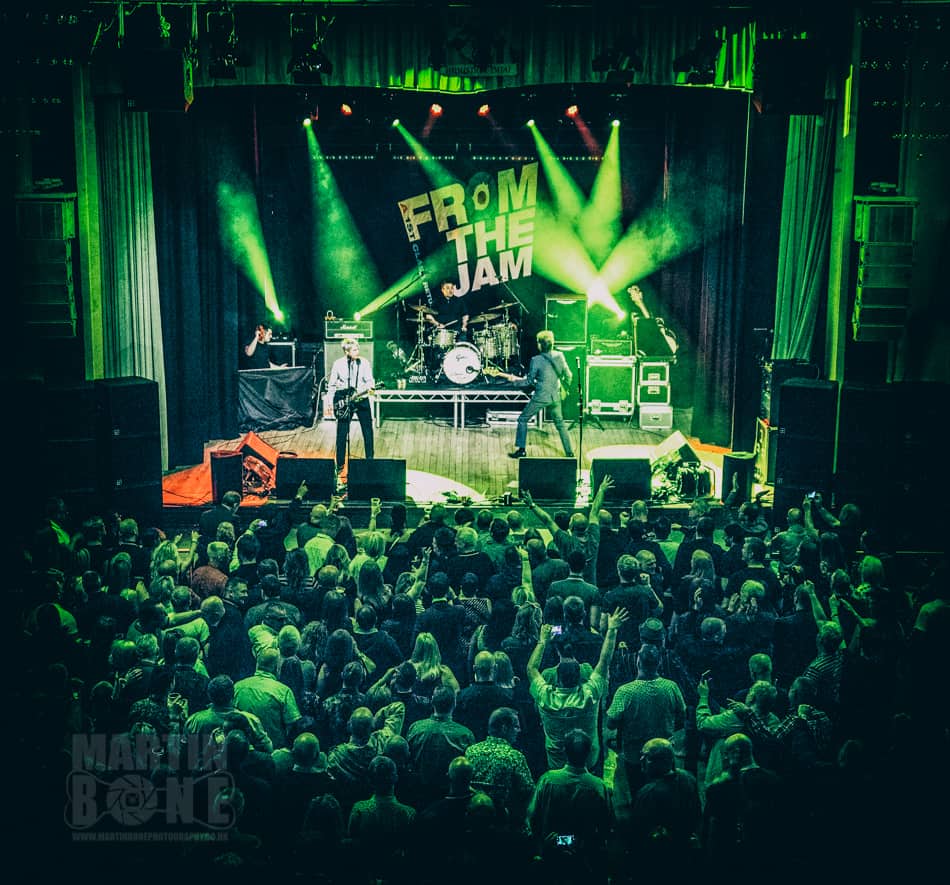 By Martin Bone, Rock At Night Scotland Correspondent
Venue: Troon Concert Hall, South Ayrshire Scotland-Date 14th May 2016 – From The Jam  "Smashing the Clock Tour" with support from Seaside Sons & Dogtooth.
Rock At Night is proud to welcome Martin Bone, photographer and journalist, from Scotland.  He reviewed and photographed From The Jam on Saturday, May 14th, and gave us a very interesting review from the prospective of a concert photographer.  Many of you probably know the experience of attending a concert from the perspective of an attendee.  Martin will give you his unique view from his viewpoint.  Enjoy!
Seaside Sons
I was excited to be attending the Troon Concert Hall to photograph Seaside Sons as their official Photographer. It was also special for me as I am a massive fan of The Jam, which is now features Bruce Foxton and a new name "From The Jam". Also, featured during the evening was Dogtooth, a young mod/punk band.
I was met by Jason Skimming, vocalist from Seaside Sons, who was about to start their sound check. I hadn't been in the hall before so I didn't know the set up. Being a photographer, I am interested in checking out the stage set up at venues. I was pleased to see the "Town Hall" stage was perfect. The lights looked amazing which really helps in capturing good shots when it is dark since we can't use flash—a golden rule for music photographers. However, I have seen users of cameras with flash, which is very annoying.
Seaside Sons started the sound check and the audio was on point. So with that I started to check the levels of the audio with my new sound recorder and then check my camera settings. It was a nice night, the atmosphere felt good, the sun was shining, and Troon being so close to the beach there was a buzz in the Ayr. It has been a long time since Ayrshire music had such a great line-up and with a legend in Punk/Mod music performing.
I then went with Seaside Sons to their dressing room and it was obvious to me that the promoters and organizers were well prepared. They also had a VIP section with a DJ playing music on vinyl. This was with Tommy Clark who I know through the local music scene here in Ayrshire.
The Promoters Twisted Lemon organized the event which looked like it was on its way to being successful. There was alcohol a plenty and everyone was in high spirits. The merchandise stand was all set up and the stage was set for a fantastic night of music. At that moment Bob Williamson approached and gave me my ALL ACCESS pass which allowed me to roam freely in the hall to capture the event.
First up, to start of the show was a local band Seaside Sons with their melodic Brit-pop indie style music. Jason and the lads began their set with their first track "Into My World". I have to say having followed the lads for over two years this had to be their best performance the sound was on point.
I had discussed with Craig McGinn (bassist of the Seaside Sons) briefly before their set to grasp some of the background to the music they play and about new tracks they have just released.
I chatted with Bassist Craig McGinn, who provided me with a set-list and a little background to each track. He explained to me that, "Into My World" was written over a guitar riff and Pav Cathcart helped complete it.
The next track on the set list the guys played was "Out With The Tide" which is one of their first tunes, written about their hometown of Ayr in Scotland. The song "Roll On" was written by Pav Cathcart–an absolutely brilliant song and it is easy to sing along too. The crowd knew this and you could hear them sing the chorus.
"A Price To Pay" was the next on the set list, which was a new song I hadn't heard before. As the guys belted it I could clearly hear this tune would be an instant hit—a lovely catchy beat and you can hear yourself singing it. For me, this was my favorite song. From what I understand, the song was written by Craig and Jason, but the intro of the song was Campbell's idea, which I believe makes the song kick in a lot faster.
Next up was their first single "Weekend Rockstar" and followed with "Let Me Be", which ended their set on a high, and proved to be a magical performance by the lads .
The Seaside Sons were truly amazing and probably played their best performance to date. The sound was on point and they are surely going to be signed up really soon. There is a great future ahead for the band who pulled many new fans that night, which truly was a testament to their performance
You can purchase their first album Out of Time on ITunes.
Seaside Sons Members: Jason Skimming-Vocals, Craig McGinn- Bass, Pav Cathcart- Guitar, Campbell Sproat – Drums /Vocals
Videos
Seaside Sons
Music Video for Roll On – Filmed by Martin Bone Photography
At the gig in Troon
https://www.youtube.com/watch?v=6jrGbSMBBE8&feature=youtu.be&list=PLx446Lamnew_ziDm1Th94i7O6TVgtBspI
Photo Gallery
Seaside Sons
DOGTOOTH
Next up was support band Dogtooth, which happen to be a very young band of lads ranging between age 14 and 16. They received a brilliant response from the crowd and obviously from the reaction and the people dancing, they have attained a good following. Dogtooth played four original compositions "A Way of Life", "Crash 'n' Burn", "Hey You", and "Get In Get Out" as well as covers of songs by The Clash and Oasis. They held their own on stage and pulled off a wonderful performance.
It ironic that The Jam was also in this age group when they first started and to be that young and on stage supporting a legend as Bruce Foxton must have been overwhelming. Dogtooth was on point and the crowd was obviously enjoying their performance since I observed people between the ages of 20 and 60 pogo' , dancing around and shouting " WE ARE THE MODS" The bumping into each other took me back to my younger days as a teenager loving the MOD culture the music and tonight was like being 16 again. Truly awesome.
Dogtooth have a brilliant future ahead of them. They totally owned that stage in Troon.
SET LIST
CIGS & BOOZE
A WAY OF LIFE
ADORED
DREAMING OF YOU
CRASH AND BURN (THEIR OWN TRACK)
MY GENERATION
LOCK ALL THE DOORS
NICE N SLEAZY
HEY YOU
MORNING GLORY
SHOULD I STAY
GOTTA GET AWAY
GET IN GET OUT
THE REAL ME
RESURRECTION
Photo Gallery
Dogtooth
From The Jam
Bruce Foxton, and his band From The Jam had arrived in Troon with a large crowd turning out at Troon Concert Hall, Troon Scotland. Based on my observation, the crowd were teens during the late 70s and 1980s; however, it was clear to see that the crowd were from all ages were eager to see a legend and to relive those days of sharp suits and sharper lyrics, of inner city anthems and suburban hymns and music from The Jam albeit minus Paul Weller and Rick Buckler and original member Steve Brookes.
Troon Concert hall is a wonderful venue and brings out the best in them and they play a blinder, winning new converts along the way. Long live the Underdog!
It must be strange for Bruce Foxton to find himself, at the age of 60, to be playing in what is essentially a tribute band to his own group from three decades ago. Not that this is reflected in tonight's performance, however, as Foxton – looking remarkably well is clearly loving playing the classic Jam songs as well as his own solo material.
The crowd danced their way to a frenzy. There'll be a few older blokes with sore knees and necks when they wake up the next day, as plenty of them tried to relive their glory days with some pogo action as Foxton led From The Jam through "In The City", "Strange Town", "That's Entertainment", "Beat Surrender" and "Going Underground".
The social comment of "That's Entertainment", the anti-violence anthem "Down In The Tube Station At Midnight", The Eton Rifles' class war parable, the nuclear war nightmare of "Going Underground" and the giddy optimism of "Beat Surrender" were amongst the songs they belted out.
I am a big Jam fan and found myself while taking the shots singing along. I stopped to listen to "Start" which is my favourite Jam song– however the guys performed all the hits to the joy of the crowd who clearly enjoyed every second.
One thing I took note of is that I knew that Bruce Foxton would jump at any time and he didn't disappoint and proved he is as fit as he was in his early days–and what I call "The Foxton Jump" he did with style. A true professional. I had my cameras ready and managed to capture a few jumps in still image and on video.
I took refuge from the crowd and remained upstairs in the balcony to watch the performance and to capture some video and photographs. It was something to witness–the enjoyment of the crowd bouncing into each other and all very well-behaved. As From The Jam finished and completed their encore and stood in front of the stage, the crowd once again applauded the band for an awesome performance and bringing some nostalgia and mod revival back to Ayrshire.
I spoke with some of the crowd who asked me if I caught Bruce Foxton in a photograph since he was (and is) in high demand as he is a legend in eyes of the Mods and Rockers who have followed him since the begin of The Jam. The band left the stage for about five minutes leaving the crowd chanting WE ARE THE MODS and I guess knowing they would come back on as wehadn't heard " Down the Tube Station at Midnight". We could hear in the background the sound of a tube trains so we knew there was something building, hoping that the band would come out again as the band came back on to do an encore. They finished with another top song "Going Underground" and the crowd once again went crazy bouncing around and belting out the chorus.
The whole performance was truly sensational and every act proved how professional and how music is still alive and enjoyed no matter your age. Well done to Twisted Lemon Productions for organizing the event and to the musicians. The whole event was very well organized and sound engineers had it on spot on.
SET LIST
Town Called Malice
To Be Someone
David Watts
Pretty Green
Butterfly Colector
But I'm Different Now
Monday
Smithers Jones
Boy about Town
When You're Young
Saturday Kids
Time Will Come
Pictures and Diamonds
That's Entertainment
Start!
Slow Down
Man in the Corner Shop
Eton Rifles
Down in the Tubestation at Midnight
In The City
The Gift
Going Underground
Photo Gallery
Videos
**From The Jam – New Album will be released 20TH MAY 2016-SMASH THE CLOCK
The images may not be reproduced, copied, transmitted or manipulated without the written permission to Rock At Night and the photographer. Use of any image is a violation of the United States and International Copyright laws.

Latest posts by Martin Bone
(see all)