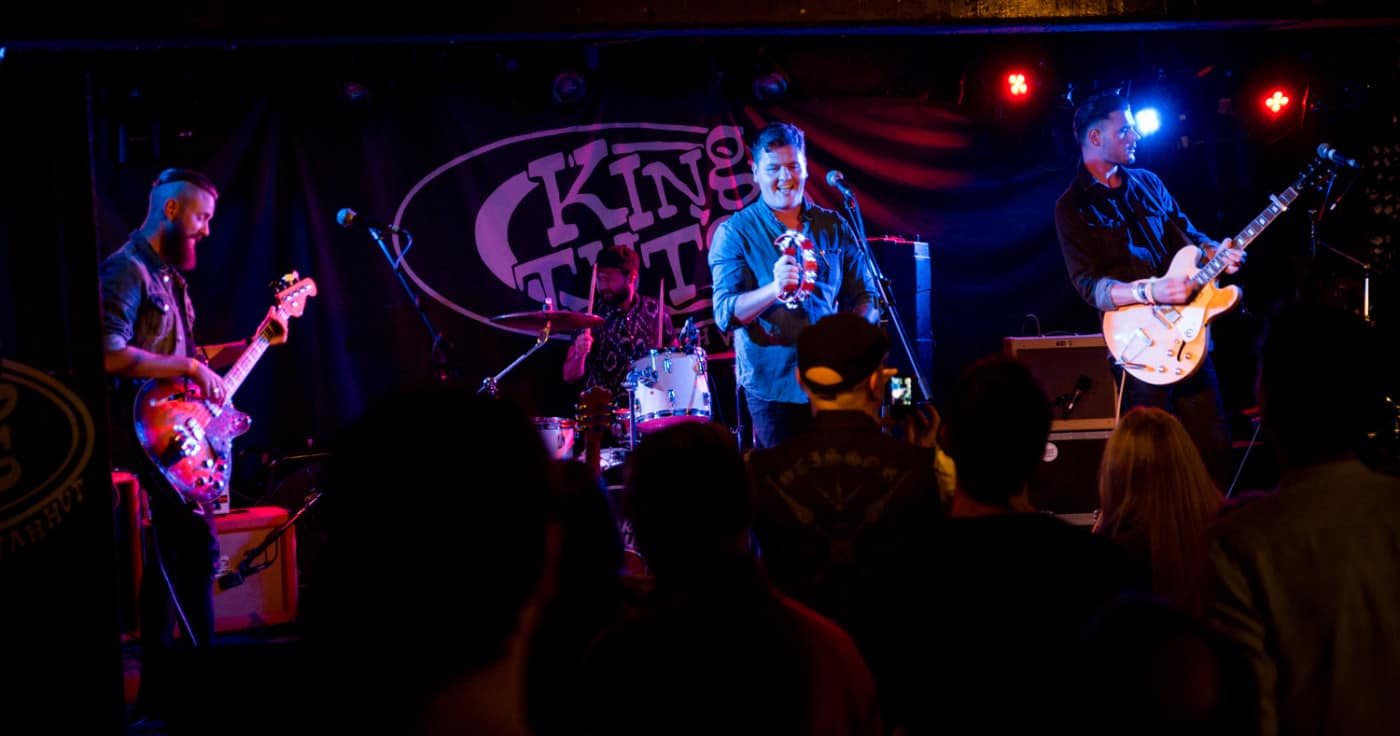 By Martin Bone, Rock At Night Scotland Correspondent
Venue: King Tuts Wah Wah Hut, Glasgow –June 30, 2016
I was lucky to be asked to go along to King Tuts, Glasgow to meet with Broken Witt Rebels a Birmingham blues-rock band. This would be the band's first time at the venue King Tuts Wah Wah Hut and in Scotland.
I was looking forward to a great night of music and photography and also for the first time, conducting a proper video interview with a band.
I always enjoy attending King Tuts in Glasgow. Tuts has a great history and is so iconic that some of the greatest bands have played at this small venue–one that comes to mind, of course, is Oasis. Oasis played there almost 23 years ago so there is a great vibe and buzz and it can be overwhelming for some. It's considered a great honour to be able to play on the same stage as some of the musicians who have since gone on to greater things.
King Tuts Glasgow might be small but its electric. There is almost a magical buzz feel about it being at the venue with such a relaxed chilled out environment. Not only does it provide awesome music, their food is brilliant.
Now on to the concert with the Broken Witt Rebels! I was very lucky to have been provided an exclusive copy of the boys brand new EP Georgia Pine, which I have on repeat in my car! It's catchy and just so intense I found myself head-nodding a few times. I just love the soulfulness in Danny's vocals. Georgia Pine is a belter of an EP, which has a very chilled out classic Southern American bluesy rock styled vibes, with the help of Danny's raw, husky, soulful vocals.
The band was traveling the long journey up North to Scotland from Birmingham. I arrived early at King Tuts at around 4:30pm the main bar area was empty and asked a member of staff who said  the band hadn't arrived as yet. So with that in mind I found a good seating area within the bar area where I could also grab some food later and make some notes.
It was perfect seating for all the members of band to all sit together and for me to grab my video interview with them. The bar area is comfortable and you can see photographs and posters of acts which have played at the venue and other events through King Tuts.
A few hours had passed and I was aware that sound check was at 6pm. I thought I better grab some food to which I ordered a mighty Godfather burger. What a feed! And what can I say about the friendly staff at the venue? If you are ever in Glasgow and want to get an exclusive night with alcohol, food and music, then King Tuts Glasgow is the place to be. The few times that I have been at the venue it has never disappointed.
It would be just after 5pm I was sat just making notes and scoffing my lush burger when out of the blue all four of the guys sat next to me not realizing who I was. I cheekily introduced myself and it was so cool when we finally met up. The guys looked relaxed and were excited about playing at King Tuts. They had noticed that on a chalk notice board next to their name were names listed like Muddy Waters, Deep Purple and Led Zeppelin. I had mentioned to Danny (lead vocals, guitar) that I felt they had a sound similar to Kings of Leon and also for some reason I felt Keane. Danny felt humble to be mentioned in the same genre as these bands, and was very flattered, grateful, and proud. He also agreed with me when I mentioned Keane since he was known to look like their lead singer, which I had to agree. I also had to let them know how much I love the new EP and for me my favorite cut was "Guns". So with that, I grabbed a video interview with the guys to find out how they all got to together and how they came up with their name Broken Witt Rebels. We discussed their meeting and supporting Sir Tom Jones as well as their recent trip to France–and don't mention the football. I guess it was a struggle for them to understand my strong Scottish accent with James T (Guitar) cheekily commenting that I was Welsh.
With the video interview in the bag it was time to take some promotional photos of the band. We choose the iconic staircase which lead upstairs to the main stage area. The steps are so cool and when you see the years and artists that have been at Tuts it really becomes heartwarming and special. Danny mentioned it was such a privilege to be playing at King Tuts, which made grabbing a image of the guys on the steps and then later outside at he massive King Tuts sign as a special moment.
When the guys were eventually on stage what struck me firstly was how quickly they got into playing—it was BANG—straight into "Low". It was evident to me these guys enjoy what they do and how much they all love being together as a band–so professional and organized.
The night started with their top track "Low" which has had constant airplay on many UK and worldwide radio stations and has reached over 10,000 hits on SoundCloud. The night also consisted of some of the tracks from their brand new EP including "Guns" and "Georgia Pine" as well as some from their previous EP, including "Howlin'" and "Shake Me Down". Also on the set list were two brand new tracks named "Come On Over" and "God Knows". Earlier when I was speaking with James Dudley (drums) that this kind of event is perfect to try playing new songs to test and to see how well they are captured with the audience and fans.
All of the guys were focused and you could see they really enjoying playing live and being on stage. As I took the shots I could see the enjoyment in their faces and the love they have for each other was obvious and that their they are fully connected on stage, moving around and walking over to each other while playing, and looking directly at each other as they perform. I could see the sweat and the passion in all of them and while talking the shots, I was driven along the journey. While the lads were sweating buckets I too was feeling the intensity of the performance behind my lens. What a fantastic band and show!
The band didn't disappoint and the people at the concert clearly loved the performance—especially when they were playing my favorite song "Guns". I was at the back of the venue and for a few times stopped taking photographs to sing along and to take in the passion and strength with the lads as it is such a catchy intense song.
Broken Witt Rebels Live are a joy to see and I will mostly certainly grab a chance to catch them again. From what I can see these guys are going to be massive and I can see them hitting the big time with all GUNS blazing. Come on UP the Rebels.
Members: Danny Core (Lead Vocal and Rhythm Guitar), Luke Davis  (Vocals and Bass Guitar),James Tranter (Vocals and Lead Guitar), James Dudley (  Drums ); Genres: blues-rock, rock
**Video and photography by Martin Bone
Set List
LOW
CLOUD MY DAY
HOWLIN
COME ON OVER
SUZIE
GOD KNOWS
TURN ME ON
GEORGIA PINE
GUNS
SHAKE ME DOWN
Photo Gallery
Video
"Guns"
LINKS
The images may not be reproduced, copied, transmitted or manipulated without the written permission to Rock At Night and the photographer. Use of any image is a violation of the United States and International Copyright laws.

Latest posts by Martin Bone
(see all)