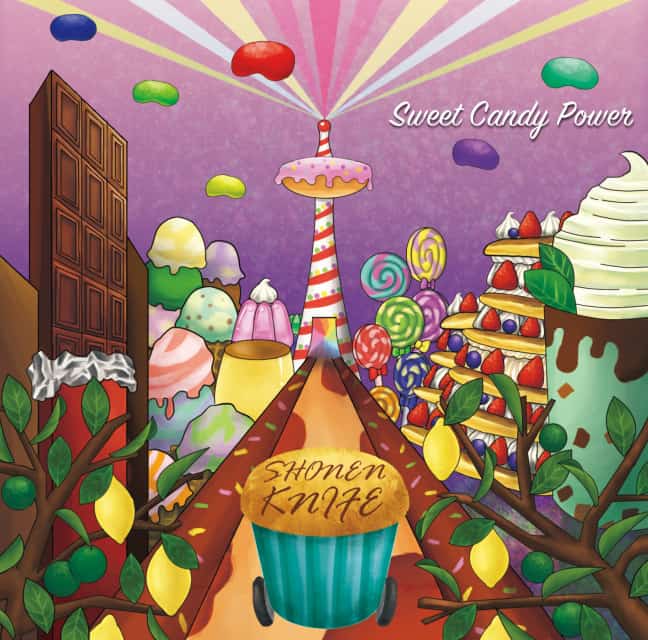 By Chyrisse Tabone, Rock At Night Tampa
Album Review:Shonen Knife's SWEET CANDY POWER–Release date June 5, 2019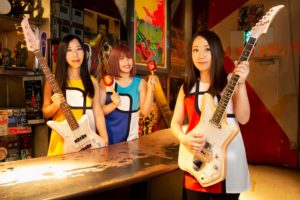 Rock At Night has been covering Shonen Knife for a few years now and was thrilled to review their 19th album Sweet Candy Power (Good Charamel Records).  The new album features sisters Naoko and Atsuko with Drummer Risa as well as ShonenKnife alumni Ritsuko and Naru.
There's a reason Shonen Knife has been around for 35+ years, influencing such notables as Kurt Cobain of Nirvana—featuring hard-driving punk, with the sweetness of candy canes, in 60s retro glory!  With the band's cult-following and never-ending touring, these ladies wearing Mondrian-inspired dresses, pack a punch—and then some—with Sweet Candy Power.
There's plenty of garage rock and punk fun with "Party", which Shonen Knife declares…please invite us to a party…we'll be there!  Lots of harmonies and clapping ensue with "Dizzy", which sounds like GoGo's meets The Knack.  "Sweet Candy Power" begins with an acoustic guitar lead but the breaks out into full power-punk glory. Shonen Knife takes on politics with "My Independent County" but reel in the 60s with bubblegum and "Candy Land" themed titles "Ice Cream Cookie Sandwiches" and "Peppermint Attack".  "Wave Rock" with its jangly guitars, sounds kind of B-52s-ish yet "Never Never Land" has a very different riff (dare I say Allman Brothers).  A very sing-along "California Lemon Trees" harks back to more 60s sunshine and finally "Match 3" is The Ramones meets 60s AM radio.
Sweet Candy Power is pure punk-pop pleasure but don't be fooled by the light-hearted, infectious melodies, food-oriented themes, and sweet harmonies—there's plenty of lead guitar riffs and pogo-dancing beats, that remind us Shonen Knife are serious musicians. I absolutely love Sweet Candy Power as it is the perfect summer CD.  You dig?
Shonen Knife is Naoko (Vocals and Guitar), Atsuko (Bass and Vocals), and Risa (Drums and Vocals). Sweet Candy Power is out via Good Charamel Records
Sweet Candy Power
Tracklisting
1. Party
2. Dizzy
3. Sweet Candy Power
4. My Independent Country
5. Wave Rock
6. Ice Cream Cookie Sandwiches
7. Never-Never Land
8. Peppermint Attack
9. California Lemon Trees
10. Match 3

Latest posts by Chyrisse Tabone, Ph.D.
(see all)