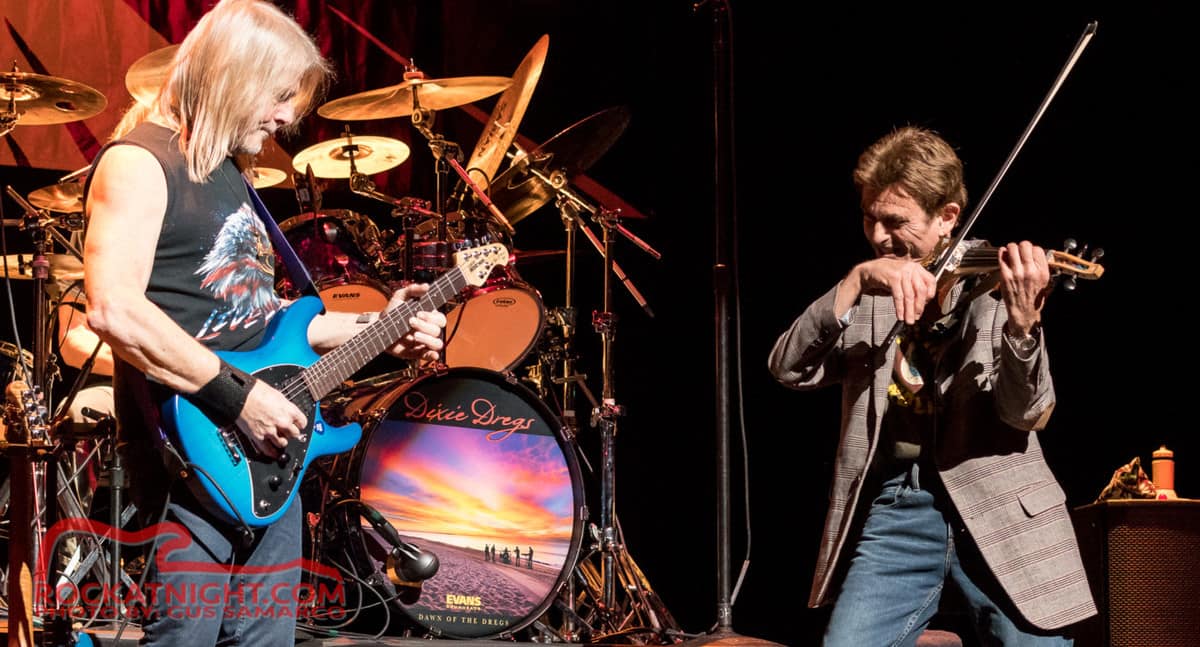 By Gus Samarco, Rock At Night Raleigh
Venue: The Carolina Theatre, Raleigh–March 6, 2018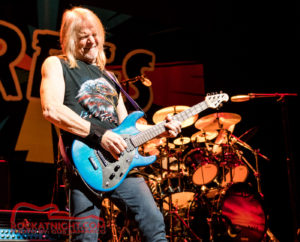 Growing up in Brazil, in a city where big bands wouldn't come to play, the very first big name band I got to see was Deep Purple, with Steve Morse. Later on, I saw Steve Morse again, this time with the Dixie Dregs, when they opened for Dream Theater at the Maritime Hall in San Francisco. This was back in 2000 so when I heard Dixie Dregs was going to tour in 2018 with the original lineup, I was doing the happy dance.
The Carolina Theatre is an incredible venue that I'm very fond of, for the simple fact the best photo I've ever taken was at the venue.  The theater has great lighting, ambience, and ladies and gentlemen, is what Jim Breuer would call a "Concert Venue". The seats are numbered and the light does go off before the band comes on stage, which enhances the excitement of a show and produces that "giddily feeling" in your stomach as they actually start playing… but I digress.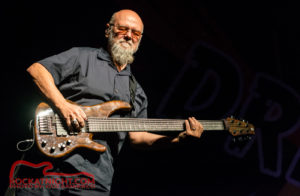 The lights came on and Steve Morse himself was planted in front of me– and here I am again,  feeling giddy. Let me tell you, folks, in times like this, it is very good to feel old, and know you have been listening to music of this magnitude for decades.
I was stoked to see the Dixie Dregs up close and personal this time–it was a great pleasure and totally an unforgettable experience. It's undeniable that Steve Morse has been a great influence on not only my musical taste, but also inspiring other musicians I like. It was really good to see a bunch of old men on stage, performing like they're back in their 20's again. The Dixie Dregs delivered a "No Bullshit Rock'n'Roll" performance like no other.  Music at its best.  Totally top notch and five stars!
Dixie Dregs: Steve Morse (guitar), Allen Sloan (violin), Morgenstein (drums), Steve Davidowski (keyboards, saxophone) and Andy West (bass).
Setlist
Divided We Stand
Free Fall
Holiday
Assembly Line
Twiggs Approved
Take It Off the Top
What If
Country House Shuffle
Moe Down
Odyssey
Violin Solo
Northern Lights
Go for Baroque
Day 444
Refried Funky Chicken
Leprechaun Promenade
Wages of Weirdness
The Bash
Drum Solo
Cruise Control
Bloodsucking Leeches
You still have the chance to catch up with them tonight in Wilmington, DE and on:
Mar 08
Copeland Hall, The Grand Opera House
Wilmington, DE
Mar 09
Scottish Rite Auditorium
Collingswood, NJ
Mar 10
Newton Theatre
Newton, NJ
Mar 12
The Capitol Theatre
Port Chester, NY
Mar 14
Ridgefield Playhouse
Ridgefield, CT
Mar 15
The Paramount
Huntington, NY
Mar 16
Town Hall
New York, NY
Mar 17
Bearsville Theater
Woodstock, NY
Mar 18
Tupelo Music Hall
Derry, NH
Mar 19
The Wilbur
Boston, MA
Mar 21
Hart Theatre at The Egg
Albany, NY
Mar 22
Carnegie of Homestead Music Hall
Munhall, PA
Mar 23
The Kent Stage
Kent, OH
Mar 24
Vic Theater
Chicago, IL
Apr 11
Pabst Theater
Milwaukee, WI
Photo Gallery

Latest posts by Gus Samarco
(see all)