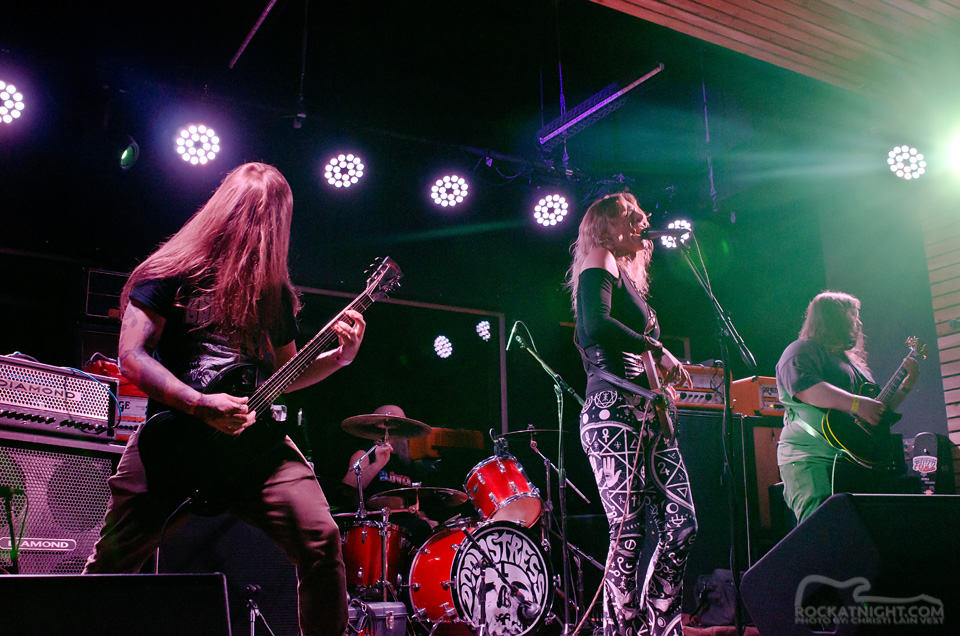 By Christi Lain-Vest, Rock At Night Houston Correspondent
Venue: The White Oak Music Hall, Houston–November 17, 2016
After spreading a doom metal vibe around the South for the last month, Doomstress ended the Southern Bounty Tour upstairs at The White Oak Music Hall in their hometown of Houston, Texas on Thursday November 17th. Sharing the stage with hard/classic rock bands Electric Citizen from Cincinnati and Horisont from Sweden, Doomstress opened the night with their stoner doom metal and prepared the crowd for an awesome trip back in time. This was my first time seeing Doomstress live and they did not disappoint.  Heavy, dark and freakin loud – and what goes best with that kind of music? A set of pipes loud enough to be heard and strong enough to make you break out in chill bumps. I was awestruck by Alexis' performance onstage. There is a lot of feeling, strength and control in her voice and it melds perfectly with the heavy dark groove of the music. This four-piece band takes you back to another era and what a wonderfully evil trip it was!
Photo Gallery
Doomstress
 Doomstress – Apathetic Existence
Follow Doomstress Here:
Speaking of another era, I do believe that Cincinnati band Electric Citizen found a way to be  magically transported through time and space from 1960s/70s to share with us some groovy, heavy rock in 2016. Singer Laura Dolan's powerful voice and the dramatic, passionate way she presents the lyrics were amazing. Touring with Electric Citizen in the magical time machine on a North American tour, Swedish band Horisont looked dressed and sounded the part of a classic rock band.  I really enjoyed listening and watching these guys. A lot of hair flying made for some awesome shots. All in all I had a great time photographing these great bands. Throughout the night I had an overwhelming urge to light some incense and make my own magic transporter!
Photo Gallery
Electric Citizen
 Electric Citizen – Light Years Beyond
Follow Electric Citizen Here:
Photo Gallery
Horisont
Horisont – Electrical (Official Video)
Follow Horisont Here:
The images may not be reproduced, copied, transmitted or manipulated without the written permission to Rock At Night and the photographer. Use of any image is a violation of the United States and International Copyright laws.
Latest posts by Christi Lain Vest
(see all)