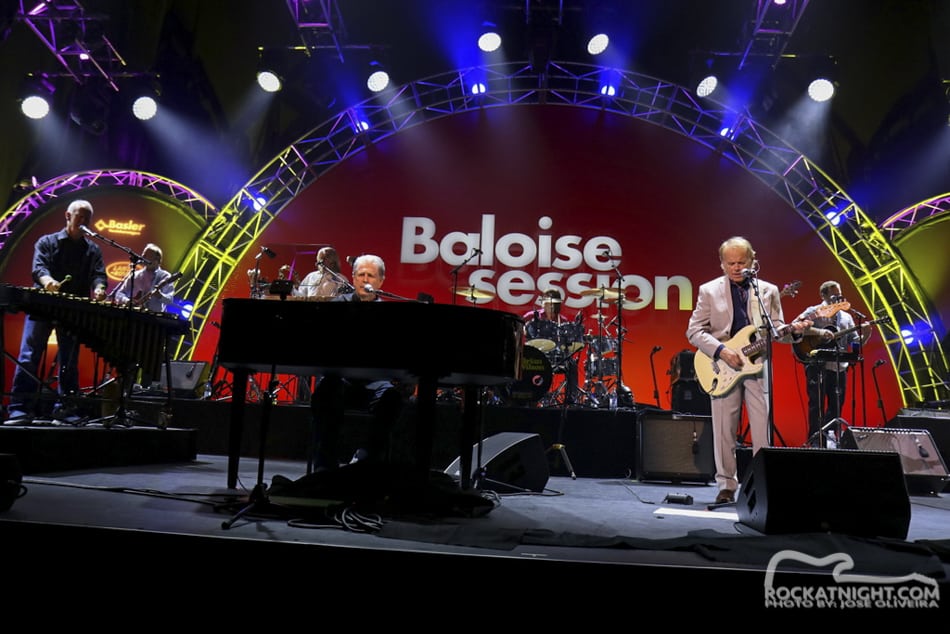 By Rosine Alleva and Jose Oliveira, Journalist-Photographers, Rock At Night France Correspondents
BALOISE SESSION 2016- Venue : Messe – Basel – Switzerland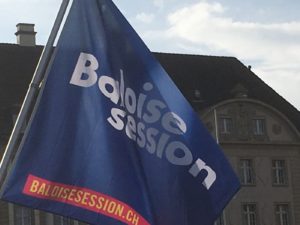 This wonderful Swiss Festival took place this year from October 21st to November 8th. I discovered this great venue 20 years ago and had the pleasure to meet great artists. At the head of the festival organization, Matthias Müller and Beatrice Stirnimann, always presented an eclectic choice of artists for the great pleasure of the Basel audience.
But this year was special… the emotion was at its higher level after the loss of Matthias Müller last July. With a great team and sponsors, Beatrice Stirnimann carried on with courage and knew it was Matthias biggest wish. So, she dedicated him this Festival Edition which he would have been proud of.
Jose Oliveira and Rosine Alleva with Rock at Night covered five concerts this year: Jeff Beck, Culture Club, Brian Wilson, Marcus Miller and Nora Jones.
A few days before Brian Wilson's venue in Basel, José had the privilege to have a phone interview with him, direct from L.A. Rosine also met the famous Bass Virtuoso Marcus Miller!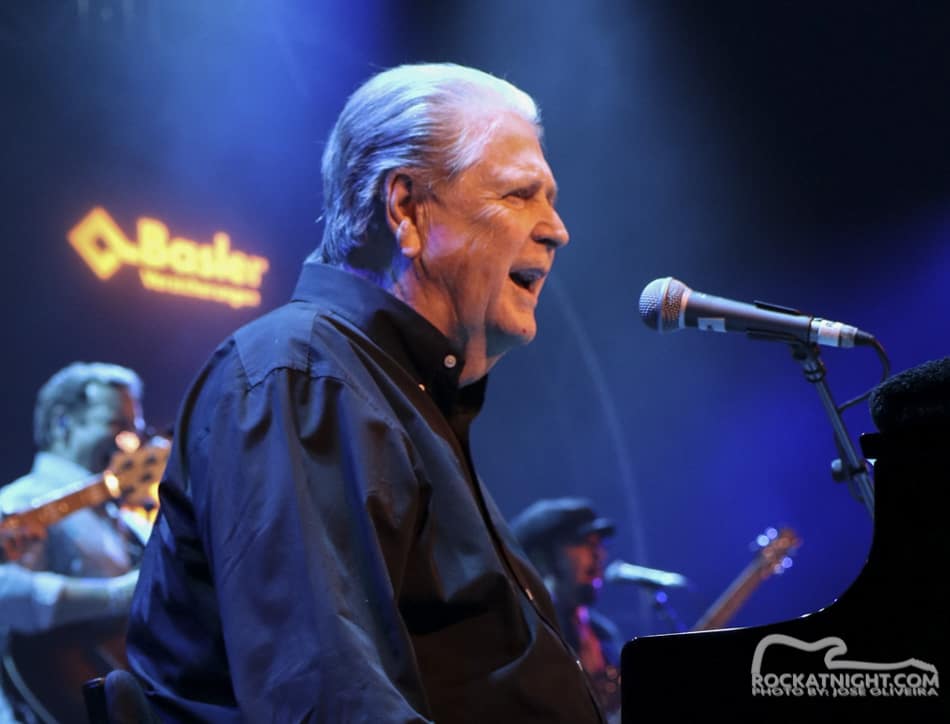 JEFF BECK – October 22nd
Jeff Beck gained recognition in the 1960s with the Yardbirds. He played with rock legends like Eric Clapton and Jimmy Page. This was the beginning of the approach to his Jeff Beck Group creation and later his complicity with Rod Steward and Ron Wood. The British Blues led him to experiment other music universe like jazz fusion and instrumental rock. His performance in Basel was awesome! His wonderful feeling and the way he uses the strings of his guitar reminds us he's one of the best guitar players ever! His Basel concert was the opportunity to present his new album "Loud Hailer" with the London duo Bones (Rosie Oddie on vocals and Carmen Vandenberg on guitar). The sudden appearance of Rosie Oddie singing with a megaphone gave the beginning of an exciting mixed show, another Jeff Beck successful innovation.
The soul voice of the amazing Jimmy Hall ("Morning Dew", "A change is gonna come"…) was contrasting with the style and young voice of Rosie Oddie. For sure Jeff Beck knows how to choose his partners; the solo demonstration of the excellent bass player Rhonda Smith confirmed it. An instrumental fusion of "A Day in the Life" ended this concert, leaving an audience more than delighted! Finally, a fascinating show, rich of Jeff Beck new titles and chosen songs from some of his biggest influences.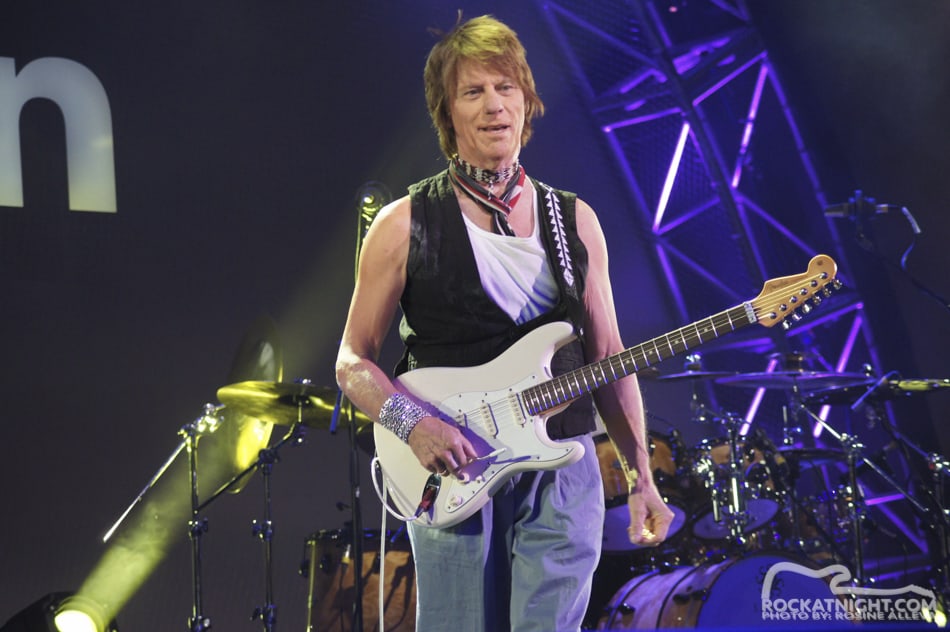 CULTURE CLUB – October 26
Could this be an "has been"act? Not at all!!! ….A successful rebirth!
For his unique European concert in Basel, it's a healthy Boy George, with bright colors costumes and hats; great make-up, full of humor, flirting with the audience, who performed on stage. Yes, Culture Club is back again, exactly like in the 80's with Mickey Craig, Jon Moss and Roy Hay (you couldn't miss the sticker on his guitar "Chicks hate me")!! Boy George and his musicians wound back the years with an amazing performance!  Including a horn section,  12 musicians appeared on stage one by one, including three black female backing vocalists. Theresa Bailey, Tracy Brown-Bailey, DeeDeeFoster also sang with him in duo adding lots of emotion to his -still- excellent voice ("The Crying Game"). It was an emotional moment when Boy George performed a tribute to his friend Pete Burns ("Different Man"). Pete Burns passed away three days before the concert in Basel, on October 23rd. Although they were friends, Boy George also mentioned in a smile that Pete Burns hated him when they met in the 70's! After the concert, it was the right time and, of course, the great privilege to meet Boy George and the other original members backstage!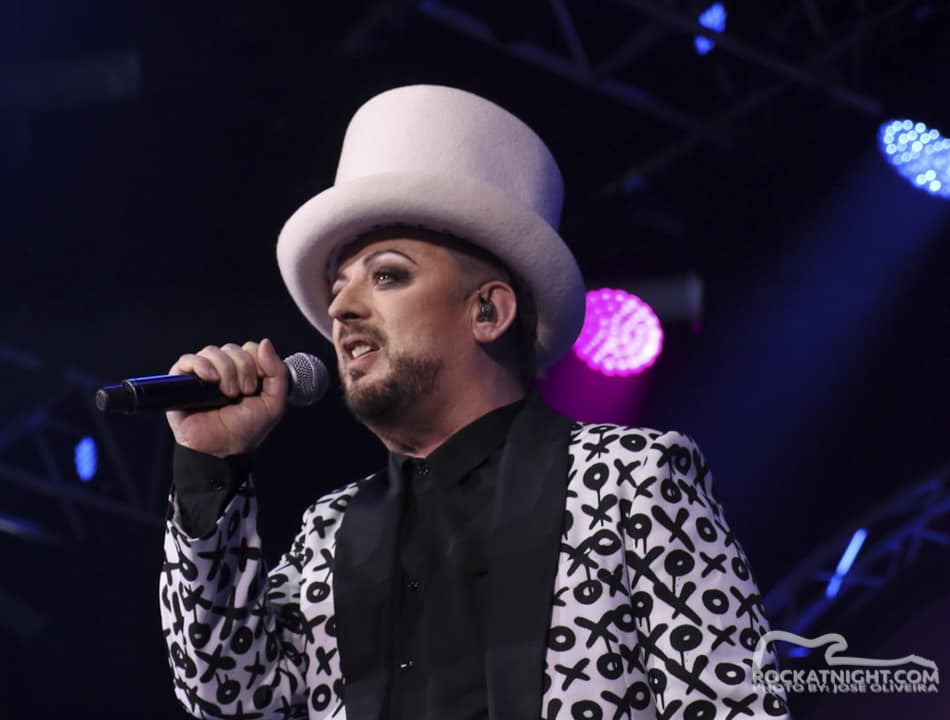 MARCUS MILLER Interview — November 2nd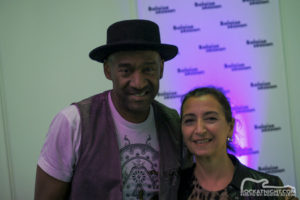 The interview took place in the afternoon, just after Marcus Miller sound check.
RAN- I'm very pleased to meet you and that you dedicate some time to Rock at Night! How was it to work with someone like Miles Davis? I once heard some of his musicians say" he was changing musicians for each of his tours"(?). How was your experience with him?
MARCUS MILLER- Well, it was amazing! I knew he was in retirement about 5 years in the mid seventies and he came out of retirement in nineteen eighty one. And I was in the band when he came out of retirement, I stayed with him for 2 years during that period.
RAN- I remember seeing you with Miles Davies the first time I came to one of his concerts in Brussels!
MM- Ok! And if was even more incredible as we hadn't heard a note from Miles Davis in five years and a lot of young guys didn't even know if he was still alive, still playing ….So for him, all of a sudden resurface, reemerge and to be in his band at that moment was incredible . I stayed with him for a couple of years and then I told him I wanted to leave and develop more as a complete musician, not just as a bass player. So he gave me his blessing and he said let me know when you need me….Two years later I heard he was changing record companies, going from Columbia Universal to Warner Brothers. So I called Warner Brothers and, as I knew people they were producing, David Sanborn, Al Jarreau, a lot of people at Warner Brothers, I said " hey I heard you have Miles Davis", "Yes, and he's looking for music, he knows you very well, why don't you write something for him?" So, that's why I wrote TUTU for Miles. I wrote a number of other songs and I ended up writing most of the Tutu album and producing with Tommy LiPuma who was working with Warner Brothers. And then we developed this relationship, the second relationship. The first one was when I was in the band as a bass player. We did three albums, TUTU, a Movie called MUSIC FROM SIESTA and AMANDA. And that's when I had the chance to talk to him a lot , hang around with him, talk about music, talk about life, it was a beautiful experience for me.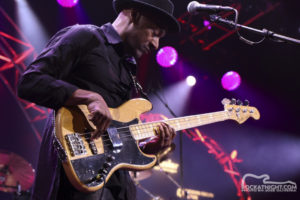 RAN– Gary Foote, Smokey Robinson's bass player has some questions for you…
MM– Oh! Do you know him? A very good bass player!
RAN- I saw him in concert with the band CIRCULAR TIME last year. My colleague, José Oliveira knows him. Gary would like to know your development from the age twelve to sixteen.
MM- Well, I started play bass at 12 and by 16 I was doing professional gigs, so those were probably the most important years. Just like a child, you know what I mean, from the age of three to age of eight, everything is formed, everything is coming together, I think you grow like that again to form your family, in your life. But for a musician, your musical life is a bit later of course Because you first have to develop as a human being ( laughs) ! Then, for me at the age twelve, I was already playing the piano and the clarinet and I picked the bass at the age twelve but I loved it. I was very dedicated, I played all the time. So those four years I started up as a funk guy in New York and when I was in highschool at maybe the age fourteen, I met Kenny Washington who encouraged me to learn jazz and then I began to develop on these two tracks. It was very important for me.
RAN- Being such a versatile player, how did you decide in later years to focus primarily on the "funk Bass" style for your solo CDS?
MM- Because I think this was my most obvious voice, I have a lot of voices, and people who really know me know that, but in order to be a leader on an album, I thought that, not necessarily funk, but that a brighter bass sound was a good sound to be a leader. I never expected my solo albums to be the only representation of what I do. You still hear me on other records, hear me doing other things but when it's time to be the leader I felt like I wanted to use my most forcible sound.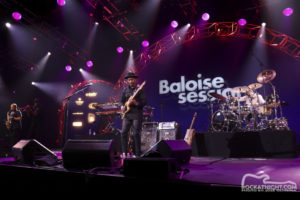 RAN- Let's talk about your new Album AFRODEEZIA!!
MM- I was appointed as an artist for peace by Unesco a couple of years ago. And as an artist for peace you just try to use your music to communicate to people from different cultures, spread the words, the necessity for communication which is the first step towards peaceful coexistence. So, that for the artist for peace, that's our responsibility. In addition to that, they also asked me to be the spokesperson for the project they called the Slavery project. They wanted to raise the awareness of the history of Slavery. So instead of just talking to people about it I decided to corporate that message into my music. So, I decided to collaborate, on AFRODEEZIA, with musicians who come from different stops along the Slave Route, from West Africa, from North Africa, from South America, from the Carribean, and from the US. And this was to follow the route by playing with musicians who come from these different stops. And that was the genesis of the album.
RAN- It's quite amazing all the people you're working with and for, ( laughs). I'm sure you had a great experiment with each of them but what was your favorite time and with which musician?
MM- For me, in terms of my development, Miles, Luther Vandross, and David Sanborn, those are probably the three most important artists and then of course, Aretha Franklin and Grover Washington Jr. and than there's a list of people But because with Miles, Luther and David Sanborn I didn't just play, but I wrote, I produced, so they gave me a lot of responsibility and that helped me grow, probably the most important collaborations.
RAN- You seem to enjoy Jazz cruises and you will join a brand new one in February, right?
MM- Oh yeah, I started to do them just to fill in for a friend of mine, Wayman Tisdale. Wayman was a very good friend of mine, he was an ex professional basketball player, he was also playing music. And he became a smooth jazz bass player in the U.S. and he was hosting the cruise. Unfortunately he died 6 years ago. So the cruise guy asked me "you're a good host, would you might hosting? " I said "well, I'm not really a smooth jazz guy". He said" don't worry about that, it's a nice time , it's January, what are you doing in January?" "I'm not sure". Then, I developed and now we don't have only a Smooth Jazz Cruise but also a Contemporary Jazz Cruise which it's going to have Pat Metheney, Robert Glasper and a bunch of more other contemporary jazz musicians and there is traditional jazz also, we're busy!
RAN- It's the second time you're coming to this great festival, the Baloise Session, how do you appreciate to be here and play in Switzerland ?
MM- I love to play in Switzerland, I love playing in this festival. I only played once here before, it was a long time ago, twelve years ago. But I never forgot!
It was very special. I came another year, I saw BRIAN FERRY performing here, I worked with BRIAN FERRY. So I have very nice memories of this place.
RAN- You play many instruments, you love bass for sure (laughs) but you also play keyboards and clarinet. Which is your favorite?
MM- Well, the bass is not only my favorite, it's my primary me of expression! But piano is important, and I think it's not just important to me but important to most musicians who write music to play the cause you have everything, rhythm, harmony, melody, bass, all in front of you. So, it's a very beautiful instrument, a very beautiful tool! And the clarinet was my first instrument, and I loved the contrast, I loved going from the wooden clarinet to metallic electric bass, I think it's a very interesting contrast.
RAN- I never had the chance to talk to Miles Davis and I'm delighted to have been able to share this moment with you! Looking forward to seeing the concert tonight!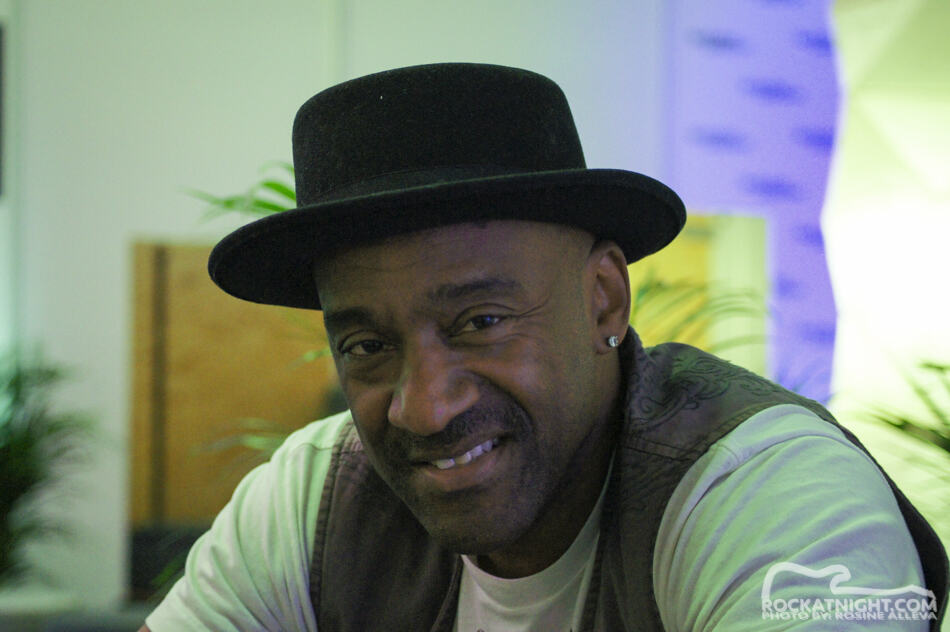 NORAH JONES November 7
For this last Basel concert, Nora Jones tickets were sold out in 10 minutes and there were so many people who couldn't assist to the show that the Baloise Session promotors decided to broadcast it live on TV. ….An example to follow!
Although she returned to her Jazz roots, Nora Jones didn't seem to have really captivated the audience with her sixth new studio album "DAY BREAKS". During the first part of the concert, the pianist and singer- songwriter didn't give much space to other horizons which led to a certain monotony. This was a bit disappointing as you could feel a distance between her and the public. She hardly smiled, didn't look at the audience, and something carnal was really missing here. Sure, we loved her sultry voice and the light gestures when she was playing piano. In these U.S. Election times, "My dear country" was the right title when she mentioned that "nothing is as scary as election day". Hum, …scary from now on…? But it was obvious that the crowd reacted much more to her first successes with "Don't know why"or "Come away with me" at the end of the set and with more country songs when she took her guitar. She came back to offer a last acoustic moment with "Sunrise", "Creepin' In" and "How Many Times Have You Broken My Heart?". We thought, for a moment, that she did break our heart but we finally left Basel happy, full of her captivating voice!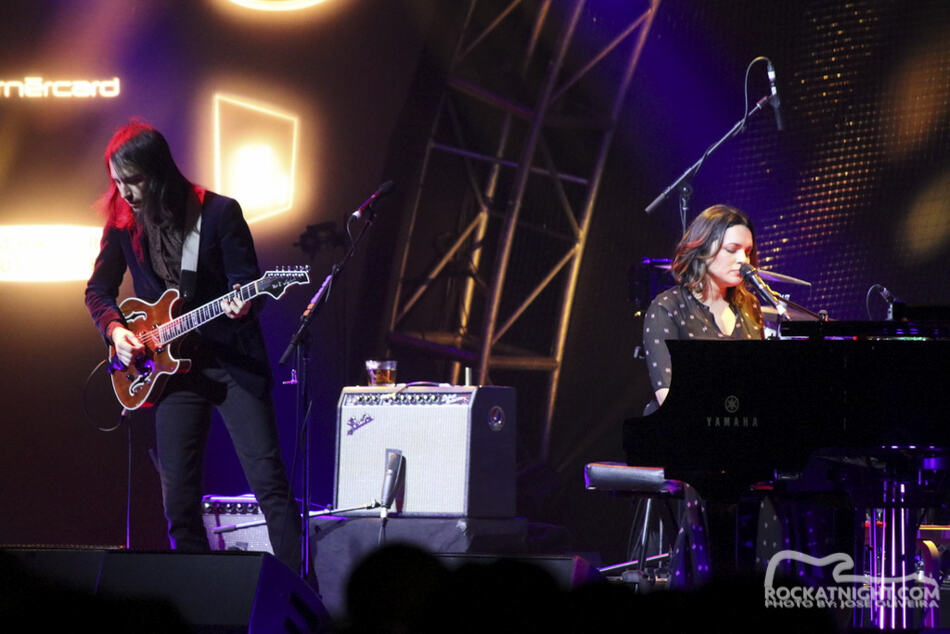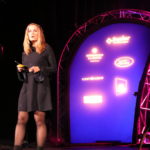 Many thanks to Beatrice Stirnimann and Lena Knoblich, her assistant, for their help and understanding and for looking after us during this wonderful event.
Photo Gallery



 Jeff Beck

Brian Wilson
Culture Club
Marcus Miller
Norah Jones
"On the Online ARTE Platform Concert, you can enjoy the concert of Norah Jones at the BALOISE SESSION 2016 again in full length"
Rosine Alleva–Journalist and Photographer  and Jose Oliveira–Photographer
The images may not be reproduced, copied, transmitted or manipulated without written permission to Rock At Night and the photographer. Use of any image is a violation of the United States and international Copyright laws.

Latest posts by Rosine Alleva
(see all)