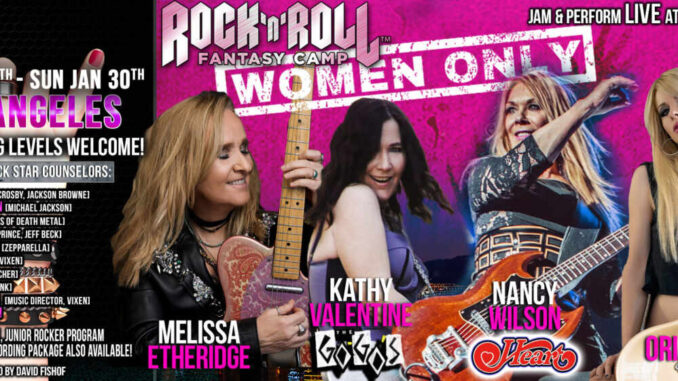 By Chyrisse Tabone, Rock At Night Tampa
Rock At Night's Podcast Channels–Listen to the iTunes Audio Interview Here   or   Google Podcast or PodBay.FM or PODCHASER
The guest on this episode of the Rock at Night podcast is a rock and roll industry veteran who has carved a series of distinctive niches.  David Fishof has enjoyed a highly successful career as a prominent sports agent, music promoter and manager, and, most recently, the founder of the Rock 'N Roll Fantasy Camp. In this conversation with Rock at Night editor in chief Chyrisse, he discusses a new documentary exploring the magic of the rock fantasy camp as well as the exciting new territory the camp will now cover.
Today, Rock 'n' Roll Fantasy Camp unveils its first ever WOMEN ONLY Rock Camp! This ground-breaking camp will take place in Los Angeles, CA over the Grammy® weekend, January 27-30, 2022 with special headlining mentors including Melissa Etheridge, Nancy Wilson, Kathy Valentine, Orianthi and even more to be announced in the coming weeks. In addition to the women headlining, the crew and staff working on the event will be composed of an entirely female workforce.  In addition, the multidisciplinary guest speakers from the music and recording industry will incorporate talented women led by Britt Lightning (Vixen), the musical director for the entire Rock Camp organization. Campers can reserve their spot now at Rockcamp.com.
Rock At Night says: A great takeaway from the interview with David Fishof is this advice: You can be yourself at any age. Be your authentic self.
Those that have participated in the Rock 'n' Roll Fantasy Camp have had life-changing experiences. One does  not have to be a professional musician to participate in the camp. There are openings for approximately 60-80 people who sing or play the guitar, keyboard, bass, and drums.
An interesting announcement during interview with Fishof noted there are more fantasy camps planned in the future for other genres–jam band, Americana, and more!  So guys & gals, do something special for yourself. You can skip the therapy by attending a Rock 'n' Roll Fantasy Camp!
ABOUT DAVID FISHOF – Rock 'n' Roll Fantasy Camp Founder
David Fishof has had a successful career as a sports agent, producer, promoter, and manager and is the founder and CEO of Rock 'n' Roll Fantasy Camp.  Fishof produced the Happy Together tours, the Monkees 20th Anniversary Reunion Tour, Dirty Dancing Live tours and Classic Superfest and others. He also created and produced Ringo Starr & His All-Starr Band tours for 15 years.
WEBSITE-Women's Only Fantasy Camp

Latest posts by Chyrisse Tabone, Ph.D.
(see all)