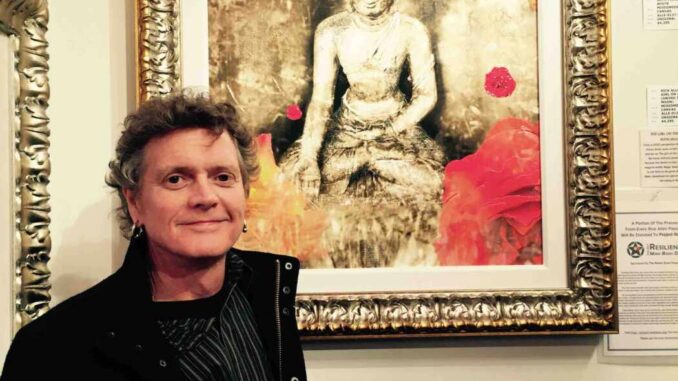 By Chyrisse Tabone, Rock At Night Tampa
Rock At Night's Podcast Channel–Listen to the iTunes Audio Interview Here   or   Google Podcast
Rock At Night loves to support altruistic endeavors. It was without hesitation we jumped at the opportunity to interview Rick Allen, the legendary drummer with Def Leppard. What many may not know is Allen and his wife musician/songwriter Lauren Monroe are the founders of Project Resiliency and Raven Drum Foundation, organizations that for 20 years have been assisting soldiers and those suffering from PTSD. Allen was awarded the Humanitarian Award by Maria Shriver's Best Buddies of CA in 2002 and in 2012 as well as the Wounded Warrior Project's Carry It Forward Award.  Allen has reached out to teenage cancer patients, families of domestic violence, and Vietnam veterans.
While on the road with Def Leppard, Allen snapped photos and developed a passion for photography which later merged into mixed media painting and innovative abstract artwork utilizing drumsticks and rhythm into visual form.  Since his debut in the art world in 2012, Allen has created a series of collections which have been exhibited at the fine art retailer Wentworth Galleries.  His latest collection on display at galleries throughout North America is "Wings of Hope 2021".  A portion of the proceeds is donated to Project Resiliency.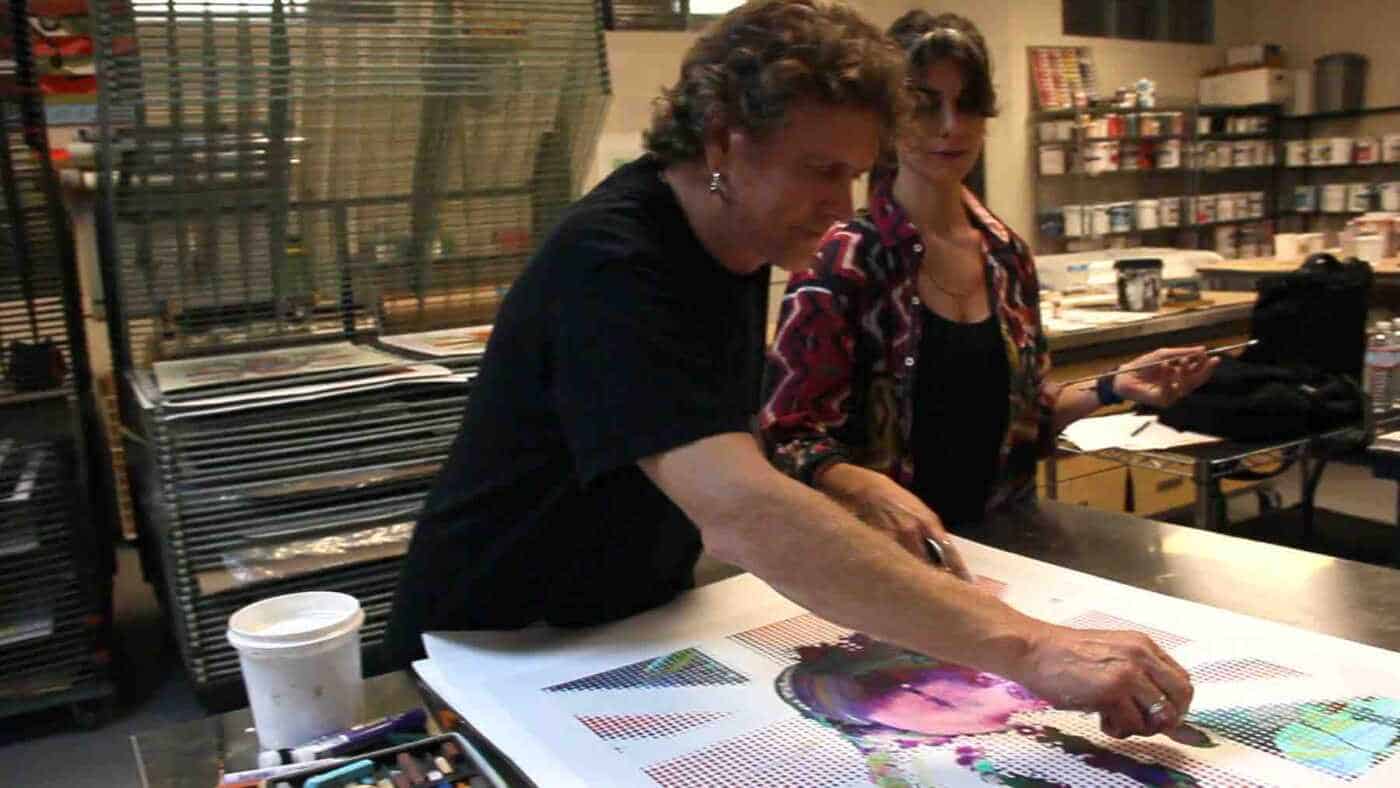 Big Love Concert
Rock At Night spoke with Rick Allen about his involvement with the charity organization Big Love Concerts, which raises funds for Sweet Relief Musicians Fund.  On January 23, 2021, the first Big Love Benefit Concert, a virtual benefit concert, was held to provide financial assistance to career musicians and those employed in the music industry.  The concert featured such notable artists as Wynonna Judd, Billy Idol, Bret Michaels, and The Allman Betts band.
Allen further explained the Big Love Concert concept saying, "'Big Love' is from a song my wife wrote on her latest record, which she just released called 'Under the Wolf Moon'.  As you know, when we saw the ripple effect that went out into our industry and how devastating it was way back in March of last year, we felt as though we needed to get involved and she came up with this great idea of a virtual concert. All the money that we raised we gave to Sweet Relief who helped industry professionals in particular in the area of mental health. Because we we're seeing there was a huge need for that. So that kept us busy. It kept us really busy for a good part of the year.
"It was cool. The first person I called was Tommy Shaw with Styx and he said, 'Sign me up.' And then Billy Idol—again, the same thing. Then Myles Kennedy and Matt Sorum. People came forward with no questions asked.  They just wanted to help.
"If the infrastructure of our industry disappears, then we might not have anything to come back to and taking care of those industry professionals. That make it possible to put on live concerts. It was two hours. It was paramount."
Allen explained there is a Big Love Concert in the works in California in August.
Altruism
You are involved with a lot of altruistic endeavors and I consider you to be an ambassador for resiliency having been through issues yourself. Did you start doing charity work after 911 or in the 1990s?  What was the catalyst?
"I was meeting up with people during the 90s, but it wasn't until I met up with my wife in 2000 [that I got involved]," Allen explained.
At the time Monroe was involved in The Healing Arts and teaching at Boulder College of Massage when he crossed paths with her in Colorado Springs. Having dealt with pain and trauma, the two hearts merged, and the rest is history. They both started the Raven Drum Foundation in 2002 and in approximately 2006, Allen had a sobering experience while visiting Walter Reed Medical Center in Washington D.C.
Allen explained, "I saw how much suffering there was and that's when we started Project Resiliency, which primarily focused on Wounded Warriors. It was a great fit. You know, I suffer from PTSD myself. So I saw the similarities in terms of triggers and behaviors."
I understand you help people by holding drum circles. Having experienced drum circles, having everybody drumming at the same, being on the same wavelength and rhythm, is inspiring.
"We call it dominant frequency. It's like standing looking at an ocean or standing and looking at the cosmos or standing in a forest, there's a dominant frequency. If you're in a crappy place and you experience something that is bigger than you, then it's natural for that to have an effect on an individual and that's the whole idea behind drumming as well. And not only are you using both sides of the brain in terms of right and left hemisphere, but because of the types of rhythms that we play, there's that dominant sort of rhythm that brings everybody into the same frequency. That's that that's the whole idea behind it."
In a sense if someone is depressed and they start drumming, they're changing their frequency?
" Yeah, for sure. And that's the hope."
Photography and Art
Let's change the direction. When you started taking pictures while on tour, was that kind of like keeping a diary, or was it just a way to fill time in between playing sets this?
Allen noted, "Both. I mean photography became such a friend because, you know, I could take the camera with me and I didn't have to be with anybody else. I could just enjoy the moment manipulating light and capturing something that that I thought was interesting. And then interestingly enough, when I bring it home, sometimes some of those photographs will inspire a new art project. So it's become a really, really fantastic way for me to document life experience`"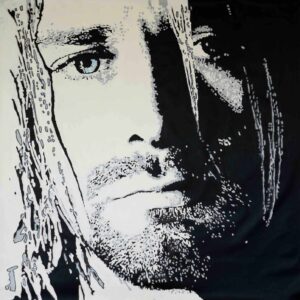 Allen enjoys using a Sony mirrorless camera, he said, because it is small, portable, and he can attach a good 35 mm lens. He wants to be prepared to document life experiences and often uses the photos in his mixed media artwork. He explained how he incorporates the photos, saying, "So there's a couple of ways. They are completely original pieces. Like all of the Legends pieces were one-of-a-kind. I'll take high-res photographs of the one-of-a-kinds and then I'll further enhance those, hence the term 'mixed-media'.
Allen paints on drum heads and uses various objects as a canvas, joking "Yeah. It's great. I mean you know if the dog stood still for long enough I'd paint him, you know?"
Allen has painted many departed rock heroes (Eddie Van Halen, Jimi Hendrix, Freddie Mercury) in his "Legends" series. He painted a portrait of Tom Petty and described how he met "someone in the Tom Petty camp" who invited Allen and Monroe to see Petty in Berkeley. It was a special experience because Monroe's first concert as a kid was Tom Petty. Unfortunately, the concert was postponed until the following night and they had a prior commitment. It was only weeks later that he received the news of his passing.  Allen conveyed, "The best way for me to pay homage to anybody is to paint him—and that's exactly what I did."
Allen explained his paintings are "very abstract" and that one has to "stand back and let one's mind fill in the blanks." He often gets very attached to the painting, which is ultimately an intimate experience, but understands he must let it go.
So, is there anybody you have not painted and would like to?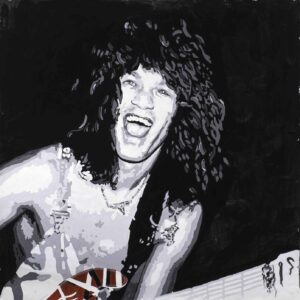 Quickly, Allen responded, "Billie Holiday. Bob Marley. There's a bunch of them [I'd like to paint]. We are losing legends every year and I guess, that's a fact of life. I got inspiration from all of the legends that I painted over the years and growing up, they're the main reason I do what I do. You know, I became a musician myself."
You have a series of paintings called "Angels and Icons" which features symbols of patriotism, such as Union Jack flags, American flags, and symbols of England such as telephone booths. What is patriotism mean to you and how did these end up in your paintings?
"That's a good question. I always found the sometimes patriotism comes across as very militant for some people and whenever I, whenever I do flags, I always trying to try to soften the meaning of inclusivity by either painting hearts or painting peace signs over the top of the flags just to kind of humanize it a little bit and to allow people to see the freedoms that we have today and why it's all about human beings and including people."
You put handprints in lots of the paintings what does that mean to you? What is the symbolism of the hand?
Allen responded, "I hope it inspires people because, you know, this is the only one I've got and it's been really good to me in terms of all the things that I have wanted to do. I was able to do my dreams. I went through the accident and it was awful but then it became a blessing because it gave me life experience that most people have no clue."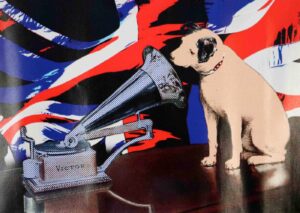 Hearts are often interspersed in your paintings. Are they Purple Hearts or a symbol of honor?
"Life after combat..a lot of warriors lose their identity because sometimes they may be medically discharged and it's really difficult for to be in a situation where they're not going to go back and spend time with their comrades. They're not going to go back the front line of a war zone. So it's the idea of having the courage to find something else that you can never take back. I didn't identity it right away but the front line of any battle is probably one of the most exclusive places on Earth. But the idea that you can rediscover other things about yourself, whether that be discovering art or photography, or music, or poetry or you name it. That's the idea behind it—making a comeback in a way that was dignified."
Other symbols noted in your collection include paintings of Victor the RCA dog, Buddha, and flags. What do these mean to you?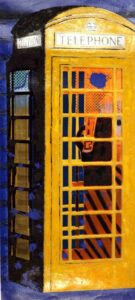 Allen explained Buddha is his "happy place" and he spent many years in India and had some "really profound experiences." Regarding the subject of flags, he wanted to revisit some of the symbols he grew up with saying, "I want to revisit the telephone boxes and do a spin on mailboxes as well. There were so cool—all Victorian. Victorian symbols are one of the reasons why people go to England in the first place, to experience that stuff.  Unfortunately, they're tearing a lot of them down. You can only see telephone boxes in certain parts of London and a lot of the telephone boxes aren't even active anymore.  I mean everybody's got cell phones these days. I kind of see why but it seems like such a shame."
Those lucky enough to live near Atlantic City, New Jersey or King of Prussia, Pennsylvania can meet Allen and see his art exhibit at the Wentworth Galleries. Remember, a portion of the sales goes to our Wounded Warriors so it is a win-win situation for all.
GALLERY APPEARANCES BY RICK ALLEN
(artist will be in attendance at both showings)
SATURDAY, JULY 10     6-9 PM
Wentworth Gallery at The Hard Rock Hotel and Casino, Atlantic City
Address:  1000 Boardwalk, Atlantic City, NJ 08401
(609) 300-5095
SUNDAY, JULY 11   1-4 PM
Wentworth Gallery at King of Prussia Mall
Address:  690 West Dekalb Pike #2084, King of Prussia, PA 19406
(610) 337-8988

Latest posts by Chyrisse Tabone, Ph.D.
(see all)