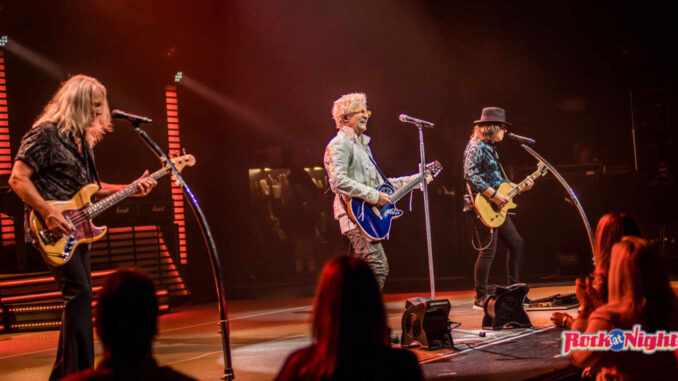 By Chyrisse Tabone, Rock At Night Tampa
Review: REO Speedwagon w/Levon at Ruth Eckerd Hall, Clearwater, Florida–July 21, 2021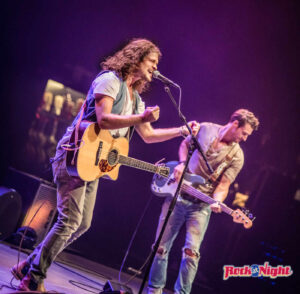 REO Speedwagon was formed in 1967  in Champaign, Illinois when keyboard player Neal Doughty was in college, and has mostly the same lineup since the 1970s when lead singer Kevin Cronin and bass player Bruce Hall joined the band. In the 1980s, guitarist Dave Amato and drummer Bryan Hitt rounded out the current lineup.  Even in the Millennium, this band of rockers is busy recording, touring, and even in 2020, appeared in an episode of the Netflix series Ozark, causing a nostalgic reemergence of songs on the Billboard rock charts.
Rock At Night arrived at Ruth Eckerd Hall on Wednesday night to a very crowded parking lot and a venue with every seat filled to the gills. The city of Clearwater, Florida was itching to attend a good rock 'n' roll concert and REO Speedwagon's Hi Infidelity 40th Anniversary Tour (god, has it been that long?) was the prescription they needed.
To warm up the evening, Nashville-based trio Levon warmed up the crowd with country rock- flavored music.  Their harmonies of Michael David Hall, Jake Singleton, and Ryan Holladay blended impeccably and were reminiscent of Crosby Stills & Nash.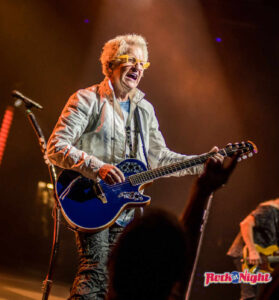 REO Speedwagon walked out on stage to a roar of cheers, clapping, and people standing in their seats. The stage was brightly lit and Cronin never missed a beat as he belted out favorites like "Take It On the Run" and "Tough Guys." Usually at Ruth Eckerd Hall, people politely sit in their seats, but on this Wednesday evening, the crowd of Gen Xers and Baby Boomers were on their feet, with arms raised, and singing along to every song.  It was 1980s FM radio brought to life!
Cronin expressed appreciation to the crowd and said it was "good to be out at the concert and not home in pajamas." Considering the Year of Covid 2020, every person in the audience could totally relate to this comment.
Cronin dedicated the song "Golden Country" to "all the people that put their lives at risk." He continued saying he was "raised in the land of the free and home of the brave."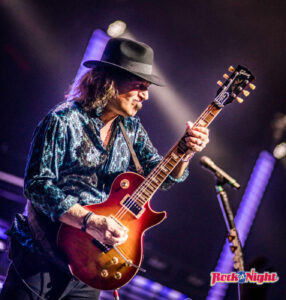 A real time-travel moment was hearing the song "I Can't Fight this Feeling" which Cronin noted was dedicated to those who had their "first taste of action" listening to this song. In the 80s this was the slow song to dance to and many, as I understand, play this at weddings.
Continuing with the string of hits, Cronin said that REO Speedwagon was a bar band and "you can take the band out of the bar, but you can't take the bar out of the band." He promised to play "songs from the 70s—the stuff that brought you here."
As I listen to "Roll With the Changes" and so many great songs during the evening which dominated the air waves, one question kept popping up—why is REO Speedwagon not in the Rock & Roll Hall of Fame? There needs to be a concerted push for this!
So, if you want to hear good solid rock 'n' roll but a hard working band—that is comprised of long-time members—catch them on their Hi Fidelity Tour.
Photo Gallery

Latest posts by Chyrisse Tabone, Ph.D.
(see all)