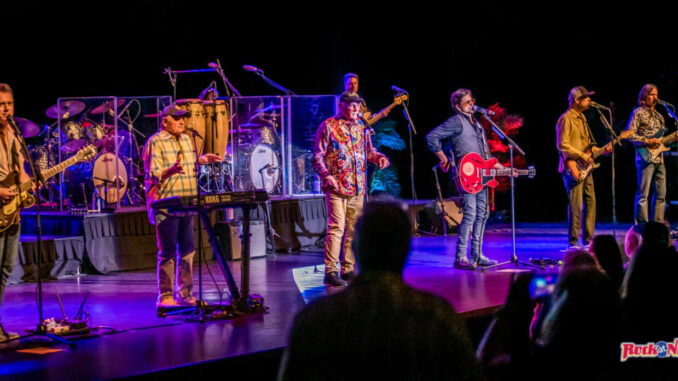 By Chyrisse Tabone, Rock At Night Tampa
Live Review: The Beach Boys with John Stamos-Ruth Eckerd Hall, Clearwater, Florida–May 16, 2021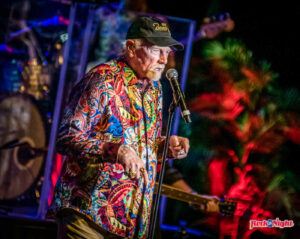 As Florida continues to open its doors to socially-distanced concerts, Ruth Eckerd Hall in Clearwater, Florida, welcomed the legendary Beach Boys for an evening of nostalgic fun. With two show offerings at 5 p.m. and 8 p.m., Baby Boomers sporting Hawaiian shirts and tropical attire were treated to a show featuring original member Mike Love and early-member Bruce Johnston. Actor/musician John Stamos joined the touring group, along with musical director Scott Totten, Brian Eichenberger, Christian Love, Tim Bonhomme, John Cowsill, Keith Hubacher, and Randy Leago.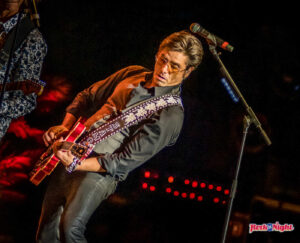 The evening began with a rapid fire of seven surf-related songs before concluding with "Surfer Girl", as the audience swayed and held their cell phones high in the air, in lieu of the traditional lighter.  The evening's repertoire was filled with impeccable harmonies, as Mike Love stood center stage, and John Stamos played guitar and later served as the percussive backbone. A backdrop of 60s circa videos accompanied each song, which truly added to the nostalgic feel.
Flashes of my childhood shot through my mind as songs "Don't Worry Baby" and "Get Around" were performed and later songs from the groundbreaking Pet Sounds, which celebrated the 55th anniversary of its release that evening. "Sloop John B" sounded as wonderful and masterful as the original recording—as did "Good Vibrations", which had the audience on their feet.  While still feeling verklempt,  a wave of emotion ebbed and flowed as Mike Love's son Christian sang "God, Only Knows" and the video on the screen read "We love you, Carl."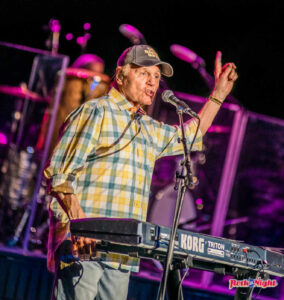 Another very poignant moment in the evening was when Mike Love described the band's spiritual trip in 1968 with The Beatles to Riskikesh, India, to study transcendental meditation with Maharishi Mahesh Yogi. Love shared a kinship with fellow Pisces George Harrison, whose birthday (February 25th) was celebrated during that trip.  Just this year, Love celebrated his 80th birthday on March 15th.  As Love sang his song "Pisces Brother", images of George Harrison and the memorable trip to India rolled in the background, before the band segued to a very different "Beach Boy" version of "Here Comes the Sun."
More nostalgic fun continued with familiar hits and covers like "Help Me Rhonda", Chuck Berry's "Rock and Roll Music", and the Regents' "Barbara Ann." Overall, the show was a spectacular array of timeless music, which essentially can be deemed as American classics. I personally had new appreciation for their music, which takes on an air of innocence in today's world.  If you have the opportunity to see the band live, make it a point to go.
Photo Gallery
SOCIAL MEDIA

Latest posts by Chyrisse Tabone, Ph.D.
(see all)