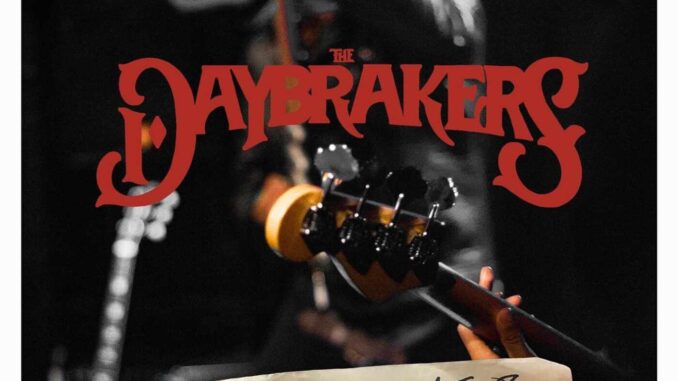 By Rosine Alleva – Rock At Night EU Editor
The Daybrakers performed at Starship Studios in London last Saturday for the first "socially distanced" show. The concert was live streamed, with a limited and excited audience, deprived of their favorite music for too long. Aidan, Conor and James set the place on fire and turned everyone upside down! Upcoming shows from October 2020! Stay tuned!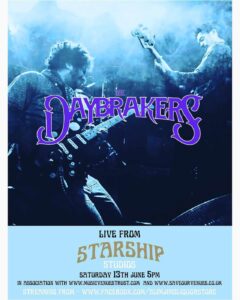 The band kept really busy during lockdown!!
Check it out!
Isolation Anthems from London's Fast Rising Daybrakers
By Mat Snow
London's fast-rising, time-warping bluesological rockers The Daybrakers have been busy despite being forced by the pandemic lockdown from their natural habitat on stage tearing it up in packed venues both in their own right and as the most supernova stars on Starship club nights which attract such luminaries as Jeff Beck & Jimmy Page.
With no time to waste, four new tracks are in the bag and heading your, way in the shape brand new EP 'Did You Miss Me ?' via all the usual channels. A preview of this was heard last month with Isolation anthem 'Crash & Burn'. Fans will be unfurling their freak flags at the news, but if you're new to The Daybrakers, some facts.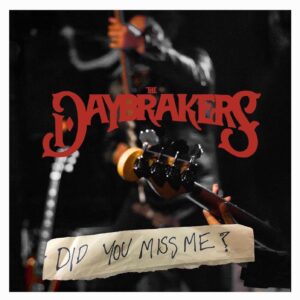 A power trio lead by singer/songwriter/guitarist Aidan Connell, The Daybrakers groove like a mutha thanks to jazz savant drummer James Gullis and school-of-Stax-meets-Motown bassist Conor Cotterill, the three embodying the seeming paradox of tight but loose.
Initially inspired when founded last year by Aidan's longstanding love
of Peter Green's Fleetwood Mac and Cream who pushed the boundaries of rhythm and blues back in the '60s, The Daybrakers channel the same spirit by mixing up the medicine to evoke the shades of the MC5, Captain Beefheart, The Gun Club, Morphine and more. No constipated purists, The Daybrakers hug synths, sampladelica, the avant garde and pop to their Paisley-patterned bosoms, a three-headed brave Ulysses for the 2020s.
Tracks & Quotes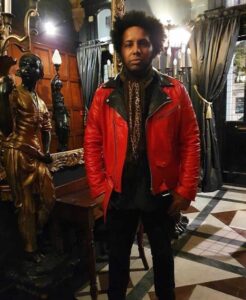 Aidan Connell on Turn Up The Silence: "Quite a quote orgy, this one. Though  I drop in lines from both The Beatles and the Stones, I was thinking Thin Lizzy and Nirvana musically — the way they made fantastically catchy and dynamic pop music out of their respective blues-rock and grunge roots. And, like all my songs, I love an anthem,  a rallying cry, a call to arms.
Aidan Connell on Crash And Burn: "Remember the so-called Big Music popularized in the '80s by The Waterboys, Big Country and U2 — that romantic, widescreen rock sound that made you think of mountains and lakes rather than nightclubs and suburban high streets which is what most English pop and rock was doing at the time? I hope Crash And Burn has something of that Big Music vibe — dealing with life's harsh realities and limitations by dreaming of freedom's wide open spaces. So saying, there's urban claustrophobia in there too — not just that Hooky-style bass but when I sang I was definitely tipping my hat to Lou Reed and Morphine's Mark Sandman."
Aidan Connell on Black Music: "What defines rhythm and blues? The clue's in the bass riff — something Ronnie Laine came up with for Rod Stewart transformed a song first sung by Little Richard before being taken up by Rhinoceros and then Delaney & Bonnie. In short, it's my story of the blues, and it's one that has no time for purists. Great music should be pure of heart, but beyond that the only things that matter are ideas and inspiration. Big thanks here to Uk Blues Musicians Dominic Thatcher on saxophone and Ray Dury on Hammond organ."
Aidan Connell on Bamako Blues: "A Grio-esque foot stomper which takes its cue from Ali Farke Toure so is straight outta the Mali delta without detouring via the Mississippi. I wanted to address the racial inequality in the British music scene especially within the Blues scene that is ironically 'a music of black origin'. It was written during my two year stint on London's blues circuit which at first was fun but very  quickly became a tiresome chore with endless rehashes of Muddy Waters  and Leadbelly staples. To keep things interesting I'd experiment with the formula and try to give the audience something new, but I'd only end up being chastised by venue owners and told to 'keep the punters happy'. So when I sing, 'I'm the great imposter, I'm taking you all for a ride', that's genuinely how I felt at the time — I'd begun to  feel like a fraud, churning out standards with no personal identity as well as being expected to be a cliched 'song and dance man'. With tensions pushed to boiling point with high profile London blues venues not only refusing black blues musicians show  bookings but also refusing admittance to several members of the black community 'as reported in several high profile stories'. So I quit the scene to concentrate on production and building my own  inclusive live music scene and music studio based around the club night Starship, which is really taking off with attendances from Led Zeppelin legend Jimmy Page amongst others. The track also features band colleague and friend Connor Selby on guitar who has been opening for The Who on their recent UK tours."
Links:
Did You Miss Me? is available on CD & Digital Download via Lovin' Cup
THE DAYBRAKERS
WEBSITE | FACEBOOK | INSTAGRAM 
Many thanks to Mat Snow and Aidan Connell for their awesome collaboration!

Latest posts by Rosine Alleva
(see all)