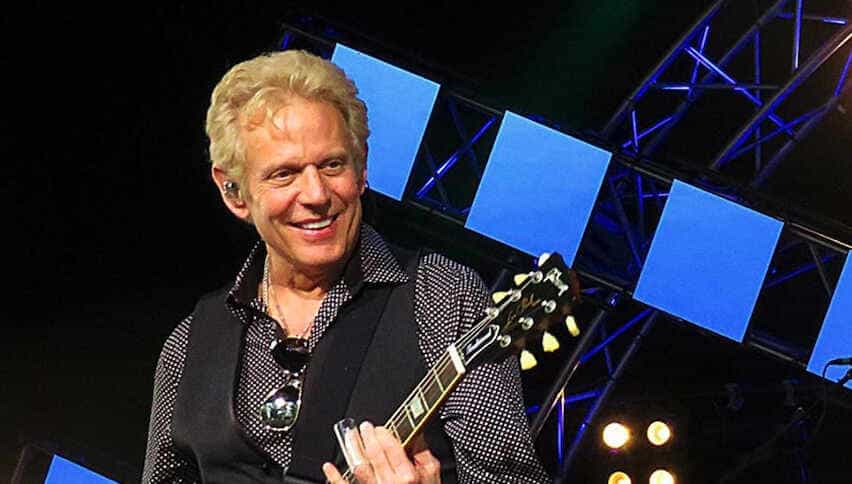 Anita Stewart, Rock at Night Pittsburgh Correspondent 1/30/20
Interview with Don Felder-PART 1
Go to Part 2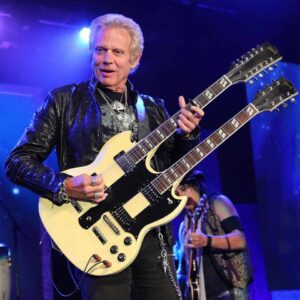 This was a great interview! Rock At Night spoke with Don Felder on Thursday, January 30th, 2020, right before he was leaving town for his tour. Unfortunately, the audio was not clear enough to use so we could not upload a podcast but the interview is transcribed below. I found Don to be very warm and gracious and he just loved talking about Rock and Roll history, the connections and collaborations he has with other ground–breaking artists along the way and a little glimpse into his personal life without revealing too much. He loves the history and you can check out some of his videos on YouTube from AXS-TV. For a 72 year old rock and roll legend, he is living his best life and doing what he loves. Bravo!
Anita-Rock At Night: Hi, this is Anita Stewart with Rock At Night and I am sitting here chatting with Don Felder, formerly of the Eagles, co writer of the song Hotel California, composer of the theme song for the Heavy Metal movie, a Rock and Roll Hall of Fame member, a session artist and a Gainesville, Florida native…he has played with just about everyone who counts…and has a treasure trove of rock and roll history that goes along with all of that. Don has a great new album that you can find on Spotify and other music platforms and called "American Rock 'n' Roll." He dropped this latest album last spring on April 5th, a lucky day, also my birthday! This album is great–I have listened to it several times this past week and you are getting ready to to on tour to support the album as well. Of course you're going to be partying for the Super Bowl before that while you are in New York.
DF: So you've got it. We are starting the tour in Annapolis, Maryland next Thursday night (2/6/20). I fly from Los Angeles to NYC on Saturday. We are celebrating the Super Bowl and some other things in NYC on Sunday and then I will go down to Annapolis and start the tour. I will have a few days in NY and it is supposed to be nice and sunny and unusual for NYC in February so I'm looking forward to it. 
Anita-Rock At Night: Now to my first question: how did being from Gainesville and coming from such humble means shape you as a person and as an artist?
DF: Well, like you just said. I had a very humble upbringing and both of my parents worked. My father was a mechanic. My mother worked in a dry cleaners cleaning people's clothes. And I worked–nothing was given to me. I had to start by picking up Coke bottles for a two cent return deposit, mowing people's lawns, washing cars to get enough money to buy guitar strings or a guitar that was missing strings. If you wanted something, you worked for it. So that has really been my philosophy my whole life–nothing is given to you. You could be blessed with an opportunity but you have to do a lot of work in order to be prepared for that opportunity. Fortunately I've been given a gift that I absolutely love. I love playing music and I fell in love with music in Gainesville when I was ten years old. My dad loved music and music was in our house nonstop when he was home. He was a big supporter of mine and helped me get a lot my first instruments. He got a tape recorder so I could borrow peoples records and record them and sit and learn the songs–when I learned one, I would borrow another record and record and learn that. It shaped me in most ways but especially about being humble. Once you become successful at anything be gracious with your success and with whatever you've got. The main theme behind it all. That is how I approached my life, before, during and after my massive success with the Eagles.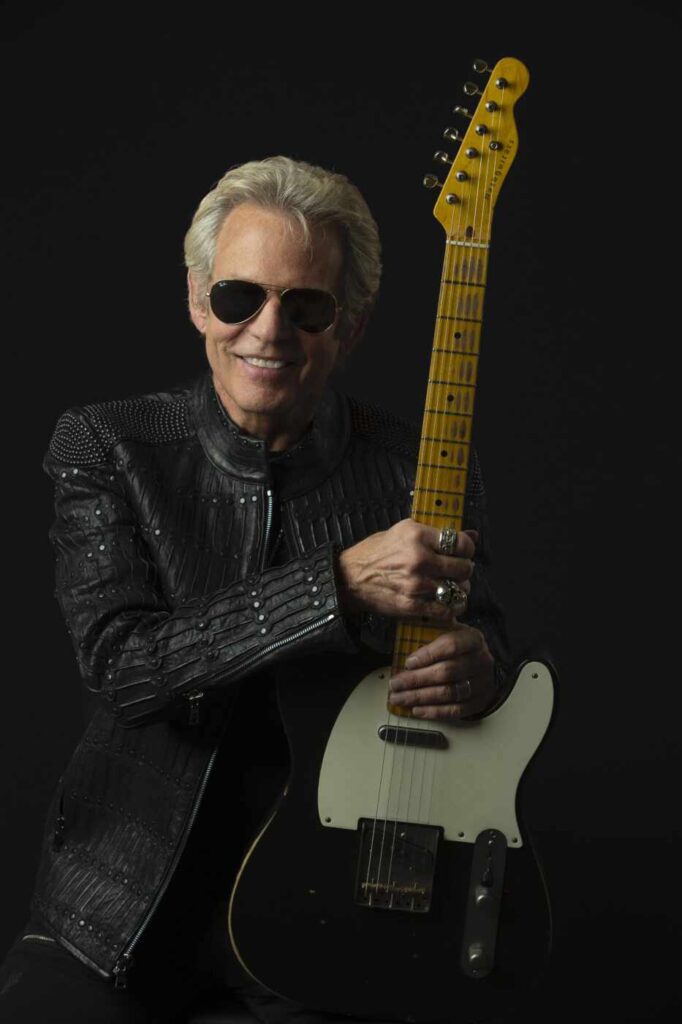 Anita-Rock At Night: Now you had a lot of connections to other Florida artists from that time frame and I certainly remember all of these people too in the very beginning. For instance, you taught Tom Petty guitar. Stephen Stills was hanging out over in my hood going to the military academy at St. Leo's which is now a full college but back then was all male and was specifically for boys that had bad behavior. And then there was the Allman Brothers! You learned slide guitar from Duane Allman! So tell us a bit about those connections. 
DF: Well, there was a music store that finally opened up in Gainesville  and they wanted me to teach guitar there. I would demonstrate guitars for people that wanted to buy something for their kid at Christmas and then after they gave him the guitar, they would be back in for music lessons. So one day I was teaching in this music store and Tom came in or Tommy as he was known back then. He was playing bass in this band that had two guitar players and and he was playing bass and singing in front of the band but he he wanted to play guitar. So he came in and started taking guitar lessons there. I went over to his home a couple of times to listen to his band and tried to help their guitar players not to play artlessly and step all over Tom's vocals. He never became a great guitar shredder, but he was a great songwriter. He had a charisma on stage from the beginning that was captivating.
DF: I had a band called the Continentals. One night, I was doing a gig at a fraternity party and Stephen Stills walked in and and it turned out we went to the same high school, GHS–Gainesville High School together–so he walked in with a guitar. He had just left his military academy (author's note***St. Leo in San Antonio, Florida) and he had run away to Gainesville, I think his mother lived in Gainesville at the time. And he had heard about my band. He auditioned for me at sound check and he joined my band that day. So we became band mates for about a year and a half–I think we were about fourteen or fifteen. My mother used to drive us around to shows as neither of us had a car or a license to drive. Stephen took off right after high school and went to Central America and California. And within a month Bernie Laudin arrived. We changed the name of the band from the Continentals to the Maundy Quintet. We became involved with the Allman Brothers through the Battle of the Bands.
Anita-Rock At Night: I remember those. Those were frequent. They were happening in Tampa, Gainesville, everywhere!
DF: They used to be In Gainesville and were held in the parking lot of the shopping center where the music store was and they would go on all day. Lots of people would come in to see these bands. We became good friends with the Allman Brothers. Every time we played they won. So my band lost three times to their band. Those were guys that were on fire. We used to join them and do shows in Daytona beach and we would spend the night on the floor at Duane and Gregg's mother's house in Daytona. And one night Gregg was playing piano and Duane was playing slide guitar and I had no idea what that was and asked him to show me how to play it, and asked him what is that? I had seen a lot of the older black blues artists playing slide on acoustic guitars but had never seen anyone do it on electric guitar. So he showed me how to tune it and how to pull down on the 5th and slide up to a 3rd and pull down from the root to a flat 7th–how it all worked.  I could never emulate him nor would I ever dare try because he was a master at it. But he did give me the basics and help me with it over the time that we knew each other and before they moved to Georgia. Yeah, I owe him my slide guitar knowledge which actually got me into the Eagles. I was called by the Eagles to play slide in a song  "Good Day in Hell" and the next day I got a call from Glenn Frey asking me to join the band. So thanks Duane for showing me how to do that!
Anita-Rock At Night:I remember at that time the guitarists were using, like you had said in your book, the tops of beer bottles as slides but they were also using the shaved off glass bottles of Coricidin Cold Medicine as well. And probably getting high from the cold medicine while they were at it.
DF: That's how it most likely worked in those days.
Anita-Rock At Night: I ask pretty much everybody this question. What do you think are the most dramatic changes in the music industry since you started? What is different about how you started and how a young artist of today might start?
DF: Well, when I started there was radio and everyone was on the radio! There was no internet, right? There was not even MTV. So the way you communicated with your audience was through radio. I remember downloading records from Randy's Record Mart in Gallatin, TN and you could listen at night to the radio (author's note***did not catch the call letters here) where you could hear BB King and other great blues players and you could order a record for $2 by mail and every day you would check the mailbox to see if it came. You would get a 45 record about two to three weeks later and put it on your turntable and learn the song and then save up $2 to order the next one. That was the download–two and a half weeks. We didn't have a record store. That was the way it was when I grew up. I remember just talking to a kid who is 8 years old–the CEO of Gibson Guitar Company called me and said "you gotta hear this kid." He played the solo at the end of Hotel California. He said he had seen me on YouTube and listened and watched the video over and over again to learn how to play every note. Not fair! I used a primitive recorder and I had to back it up and play it and back it up and play it over and over again to learn a song.
Anita-Rock At Night: I remember in those days to the Clear Channel radio too because that is what we would listen to at night and that's how I found out about Jimi Hendrix! I would be laying on my bed and those channels would come out of, oh I don't know, Chicago, Nashville, they were only coming on at night and I had never heard of Hendrix before until I listened in as they were the only ones playing him.
DF: Well, I was glad to see Jimi Hendrix live at Woodstock and Carlos Santana and Janis Joplin, I saw tons of people there that totally inspired me in music before I ever moved to California. This last record that I just recorded, "American Rock 'n' Roll" is really a salute to those artists that were at Woodstock but all the following decades and generations that were so influenced by these artists that they rose to become artists of their own, Slash and Frampton for example. It was a magical moment. I wanted to capture that whole concept on this album. Slash, Joe Satriani–one of the best, Orianthi, Sammy Hagar, Richie Sambora. Tons of people showed up to be on this album with me. It was really a tip of the hat to all of those artists that came before us that continue to inspire us to do what we love to do so much.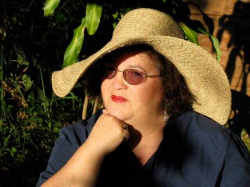 Latest posts by Anita Stewart
(see all)