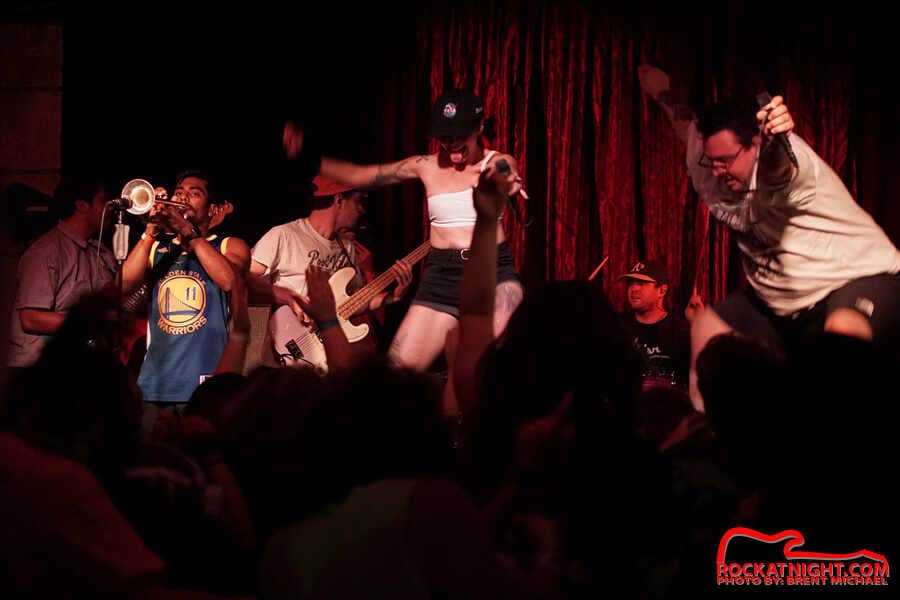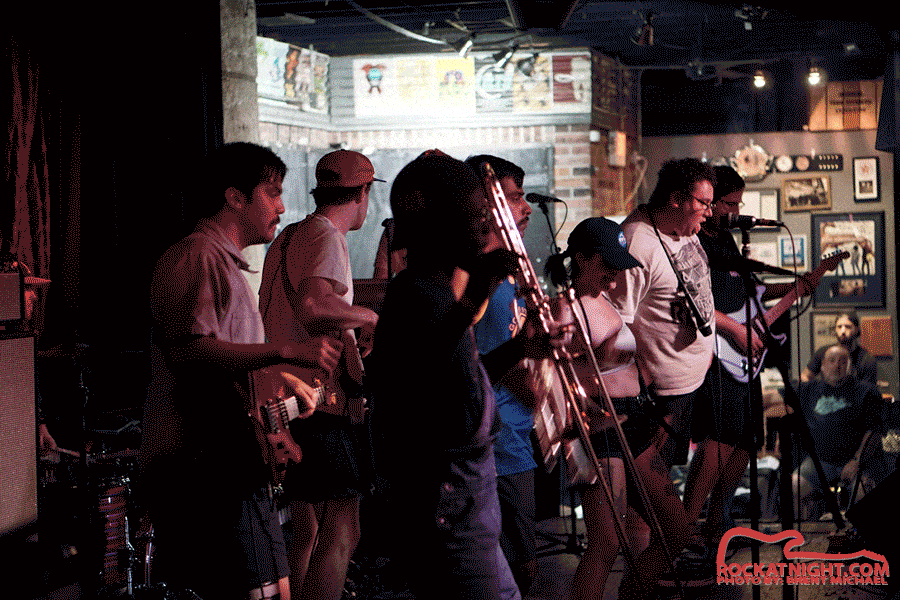 By Brent Michael, Rock At Night Tampa Correspondent
Venue: Crowbar, Ybor City/Tampa, Florida–October 11th, 2019
Bands: Just Friends / Save Face / The Sonder Bombs / Pool Kids / Hotline TNT
Bands on Facebook/Social: Just Friends / Save Face / The Sonder Bombs / Pool Kids / Hotline TNT
In 2015, Just Friends exploded onto the funk/punk scene when they released their debut collection, Rock 2 the Rhythm, followed by their sophomore effort, Nothing But Love, in 2018. After of a slew of smash hit live performances supporting fellow (San Francisco) Bay Area rockers Mom Jeans, the group signed to Pure Noise Records in early 2019 and released the music video for "Supersonic". Now they've made a stop in another Bay across the country, bringing their demolition-style jams to the Tampa Bay/Ybor City club/concert venue noted for introducing national acts gaining steam, Crowbar.
Oh, wait, I have to mention their warm-up act – comedian Anderson Regan, if I'm spelling that right. His short but profoundly thought-provoking and funny 15 minutes provided some auditory respite. Not mentioned on the playbills or anywhere, he's a guy to watch!
So the first thing you might be tempted to think when they take the stage is, "Okay, which HR department hired these musicians to reflect the most PC-possible band? And why are there so many of them?" But what at first might seem like a randomly collected group soon demonstrates that they all have a part to play, and that they are – literally – choreographed for maximum entertainment. You can tell by the crowd they succeeded!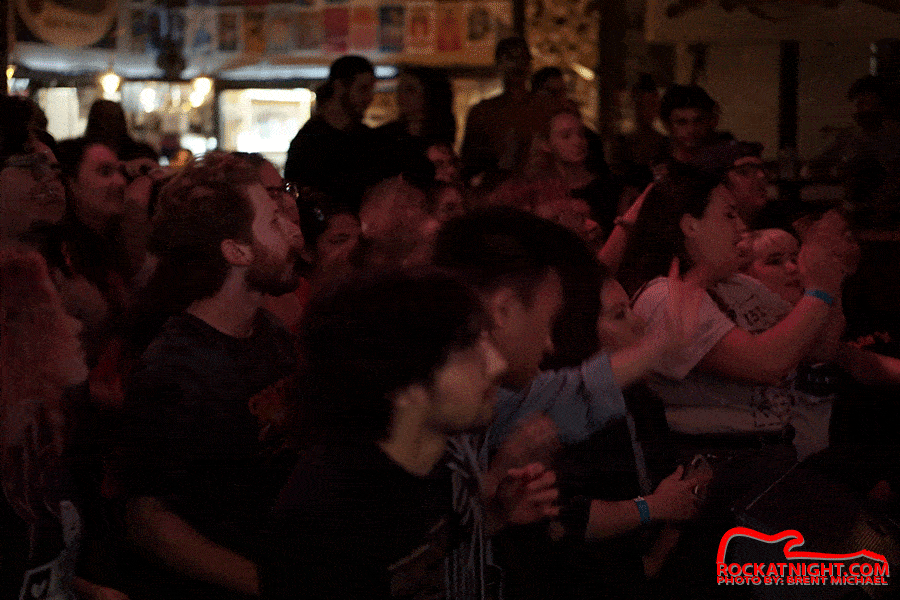 One thing I noted that applied to almost every band: Gender equality is coming. I've noticed more and more females in the role of musicians, not just singers, and definitely not just eye candy. It's becoming less and less common to see women relegated to holding only microphones. It's a good thing, grandpa! Save Face provides a good example.
Something of a reversal in many ways, the bass player is not a huge guy, but a petite woman! And while she does her share of dancing and back-up vocals, the lead singer is the most energetic of all the players on stage. New Jersey-based, the band burst into existence in 2012 and has been touring and tearing up the country ever since, with their latest release "Bummer" including members of Just Friends streaming in the door! It's already gathered over 36K views to date, a sure winner!
Speaking of winners, Pool Kids preceded them with some Florida-based cyber gothic math rock. Or whatever it was, all I know is it sounded great! At least one member was back home in Tampa, the others are mostly Orlandians, but they – and the audience, many of whom were local supporters, including the parents – were having a blast putting on a great show!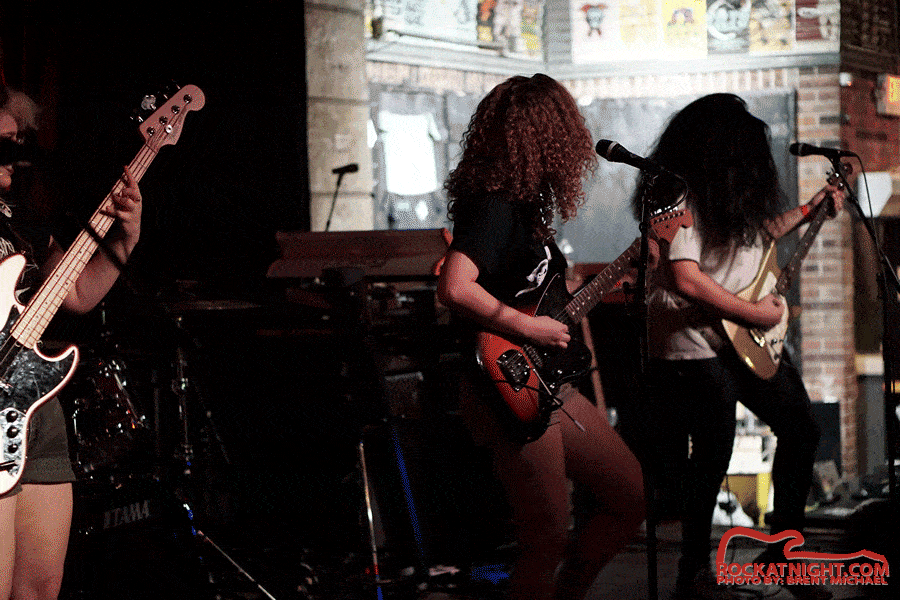 The band's wry sense of humor shows in their live performances and in their latest released title, Music to Practice Safe Sex to, which is available to hear and listen to all over the web: Spotify:https://open.spotify.com/album/2FILOe0PGWAUPZY2770WNv… Apple Music: https://itunes.apple.com/…/music-to-practice-sa…/1398931364… Soundcloud: https://soundcloud.com/…/pool-kids-music-to-practice-safe-s… Youtube: https://www.youtube.com/watch… Google Play: https://play.google.com/…/prev…/Bhs5ycderd54fzyvrqllorcjeui… Deezer: https://www.deezer.com/us/album/65768562?autoplay=true Normally we don't include this many links, but it demonstrates that even though they are a relatively new band, they know how to create buzz and get their music out there! I expect the next article about them will have them headlining a tour!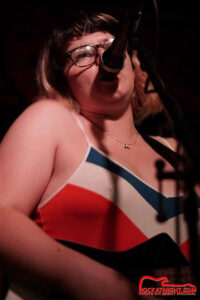 The Sonder Bombs kicked the night up a notch after the solid foundation laid by the opening act. First, some explanation: The band's name doesn't come from a member's appellation, but from the obscure word sonder – the realization that each random passerby is living a life as vivid and complex as your own. Describing themselves as a uke-punk/emo/garage/pop band, and the band swears – pinky swears – the ukelele is not the product of a cutesy bygone era, it's a weapon in a battle to be taken seriously in a male-dominated scene. Okay. I'm not sure how that works, but it wasn't a distracting element, and despite the socially-conscious self-labeling, the band didn't come off as preachy, a good thing in these days where the White House is occupied by an unapologetic misogynist white supremacist and we're suffering from anti-intellectual fatigue, struggling to explain to the ~37% of the population why facts matter.
Prior to that, the powder was primed by Hotline TNT, a band that sounded worth more time than I got to spend with them – I was told doors opened at 7, so when I arrived at 7:15 or so I thought the band was just starting – so I only heard 1.5 songs and got no photos! And the band is something of a mystery, no website or Facebook page, formerly members of a band named Weed out of Vancouver – or Minneapolis, with Wm Anderson in the mix somewhere, there's a Twitter account and Youtube videos and music on Soundcloud, but nothing completely describing the band. They have a fuzzbox/wall of sound sound that had the building shaking in anticipation of the detonations to come!
Photo Gallery

Latest posts by Brent Michael
(see all)