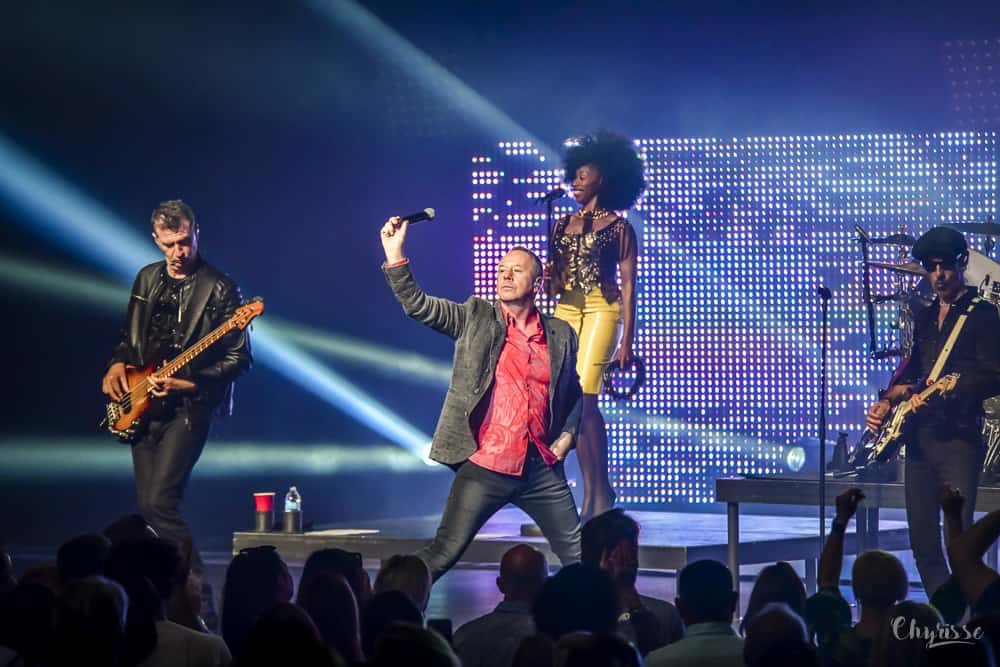 By Chyrisse Tabone, Rock At Night Tampa
Venue: Mahaffey Theater, St. Petersburg, Florida–November 9, 2018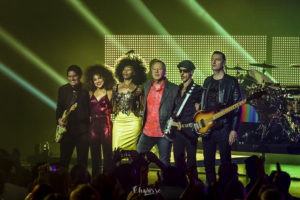 Simple Minds has been touring this year since the release of their studio album, Walk Between Worlds, in February 2018—beginning in Europe, working their way to the UK in Summer, and North America in Fall.  Since Simple Minds do not play North America frequently (the last time was 2015 and before that 2002), my excitement was monumental when I heard the tour was making its way to Florida. How, could we be so lucky?!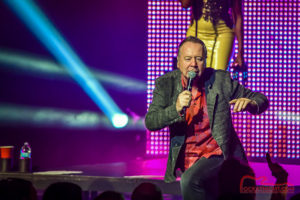 Simple Minds has been making music consistently since 1977—they hit it huge in North America with the hit single "Don't You (Forget About Me)" during the 1980s, the era of MTV, Live-Aid, hair bands, and "Brat Pack" films.  What appealed to me about Simple Minds was the soulful sound of Jim Kerr, the gospel harmonies, and the high energy and emotion in every song. Truly epic!  My Once Upon A Time cassette was always a must-play in my Fiat Spyder—so much that the plastic case started to warp and melt from the heat.  I was one of those obnoxious drivers that blared "Sanctify Yourself" and "Alive and Kicking" at the traffic stoplight, dancing in my seat, wearing Wayfarers, and hair teased 6-inches high.
Many may not be aware of the fact that Walk Between Worlds is the band's 17th studio album, and has all the energy and oomph of the music we remember from the 80s. Fans that are only familiar with their earlier work really should check it out!  Another recommendation is the 2016 Simple Minds Acoustic album, which puts a fresh spin on the songs we know and love.
---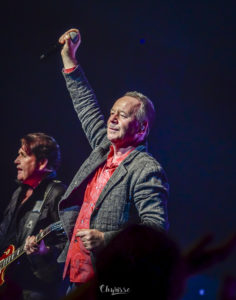 Simple Minds rolled into the Mahaffey Theater, St. Petersburg, Florida, on November 9th, prior to finishing the Walk Between Worlds Tour on Sunday night in Orlando, Florida.  As I walked into the Mahaffey, there was a buzz of patrons, scrambling to buy merchandise, grabbing drinks, and finding their seats. By the time the concert began at 8 p.m., almost every seat on the floor—and three upper balcony levels—were filled with Generation X'ers, waiting to relive their youth, and enjoy what would end up being perhaps the "concert of the year."
The concert was mostly a mix of classic songs between the 80s and 90s but also featured new music from Walk Between Worlds.  Jim Kerr came out on stage wearing a red shirt with flamingos, a grey jacket and pants. He was backed by original Simple Minds guitarist/keyboardist Charlie Burchill as well as a very talented group of musicians and singers—Cherise Osei (drums), Sarah Brown(vocals), Ged Grimes (bass), and Gordy Goudie (guitar).  Missing last night was Catherine A.D. "The Anchoress" on vocals, whom I had hoped to see. Nevertheless, being the end of the tour, the band played each song seamlessly, and appeared to be immensely enjoying themselves.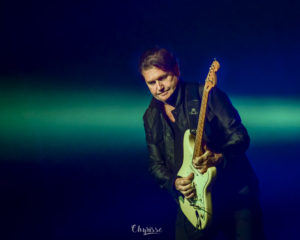 The set's lighting and laser effects were gorgeous, as it added even more drama and beauty to what would end up being a truly magical evening.  Honestly, I cover concerts on a weekly basis and the Simple Minds concert will not fade from my mind–nor anyone else's for a long time to come.
The concert commenced with "The Signal and the Noise" from Walk Between Worlds and then hearkened back to the earlier days with "Waterfront", "Once Upon a Time", and "Let There Be Love".  Throughout the concert, the audience was standing and dancing, filling the room with body warmth, and smiling faces.   Jim Kerr was constantly prancing, swinging the mic, shaking hands or fist-bumping audience members, as he went on the stage side-to-side.  Occasionally, he would sit on the edge of the stage.  He was looking very fit and commanding, and showed no signs of slowing down.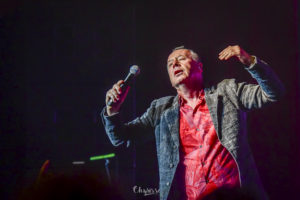 Kerr finally paused after "Up on the Catwalk", saying "I am too old for this malarkey!"  He mentioned that he had not played St. Petersburg since about 1985.  Way too long, in my opinion. He joked saying, "I'll tell you who wasn't' hear when we last played…Cherisse! She gave the excuse of not being born yet!"
The band played "Glittering Prize" from the New Gold Dream album, delivered by both Sarah Brown and Jim Kerr. Kerr was visibly sweaty as his shirt took on a darker hue.  Kerr thanked the crowd repeatedly during the evening, and said, "If you came from far away or even a block away, we appreciate it! We haven't toured extensively in the States in such a long time."
He continued explaining his thoughts he had prior to touring to America, "Paranoia crept in.  Wonder if nobody remembers us?" Just like the chorus of "Don't You (Forget About Me)", the Americans had not!  Kerr described a conversation with an American woman who did not quite remember who he was, asking if the band was "Simply Red?"  After he said "No!" she explained her lack of recognition saying, "I remember your videos. You were so young and thin."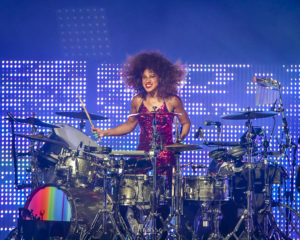 The concert continued with "Promised You a Miracle", "The American", "Hunter and the Hunted". Kerr noted, "We haven't even taken our jackets off yet."  Every patron seemed to be engaged and entranced with the concert, as very few cell phones waving in the air were visible. This audience was focused.
Kerr announced there would be a 15-minute intermission, and quipped, "I remember those cucumber sandwiches—I need one. Please don't go home. I'll feel really stupid."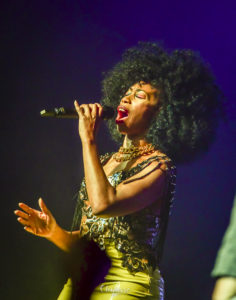 During the intermission, I chatted with a 50-something woman who had been dancing with enthusiasm during the concert. I asked her if she had seen Simple Minds before, and she responded, "Yes, like 32 years ago! I was living in Houston and had just fallen in love with my husband." She pointed to the gentleman next to her.  "I remember when Simple Minds came to town we had little money but spent our last dollar to see Simple Minds."  She had been waiting all these years to see the band again.
The second half of the concert began with the instrumental "Theme For Great Cities", with flashing lights and cool synth riffs.  Jim Kerr came out dressed with a black shirt, jeans, and a tan jacket singing, "She's a River".  Next was a new song, "Walk Between Worlds", which featured Sarah Brown singing, and almost had a Pink Floyd-ish feel to it. Another stand-out song which started dramatically with the band's silhouettes, and had a very spiritual tone was "Dolphins".   I became engulfed with emotion as this song hit a chord with me—recently there have been a lot of dolphins beached in our area due to red tide.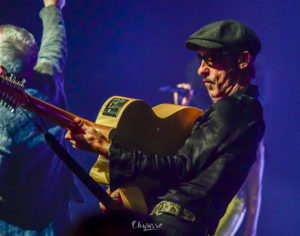 When "Don't You (Forget About Me)" was performed, the entire venue was singing along, dancing, and waving arms in the air.  Kerr got the audience to sing the "La la la" part and joked, "Now, sing it in Spanish! OK..Japanese." Again, he thanked the audience, saying, "We want to say thanks to everyone for singing, standing up, and giving us all your energy, making us feel like rock stars!"
The evening came to a close with "New Gold Dream", with its rousing cowbell, and high energy delivery.  The encore was "Book of Brilliant Things", soulfully sung by Sarah Brown (what a voice!), "Alive and Kicking" and finally, "Sanctify Yourself."
The Simple Minds concert was everything I had hoped for—and more—because Jim Kerr and the band delivered a flawless performance.  I certainly hope they won't wait years to come back to The States. Don't you forget about US…. please!
PHOTO GALLERY

Latest posts by Chyrisse Tabone, Ph.D.
(see all)