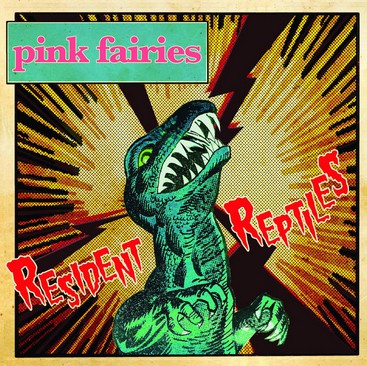 By Dennis Dalcin, Rock At Night, St. Petersburg, Florida
Album Review: The Pink Fairies' Resident Reptiles–Release date August 24, 2018–Label: Purple Pyramid Records
The Pink Fairies – Resident Reptiles (2018) The Fairies have been around in one form or another since 1970 growing out of the Ladbroke Grove band The Deviants. Some hippies have gone soft and useless over the years but not The Fairies. Their music is alive with a vitality that few bands have especially after so many years. Founding member Paul Rudolph is joined by bassist Alan Davey and original Motörhead drummer Lucas Fox with Pink Fairies/Motörhead member Larry Wallis there in spirit as they cranked out his "Old Enough To Know Better" tune.
"Apologize" reminds me of vintage 70's Hawkwind. Yet another British band that shared members with The Fairies The only thing missing is the saxophone which Hawkwind used on a number of their tunes. One could also hear "Lone Wolf" being played by Motörhead.
This is the way real rock 'n' roll was meant to be played…amps on 10 and balls-to-the wall rock seeping from every pore! Checkout the tracks "Mirage", "Whipping Boy" and "Monkey Chatter" to feel the fire burning in these tracks. Garage psychedelia at it's best!
Pink Fairies Resident Reptiles will be released on Purple Pyramid Records on August 24th and will be available on both CD and gorgeous pink vinyl in a printed inner sleeve!
Track List:
1. Resident Reptile
2. Old Enuff To Know Better
3. Your Cover Is Blown
4. Mirage
5. Lone Wolf
6. Whipping Boy
7. Monkey Chatter
8. Apologize
To purchase:

Latest posts by Dennis Dalcin
(see all)