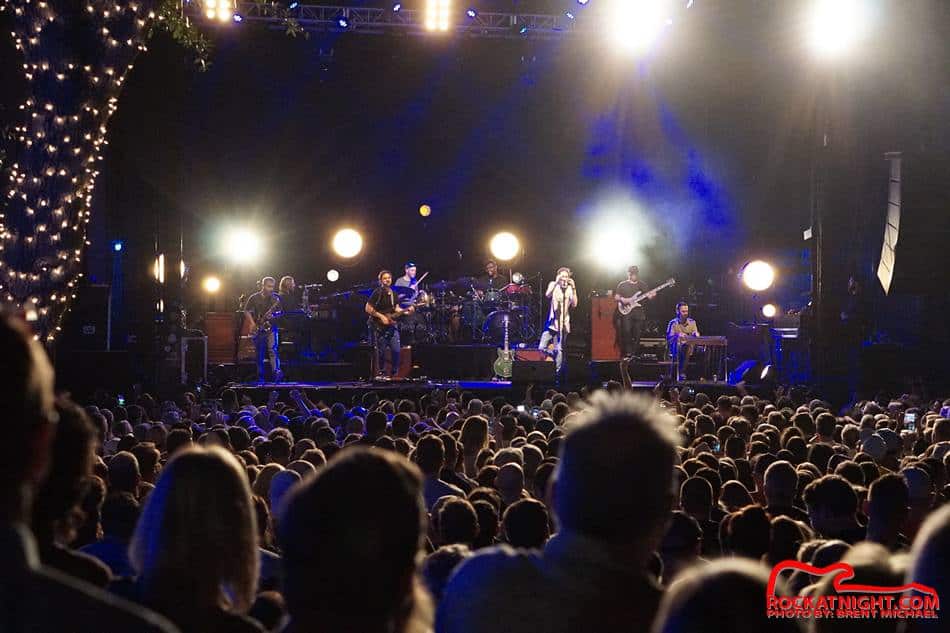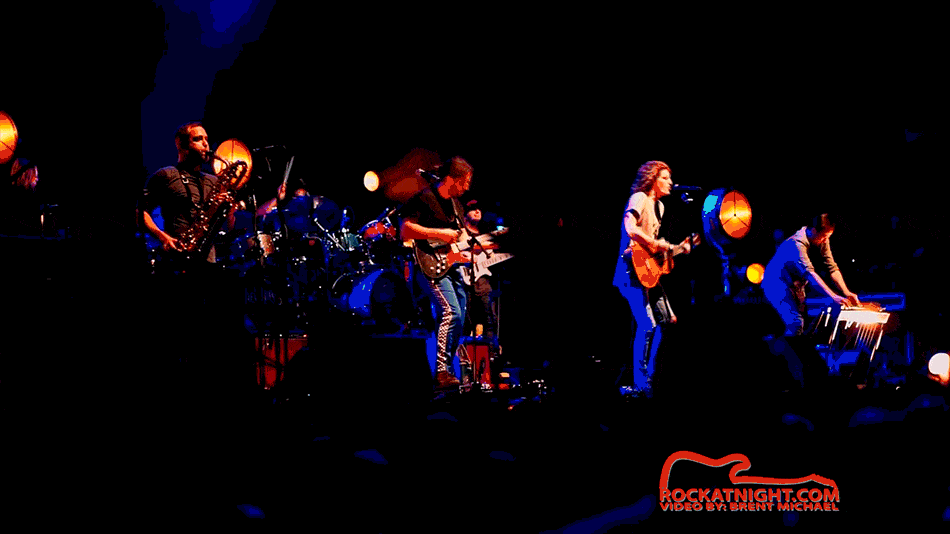 By Brent Michael, Rock At Night Tampa Correspondent
Venue: Jannus Live, St. Petersburg, Florida, April 11, 2018
Chart-topping rock band The Revivalists kicked off their summer tour in St. Petersburg at  Jannus Live, and if the crowd is any indication, GET YOUR TICKETS NOW! The tour includes stops in Reno, Raleigh, Charlotte, Charleston and more. Tickets are still available (for some shows) here: The Revivalists. 2018 is already gearing up to be another major year for the New Orleans seven-piece, who recently received two 2018 iHeartRadio Music Award nominations for Best New Rock/Alternative Rock Artist and Alternative Rock Song of the Year and announced sets at Bonnaroo, BottleRock Festival and Peach Music Festival among others.
The Revivalists skyrocketed to massive success in 2017 with their hit single "Wish I Knew You" which hit #1 at Alternative and Adult Alternative Radio, reached Top 15 at Hot AC, and spent 9 consecutive weeks on the Billboard Hot 100 Chart. Featuring front man David Shaw's unmistakable soulful rasp, an indelible melody and a mix of bluesy rock and Southern R&B swagger, "Wish I Knew You" has helped the band rack up more than 100 million streams to date and earned them multiple national TV appearances on Jimmy Kimmel Live!,The Ellen DeGeneres Show, TODAY and Conan.
The Revivalists are: David Shaw [lead vocals/guitar], Zack Feinberg [guitar], Andrew Campanelli [drums], George Gekas [bass], Ed Williams [pedal steel guitar], Rob Ingraham [saxophone], Michael Girardot [keyboard& trumpet], PJ Howard [percussion].
When I say they packed the house at Jannus, I mean packed. It seemed like every available inch was filled with a body part, and even halfway through their set people were still coming in, most having just got off work on a Wednesday night and ready to rock! And they weren't disappointed; frontman David Shaw bounced around the stage, off the stage, into the pit, being touched by the crowd yearning for a connection. Seriously, it took me back to the Beatles' early days, when the crowd made you wonder if the fence would hold!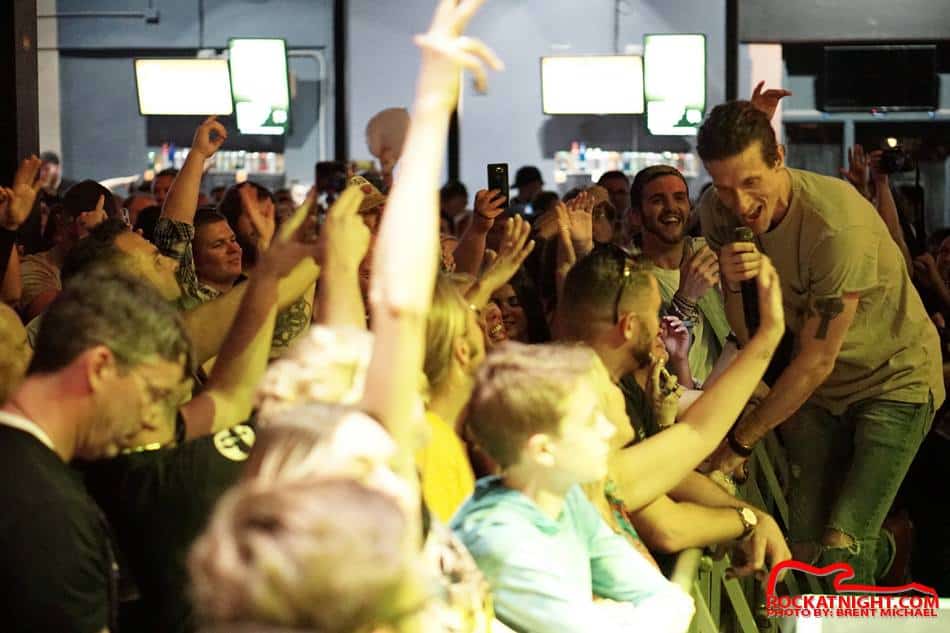 David Shaw works the crowd!
Upcoming Tour Dates include:
April 14 Jacksonville, FL @ Florida Theater
April 18 Dallas, TX @ House of Blues*
April 19 Houston, TX @ House of Blues*
April 20 Austin, TX @ Stubb's*
April 21 San Antonio, TX @ Aztec Theatre*
May 3 New Orleans, LA @ Saenger Theatre
May 5 New Orleans, LA @ New Orleans Jazz & Heritage Festival
May 25 Reno, NV @ The Plaza at Harrah's Reno
May 26 San Francisco, CA @ The Masonic
May 27 Napa, CA @ BottleRock 2018
June 8 Manchester, TN @ Bonnaroo Music & Arts Festival
June 9 Augusta, GA @ Bell Auditorium
June 10 Wilmington, NC @ Greenfield Lake Amphitheater
June 14 Raleigh, NC @ Red Hat Amphitheater
June 15 Charlotte, NC @ Charlotte Metro Credit Union Amphitheater
June 16 Charleston, SC @ North Charleston Performing Arts Center
July 20 Scranton, PA @ Peach Music Festival
August 17 Portsmouth, VA @ Union Bank & Trust Pavilion**
August 18 Cockeysville, MD @ Hot August Music Festival
August 19 Vienna, VA @ Wolf Trap***
September 13 Morrison, CO @ Red Rocks Amphitheatre****
* Support from Samantha Fish
** Support from Trampled by Turtles
***Support from ZZ Ward
**** Support from Houndmouth and J Roddy Walston and the Business
Speaking of support, in St. Petersburg it was provided by none other than Roosevelt Collier, aka "The Dr." Hailing from Miami, Florida, his tour crossed paths with the St. Petersburg show, fortuitous for both bands! Warming up the audience with his unique blend of Blues, Funk, Soul, Jam, Sacred Steel, Gospel, and just plain Feel Good Music, Roosevelt's debut album "Exit 16" is red hot and ready for purchase on vinyl or FLAC/mp3 as well as on all streaming sites!
Roosevelt built his reputation alongside his uncles and cousins in The Lee Boys, known for their spirited, soul-shaking live performances. Seated front and center, "The Dr." leaves an indelible mark on listeners, flooring audiences with his lightning-fast slide work on the pedal steel. At festivals, he is a regular "Artist at Large," performing alongside many of music's most prestigious acts, from the Allman Brothers, to the Funky Meters, to Los Lobos to the Del McCoury Band. Whether on tour with the Lee Boys, bouncing from stage to stage at festivals, or hosting an allstar get down in Miami, when Roosevelt takes the stage, the ear-to-ear grins can't help but be contagious.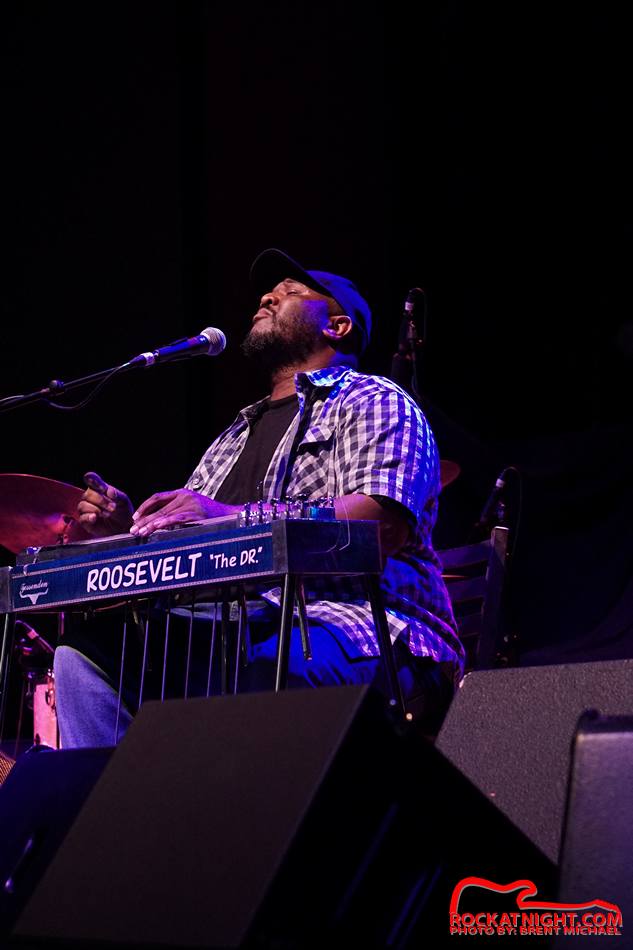 Photo Gallery

Latest posts by Brent Michael
(see all)