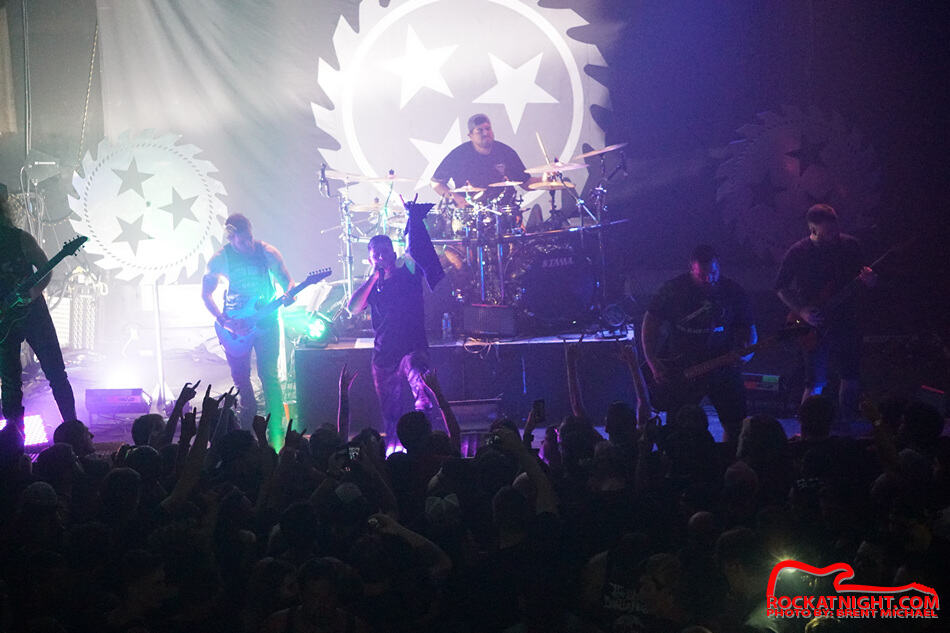 By Brent Michael, Rock At Night Tampa Correspondent
Venue: The State Theatre, St. Petersburg, Florida–November 11, 2017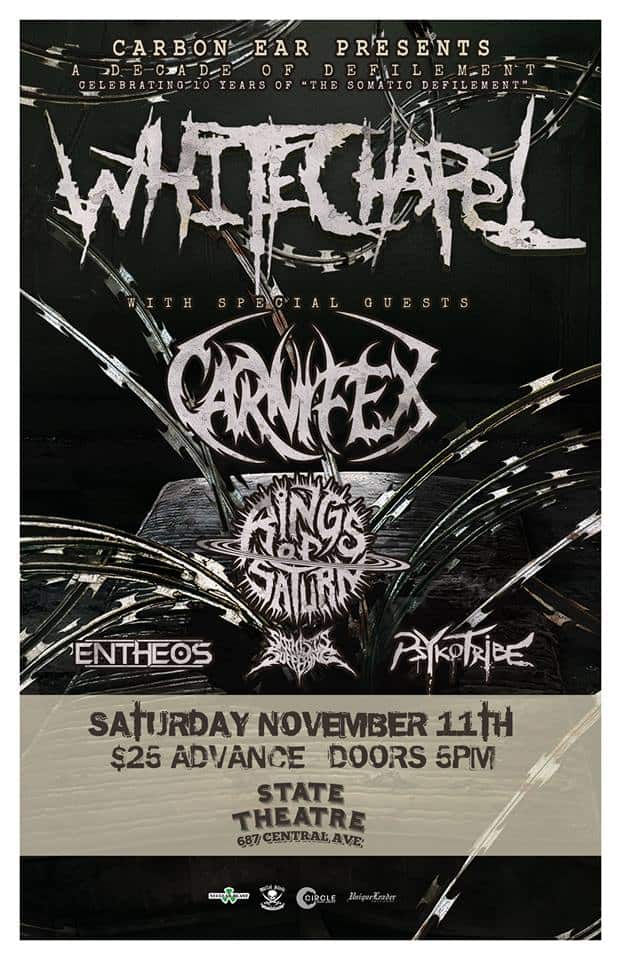 Let's start with a short and sad note of correction: 'Psykotribe' was on this show. Unfortunately, Jamez C Harrison and Jakob Sin were involved in a bad car accident, which left Jamez in bad shape, and the band couldn't play the show. They still made an appearance, and you could feel the love from all their fans:
They'll be back in action soon!
That put So This Is Suffering in the hot spot to get the crowd into a frenzy, and they pulled it off with ease! The post-deathcore band from Los Angeles area – loosely, since Victorville is a healthy hour-plus drive from LA – was formed by Zedadiah Martinez and Zechariah Gamez in 2007.  After a few lineup changes, drummer Gamez remains with vocals by Rudy Flores, guitarist Robert Brown, and bass guitarist James Williams.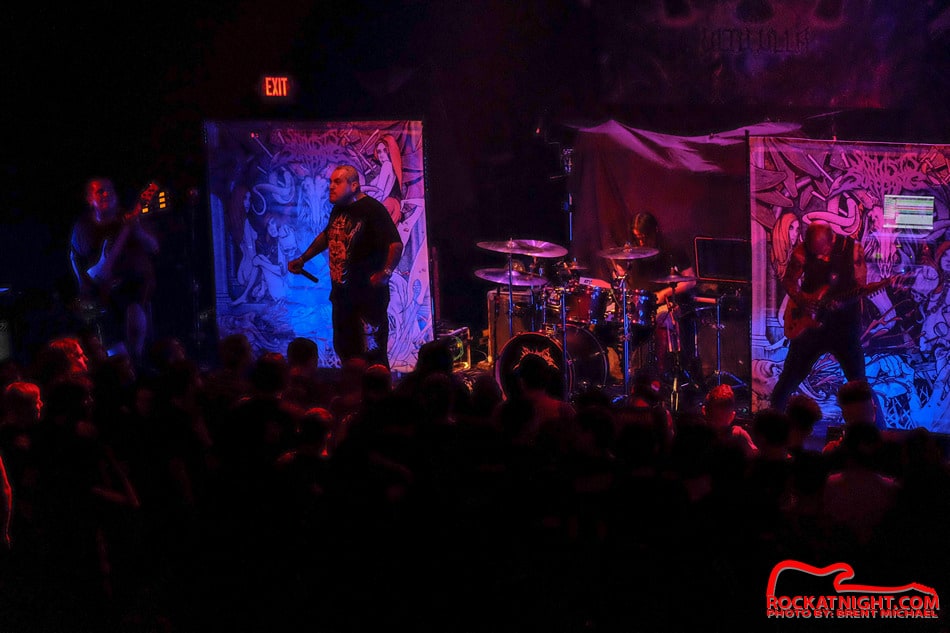 They were enthusiastically welcomed by the overwhelmingly white, male, 20-30-year-old crowd – a T-shirt bearing the words "Release Your Hate" seemed appropriate, though I never got to see the front of it. The circle pit formed almost immediately, and kept going through most of the night.
Next up was Entheos – pre-concert interview (coming soon) with lead vocalist Chaney Crabb, a founding member. That also describes bassist Evan Brewer and drummer Navene Koperweis, while guitarist Travis LeVrier joined the band a bit over a year ago.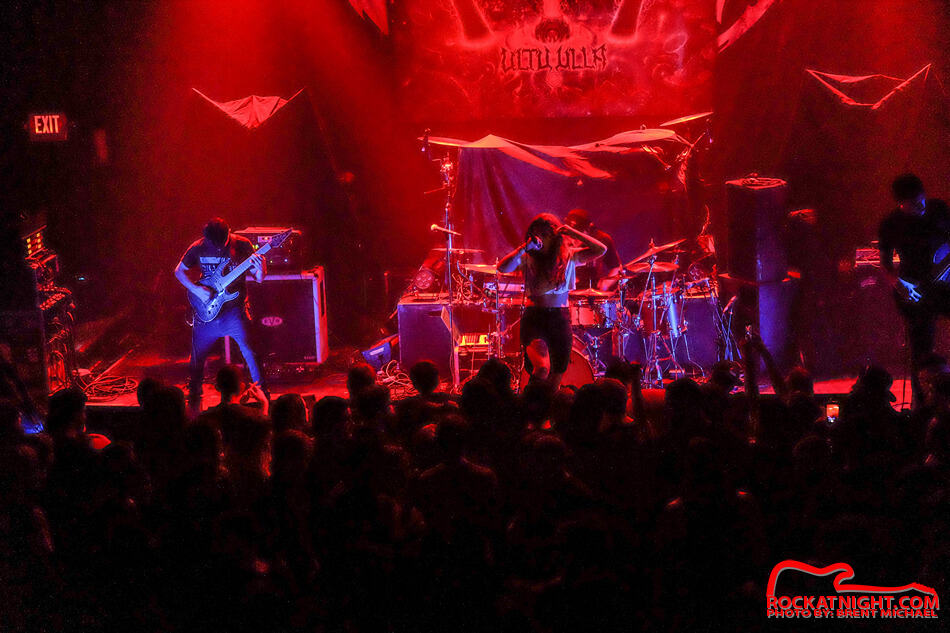 Entheos just released their new album, Dark Future, which rather than being a prediction of what the future holds, revolves around the idea that no one knows what the future holds – our crystal balls are black onyx, and can't be used to guide us. The new album is progressive in more ways than one; it's a progression of their sound from pure death metal to a more ethereal, melodic sound, for which new guitarist Travis LeVrier gets much of the credit, though the album was also more of a collaboration than anything they've done to date, more of an in-person process rather than assembled over the internet like most of their other work. Of course, they stayed true to Chaney's religion: metal!
The stage was next invaded by Ring of Saturn, and you're forgiven if some line-up details have you confused. You see, the Austin, Texas based Aliencore/True Death Metal band is made up of Founder/Guitarist/Bassist/Synth/Producer Lucas Mann – who isn't on this tour in person, but appeared only electronically, Ian Bearer, Vocals – except when another vocalist beams in and sings while Bearer makes faces – Miles Dimitri Baker, in person, playing Guitars, and Aaron Stechauner, beating the Drums within an inch of their life.
Not to worry though, whoever he was he handled the duties like a pro! But with that beard he doesn't look much like Ian! And it appears Lucas, who formerly was in Southern California – has now moved to Austin. But enough with the band's personal and personnel machinations, the music is what kept the crowd roaring and moshing! I have to say that while these five and six band concerts are a great opportunity to hear a variety of bands for a bargain basement price, most of the bands I'd like their sets to be longer! Someone needs to invent the technology that allows bands to press a button and their instruments set themselves up – though the venues that make money off liquor sales probably will never go for it. Anyway, Rings of Saturn didn't disappoint, with music from their 2017 release, Ultu Ulla.
A tough act to follow, but Carnifex, a modern death metal/black metal/deathcore outfit from San Diego pulled it off with aplomb. Formed in 2005, the band's current lineup (after a short hiatus in 2013, when Jordan Lockrey replaced Ryan Gudmunds on lead guitar), has mostly been stable since 2007, with founding members Scott Ian Lewis on vocals and Shawn Cameron on drums, and ten-year-members Cory Arford playing rhythm guitar and Fred Calderon handling the bass duties, the band members were obviously comfortable with each other and played like a machine lubricated in blood!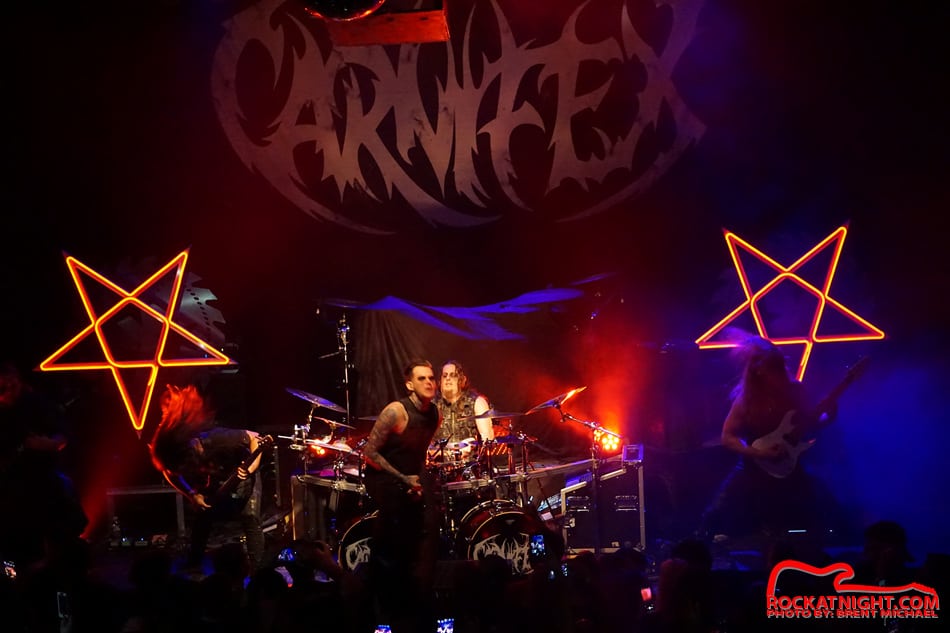 "Drown Me in Blood," "Dark Heart Ceremony," from their sixth studio album Slow Death, and and "Die Without Hope," from 2014's album of the same name, were clearly crowd favorites – though everything they had to offer was well-received. Negative themes garnered a very positive crowd response!
When they were through, the crowd had to handle yet another transition while the road crew tore down and set up, but a Surprise Guest Artist got quite the reception!
Then it was time for the Almighty Whitechapel (hey, I'm just quoting a reference made by another band onstage!) Known as a deathcore band with influences like  Cannibal Corpse, Meshuggah, Slipknot, Dying Fetus, Bloodbath, Pantera, Metallica, Slayer, Suffocation, Deftones, Despised Icon, Behemoth, Nile, Gojira, Vader, Necrophagist, Tool, Carcass, Aborted, Amon Amarth, Agnostic Front, Deicide, Morbid Angel, Napalm Death, Entombed, and Cattle Decapitation, there are plenty of other influences apparent in their sound. The band's moniker comes from the Whitechapel district of London, where Jack the Ripper notoriously plied his trade. Founded in 2006, the band's lineup has been stable since 2008 – except for drummers. Phil Bozeman still handles vocals, with Ben Savage, Zach Householder, and Alex Wade  on guitar duties, and Gabe Crisp on bass guitar, but they've been through three regular drummers and one touring drummer, in 2011. Currently, longtime drummer Ben Harclerode is still listed on their website and Facebook pages, though he announced in August that he has left the band and Chason Westmoreland (formerly of The Faceless and Hate Eternal) was taking his place – but unless my eyes deceive me, the drummer on this tour is not Westmoreland. Hmmm….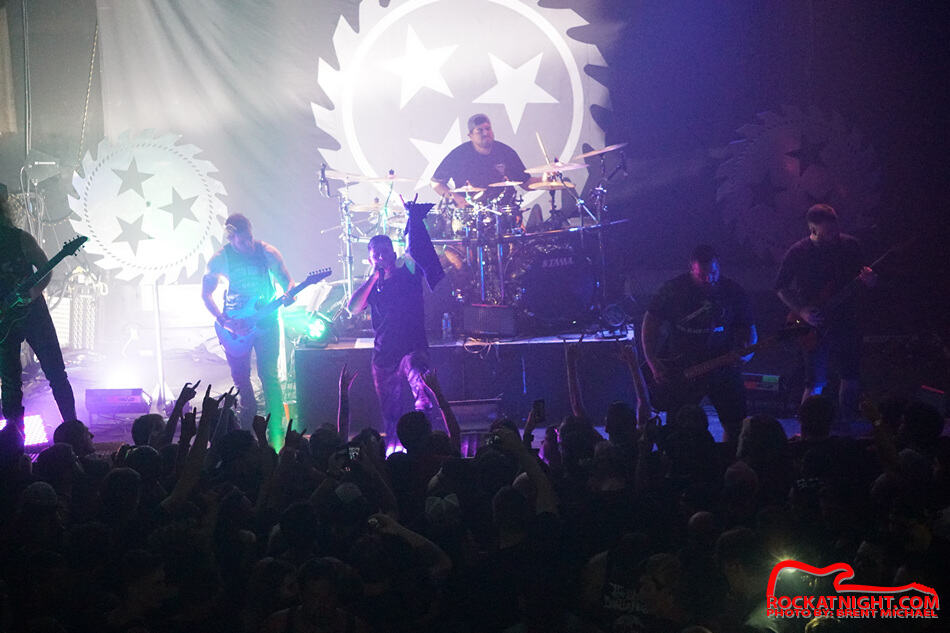 Whoever he is, he's obviously doing a great job on the skins for them, and let's hope he continues! The band's triple guitar approach was evident in the wall of sound they presented, not only celebrating ten years since their first album, The Somatic Defilement, was released but also supporting their latest, Mark of the Blade.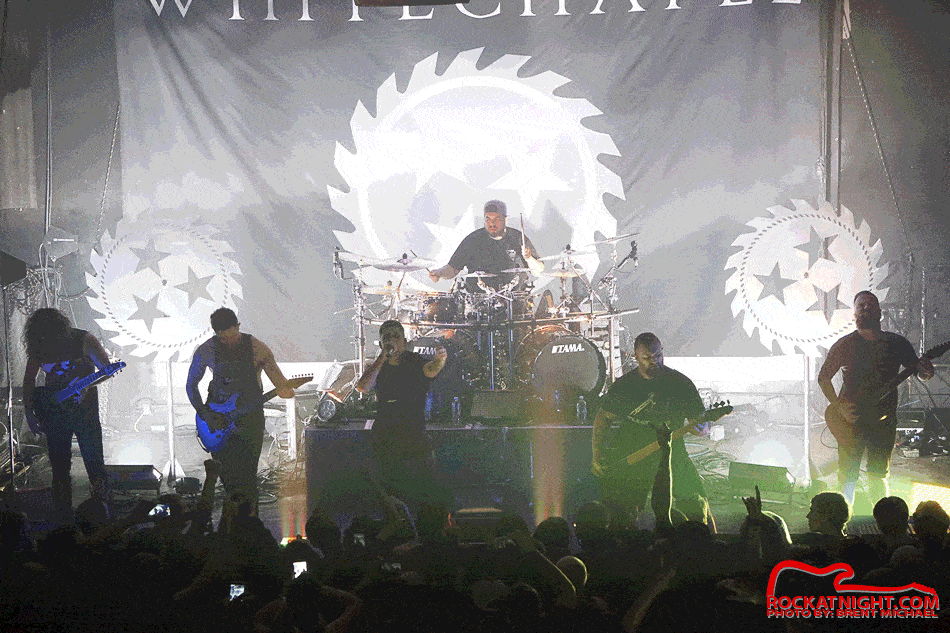 All in all, it was a great night of sonic supremacy, and fortunately this is just the start of the tour, it runs through December 16th, 2017 – so get your tickets now at your local Ticketmaster outlet or online at Ticketmaster.com!
Photo Gallery

Latest posts by Brent Michael
(see all)