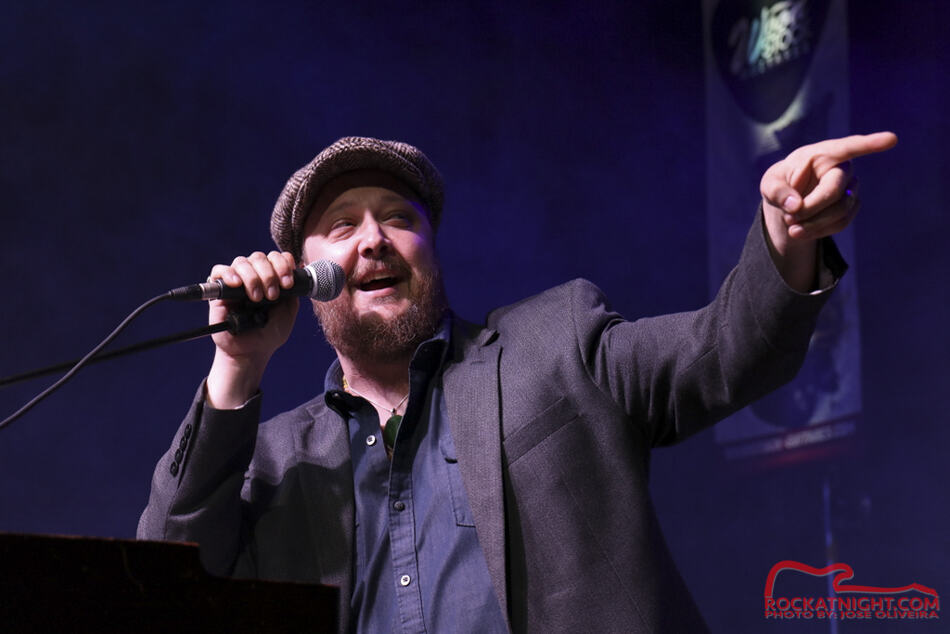 By Rosine Alleva and Jose Oliveira,  Rock At Night Journalists/Photographers-France
Interview JOSH HOYER AND SOUL COLOSSAL 
Venue: Woodstock Guitares Ensisheim, March 30th
Members: Josh Hoyer (Vocals, Keyboards), Benjamin Kushner (Guitar), Mike Dee (Saxophone), James Fleege (Bass), Larell Ware (Drums)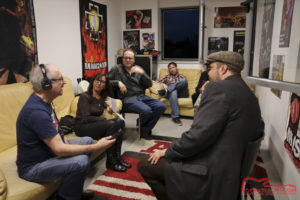 On this wonderful spring afternoon, we were welcomed again by the "Woodstock guitares" team (Yves, Robin, Jérémy, Thibault) to meet JOSH HOYER AND SOUL COLOSSAL. I had a real pleasure to transcribe this interview, a delighted, warm, interesting moment, good fun too! And it went on until late! You couldn't stop dancing on the amazing soul and funk rhythm and Josh's powerful and warm voice!!
RAN– Hi Josh, it's so cool to meet you here at Woodstock guitares! It's your first time in Europe, how do you like it?
JOSH HOYER– It's great, yeah! I was hoping to tour Europe since a long time!
RAN– Josh Hoyer and Soul Colossal was formed in 2012, how did it all start?
JH– I played R&B, funk and soul before, with a band called ELECTRIC SOUL METHOD. They're very talented musicians, doing really great things now.That band fell apart and I decided to start a group called SON OF 76 AND THE WATCHMEN, that band was a blend of rock, americana, funk, old school R&B, storytelling, pretty serious music, kind of depressing, deep dark stories, very honest, just the truth of any subject. People love the music but if you play on a Friday night, they might kind of leave depressed (laugh). But at that time of my life, that just made sense to me, that's where I was personally, it was quite a dark time for me. So, growing through that I wanted to put a R&B band back together, the guys I was playing with didn't want that so I called up Benjy the guitar player (Benjamin Kushner). The drummer and bass player from Son of 76 were the first rhythm session for this new band, then Mike joined, Tommy on trombone and Logan (percussions).That was the beginning. We just wanted to make music to make people happy, dance and have a good time, with Soul, R&B and Funk.
RAN– Nice! And what a positive change, considering those dark days!
JH– I met my wife during that time period, had my first child, things began to make more sense in my life. So I wanted to give that back and music be more of a joyful experience.
RAN– You've already been Award winners a few times, now you are touring Europe, things seem to move quickly, how do you live this success?
JH- In fact it is slow, gradual. Last summer we played in a bar in front of 2 people, one of them was the bartender (laughs). For none of us it's easy. I don't have an agent, or a manager. I do all the bookings, tour managing myself. Except for this European tour, which is nice, you get the ride with the musicians, just show up and play, that's cool. But it's very hard for an independent artist to make headway, in the States particularly.
RAN– The band played many shows across the USA in 2015 and 2016. How did this European tour happen and how has it been so far?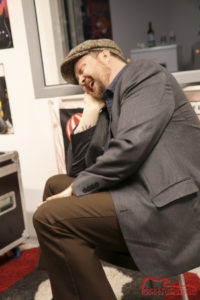 JH– Manny, from Teenage Head Music, reached out to me on an email. I first didn't believe it was real! It was a while I wanted to tour Europe. And it's a great company, Manny brought up some bands here in Europe, I was delighted to have the opportunity. We planned this for like a year. They've done a very good job, putting us in front of people and killing venues, it's been great! The biggest venue will be the AB, Anciene Belgique, in Brussels opening for DELTA SAINTS. We wouldn't be able to play in that big room for our first time here. We're paying dues here too, getting known. It has been very positive, the response has been incredible. To be able to connect with people who don't speak the same language, through the power of music, that transcends language and culture. It gives me more faith in what I'm doing, and brings us a new positive energy. It's cool!
RAN– Where was your best audience?
JH– I loved it everywhere! In Spain, they seem very festive, jumping, they love to dance and sing. We've been in 7 countries and all of it has been very special. In Germany, they're really kind of very attentive, but not visibly having fun, you can't really tell in their moves. But then, when you get done, they really applaud, shout and express themselves.
RAN–  What are your music roots, your influences?
JH– I sat in front of my mum and she wondered where the hell that came from! I was listening to pop music, when I was a kid, whatever was on the radio. I loved Michael Jackson, Whitney Houston. I liked the Santana, Stevie Wonder records my folks have, also listened to Kenny Rodgers, The Beach Boys. I just kind of grew up with regular pop music and in Highschool, I first was in a swing choir, and my choir teacher put me in a jazz choir. For me, as a singer, I began when I was six, that really opened some things up. In the jazz choir I was able to express myself, which was really a need. It opened up the idea that I can create now. I guess those are the roots. I wasn't raised in Southern Louisiana where everyone plays music but a normal Midwest upbringing. When I went to College I got turned on to more music experiences and it opened things wider to me, which was cool.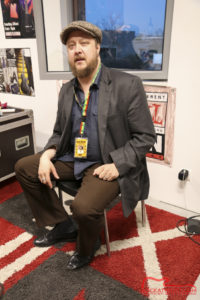 RAN– What do you say about this sentence? "If James Brown and Otis Redding had a love child, it would be Josh Hoyer".
JH– Obviously it's really cool to be in the same sentence as those two. It's quite a powerful statement and we use it for marketing purposes in that way so the people know that our music is a mix of Soul and Funk. I love their music and I feel it, but in no way do I believe in that, in any kind of real fashion. I'm a midwestern kid from Nebraska, that's my roots and I'm happy with that.
RAN–  As a "JAMES BROWN child ", you have a brother! What do you think about CHARLES BRADLEY?
JH– Oh man…CHARLES BRADLEY is the first performer in a long time that I 've seen live that brought me into tears like a child. I was just weeping. He realizes his gift, he realizes the gift he has been given. You can tell how real the appreciation to do it for a living and finally be hurt by people, how real that is to him, he totally floored me. Me and Benjy went to see him, he's a beautiful soul. When I think Soul music, I think Charles Bradley, you can't get more real than that.
RAN– Did you ever seen a JAMES BROWN act?
Benjamin Kushner– I saw him once.
RAN– José Oliveira- I saw him five times! And it was always a surprise because James Brown on stage was very authoritative with his musicians. He always had extra musicians accompanying him. If one of them wasn't playing good enough, he just threw him out , didn't pay him and took another musician to play on stage! And they were paid the minimum, as I was told when I invited the musicians at home after a concert. But the luxury was to sleep in the best hotels, with the best food and drinks and they were happy.
JH– I know he was rough and cold, that's why his entire band left him (laughs).
But he was an innovator, he did a lot of social work and was a business man and I appreciate that aspect too. The fact that he looked at the opportunities that were presented to him, and then decided to write his own story, buy the radio station, to be the one to sell the tickets, he was a smart tough man, very explosive and creative. Hey man, can't all be perfect!
RAN– Trump proposed a budget which will eliminate funding to museums, libraries, and artists!!!…. More "hot" subjects for your next album?
JH– No, a lot of what we've done is already pretty political, there's a lot of social commentary there.The sad thing to me about the Trump scenario is the fact that a lot of the people that voted for him are good people, maybe not aware of some realities and really bought, into some of his messages that was promising to them, things that, I think, he didn't have any intention at all of delivering. He struck a chord with working class America, and there's a lot of people that are struggling. And he sold them he was going to be their champion and it's not in any way real. So I'm hoping those folks can rise up a little bit and then we can even the playing field in America to a point where it's not as difficult for middle class people, low middle class people and poverty to rise up. I'm a Bernie Sanders guy from the last election cycle and I think he had a good vision of how to built a country in a healthy way. Yeah, Trump is an absolute nightmare!
RAN– You anticipated my next question. Do you think the American dream is turning into the American "nightmare"?
JH– I think that one guy like him is more the symptom of a greater sickness that we've had for a long time. Maybe there is going to be a growing awareness at this point, which it's healthy. You have to go through those peaks and valleys, every country does. And it takes time. I think the US population will wake up and see what we all have in common. After someone like him who pushes the envelope in what lies he's gonna tell you, I hope people will wake up. Working class people have more in common with each other than they think.  Trumps' team hired a start-up company one month before the elections. They  built an identity database based on social media dark ads without spending a lot of money on campaign, they just focused on these specific details and were able to turn the votes. Those people understanding how social media works are very powerful and are gonna be hired by other countries for any big election.
RAN– How did people react on your lyrics and last album "Running from love" on this tour?
JH– Since we've been on tour, of course languages vary. Benjy speaks a few languages enough and Spanish fluently, me, very little of anything…I'm still working on my English, for the lyrics ? I use a thesaurus…No, just kidding (big laughs) ! So we've been in all those different countries, when I say things on stage like "thank you for coming, we appreciate you", people are with you but don't really understand and I feel bad. The one thing that always translates is when I present the title track of our new album "RUNNING FROM LOVE" written, dedicated to Donald Trump. The audience then really acclaim. But it's good to be here and show folks that in America we weren't not all fooled.
RAN– You are selling merchandise with 100% of the proceeds to Nebraska Appleseed. You organized a charity event last year. What is your next project?
JH– I put together a fundraiser  last december, the Funk&Soul alliance charity event. It went on very well and we'll do it again this year. A beautiful man, John Catt, started a really cool foundation called the BLUE STAR CONNECTION, giving instruments and his time to children with cancer. I hope to get something on in Lincoln, I would love to facilitate something to expand their program, but he is much more in the music business than us. I aim to be more involved but we're not ready at this point.
RAN– I think the world needs more people like you!
JH– Well, I just want to be honest, I'm gonna walk the walk and talk the talk. What little I can do, I do. If I can do more I will.
Thank you for this great interview, you're a beautiful soul Josh!
JOSH HOYER participated to the season 12 of The Voice US. Don't miss the JOSH HOYER AND SOUL COLOSSAL big welcome home show at the ROCOCO Theater in Lincoln, Nebraska on April 23 rd. The concert will include the 2 songs performed at the Voice "Oh Girl" and "In The Midnight Hour".
Photo Gallery
Videos
Website:
Special thanks to José Oliveira (and Elisabeth) for the pictures, the recording of this interview, and for sharing some of his (many) musical memories.

Latest posts by Rosine Alleva
(see all)