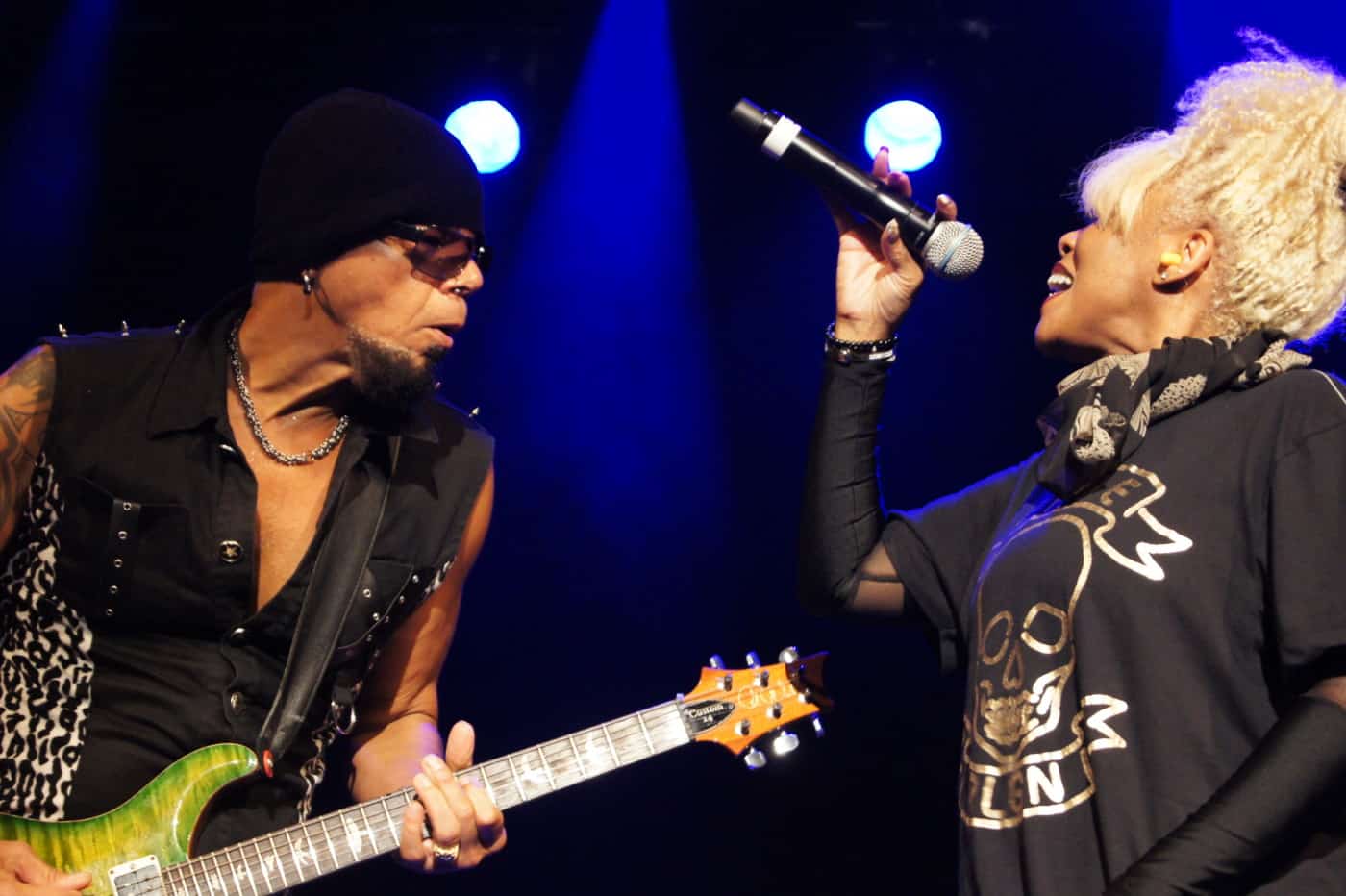 By Rosine Alleva, Rock At Night France Correspondent
Mother's Finest, farewell tour??
Chatting with Joyce 'Baby Jean' Kennedy and Glenn 'Doc' Murdock in Zürich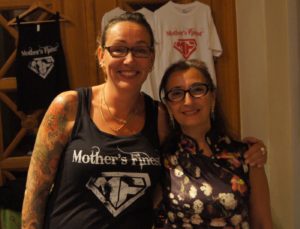 RAN: What a great concert! Is this really your farewell tour? It's hard to believe we won't see you on stage anymore.
BABY JEAN: Well, the farewell tour is mostly for me. The band wants to find another singer, which I totally support. The road is too difficult for me, I don't take the rest that I should. As with age, everything starts not to function as it used to, so I decided I would go home and recreate myself, cause I'm a singer, I don't want to stop singing. I want to see how I'm able to do it , I wanna control it a bit more. So, I have music I'm working on since a couple of years, I wanna work on that, maybe put it on line and if I get to the point i need to go out, I will be able to select the things that I do, select the tour and not doing lots and lots of concerts. It's too difficult to my vocal chords and stopping one night isn't enough to recover. My audience is very important to me, they've been my life! And being up there , if I can't do my job…So, the main thing to me is that I can control that a bit more. And you know I had a great life, my fans, they've given it to me. I traveled the world, I raised my son in this business, we're a rock'n'roll family all along you know. And it's the real deal, I'm not a young girl anymore and I have to adjust my life according to that, stay healthy, do the things I love.
RAN : Do you have an idea about the new singer ?
BABY JEAN: I have a couple of ideas, I have to approach the girl I have in mind. She could be awesome with the band, I saw her on line signing Baby love. She's in her thirties, she's been on the road with other bands, I think she's got the image and she knows the life which plays a big part and she's funky. Cause I heard many singers, great ones in  Baby Love. There 's a sort of gospel in this song that can't be overlooked, same thing with "Truth'll set you free", it's funky, many singers sing over it and not in it….It has to be sung inside the groove, and many singers don't get that cause they are vocal. It's like a guitar player, he blows, he knows how to blow inside the groove, he is always inside the groove.
RAN: And what about Doc? Will he stay with Mother's Finest with the new singer?
BABY JEAN: I think he wants to stay, he wants to do a blues band. I think he would stay with MF, you've gotta ask him that…it depends on the singer.
DOC: So, this is my side of this.
Joyce told you she's going to retire but we're working on a lot of solo stuff for her. She doesn't like the band the way it is so we're going to make changes, now it is a brand within a band, and we're gonna do a lot of different things. So, my band is a sort of, blues, jazz, rock band. It's called  Skilled Blond  and it's gonna be Mother's Finest presents Skilled Blond like Joyce, it's gonna be Mother's Finest presents Joyce or if she doesn't like it that way …but honestly I don't wanna think about it. But I'm working on her stuff, on live music, working on line, trying to get everything sort of together. She doesn't wanna' be on big tours anymore and this year we had a lot of wonderful shows. But we will only work on weekends and go home for four days and then again on the next weekend …we need the space, you know.
RAN: How was it to perform on Rockpalast again, where it all began for you in Europe back in 1978?
BABY JEAN: Wow! The years came tumbling back, that was interesting, it was really nice to see the guys who did the first interview.
DOC: Rockpalast, oh yeah, it was special!…
RAN: Tell me about your induction into the Georgia Music Hall of Fame in September 2011?
DOC: Georgia Hall of Fame, well that's a star for our career and we do have a video, we'll have a video for Mother's Finest and we'll put it all on it.
When we'll go home, we're going to Washington DC. We're going to be put into the Smithsonian Institution museum (National Museum of African American History and Culture) and we'll give Joyce's jackets, boots, belts…
This museum has many things. This is going to be on the history of black music, with other people too. We're part of this history cause we created this brand of music, the funk rock. Everybody else comes behind us…cause we did it first.
RAN: Wow, that's really cool!
You recorded your last album Goody 2 Shoes and the Filthy Beasts through internet Crowdfunding?
DOC: Yeah, it was called Kickstarter, it was very successful but it had his problems you know. We had the money we needed and the artistic freedom that we wanted.We had a lot of great things because we all got to spread our wings. It turned out good, and we're still working on it. But the beauty about this is that we didn't have to be scrutinized by the record company, they were quite pissed about it because we didn't sign a big contract but only license, it just gives the permission to record out and that's it. We own the masters, the songs, everything. We did the cover, we did the concept, we produced the music and had it mixed.
We put out "Shout Up", great song but we don't think that they pushed the record properly, it fell into a "no more" record company bullshit! Pardon my French ( laughs). It's not a French word, just kidding! Now, we're gonna have a meeting with them, probably over the phone to tell them we want to release another single. The way they handled this first single was bullshit and if they're not going to be more serious about the new one, we'll rely on another company.
RAN: Which song are you going to release for this new single?
DOC: It's going to be "Tears of Stone", which is a beautiful ballad, we'll mix it again and have it remastered, we'll put that one out and another couple of songs.
Baby Jane: Yeah, it's a too good album, it has to have its move.
RAN: You did perform in Paris last year at the "New Morning", where Wyz was interviewed by Fernando the Muppet, for the Fernando Rock Show. So, you are finally back to France after 15 years right?
DOC: Yeah, and we're going to Raismes but closer to the Belgian border this time.
RAN: Well, you should play in Belgium, people would love you!! I guess WYZ, MO, JOHN and DION will take more time for their individual projects while you'll be setting up the new Mother's Finest line –up?
DOC: Yeah, and like I said before, now that MOTHER'S FINEST is a brand, they have the choice to do it under the MOTHER'S FINEST brand.
RAN: Will you be ready to travel again?
DOC: Me? I'm a dog, I'm a Bulldawg! Yeah I think it's gonna be great, with some of the musicians in the band and some other musicians too, take my time to do what I wanna do, I wanna do a big jazz band.
Well, stay tuned, the all thing will be "Mother's Finest presents", and it will be on the website too.
RAN: Thanks a lot for this interview, and looking forward to discovering your new line- up and projets. When I listen to "Piece of a rock" no doubt at all!!…You are a piece of rock!!
Photo Gallery
ADDITIONAL LINKS
The images may not be reproduced, copied, transmitted or manipulated without written permission to Rock At Night and the photographer. Use of any image is a violation of the United States and international Copyright laws.

Latest posts by Rosine Alleva
(see all)