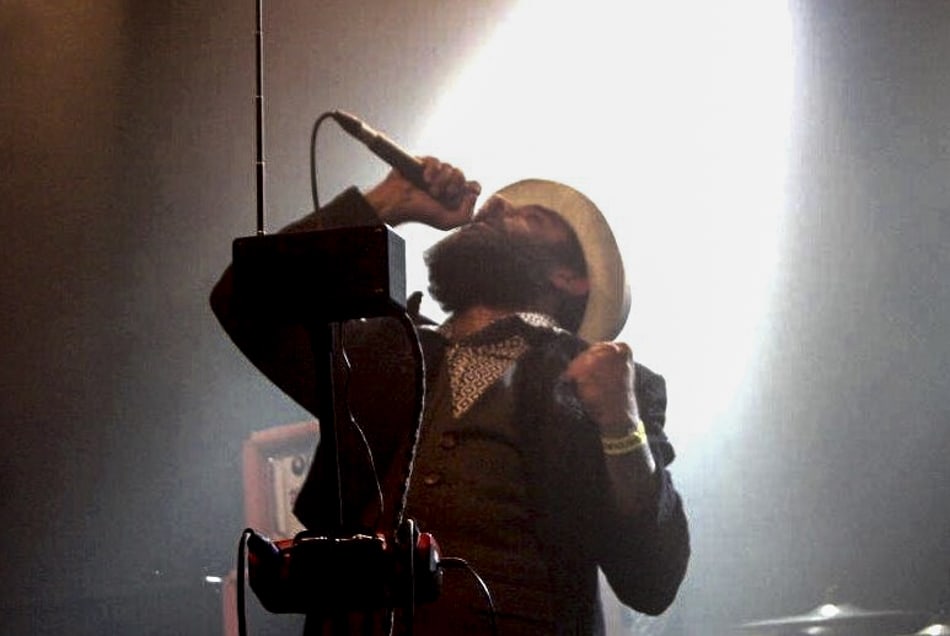 By Rosine Alleva, Rock At Night Colmar France Correspondent
Venue: Live Colmar – France, 20 June 2016-Beartooth and Facing Stanley
FACING STANLEY is a very talented and interesting band from East of France which formed in 2013 and is starting to tour nationally and internationally. With English and Italian lyrics interpreted by their "schizophrenic" singer, they offer intensive rock music which captivates through sound and visual aesthetics.
Rock At Night met them at the Grillen in Colmar on the 20th June. Waiting for the soundcheck, they were playing Baby Foot when I arrived…game over, it was the right time for a chat!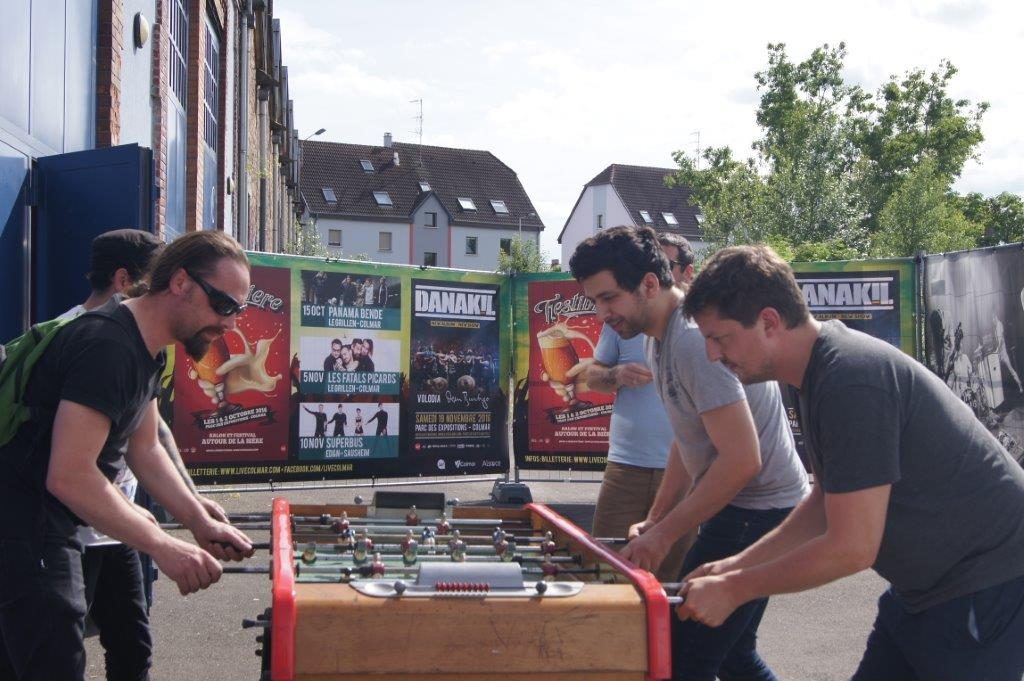 You can check out Rock At Night's (RAN) interview with Facing Stanley (FS) below:
RAN: Hello to you guys! Tonight you're BEARTOOTH support band, too cool !  Nick (guitar) and Fred (drums)… you were already playing together since 5 years. How did you meet Howie Saw (vocals/theremin) and Amir (bass)?
FS: Nick: First we met Howie Saw who answered our advertisement and Amir joined us just after….and it worked !
RAN: How did things happen when you first rehearsed?
FS: Amir: At the start, I couldn't understand what they were playing, seriously…(laughing)
Howie Saw: I knew the style was much more convoluted than other bands I used to sing with. Although I was prepared, it has been very hard to catch it.
Fred: Even if their musical personalities are very different than the world we were steeped in since a few years Nick and I, we wanted to create a new energy to the band. We thought it could be a new advent with the fusion of the 4 of us, coming from different worlds and with the hybrid kind of music we're searching for. This is what we are trying to create today.
RAN : How do you describe your style, you call it "weird rock", what are your influences?
FS: Howie Saw: It is hard to describe. We switch from quiet to real hectic moments. And even in a same song, we play different parts, stressing our influences diversity.
FS: Nick: The problem to define our music, is that it's very, too polymorphic. This "weird rock" came straight to us and actually has been mostly defined by the feedback of our first public. Everyone was hearing different things, a bit of Mars Volta, a bit of System of a Down.
We catalyzed all our contrasting influences in something we purposely want to fit together. But it's a choice to keep this richness and this potential.
RAN: You give particular attention to the development of specific sounds, you often mention Mike Patton, is he one of your biggest influences?
FS: Nick: There is a kind of shifting, it's not metal, it's not rock. Closer to rock, even pop rock sometimes. Sure, you find our influences in Mike Patton's experimentation but some also from alternative bands. I am from Alice in Chains generation, late-80's  to early 1990's. There has been an emergence of alternative bands bringing something on the metal scene, compared to this music stereotype. We are in this alternative and not in something you can immediately identify, which could be much easier but far from being interesting.
Fred: There is this big French paradox, this need to put people in boxes.
Once you navigate in between and really want to get out of it, people are disturbed. Where is the border between doing this for the public or doing what I want to? Knowing I'm an outsider…
RAN: Howie Saw, where does this name come from? Can you describe this schizophrenic character talking in Italian and English?
FS: Howie Saw: The name is actually my name upside down in a mirror
As for the characters, one is a civilian and the other is Stanley, wearing the top hat. That's the border between the 2, you can see it on stage when there is a change of look and the switch between English and Italian. This is what shows the bipolar disorder and schizophrenia. All our lyrics talk about mental illness.
RAN: After two EPS's in 2014 you performed on national and international stages, what are your projects?
FS: Nick: The 1st project is a video of the title "Close friend" we recorded last winter, it will be soon mixed and should be available early September. The 2nd project is to set up a crowdfunding system to be able to record a new EP with three or more songs, depending on the funds we'll get.
RAN: You won the 2015 Hopla Awards for the year revelation. What has and what will this bring you?
FS: Howie Saw: To participate to the awards gave us visibility, we will have a concert at the Laiterie in Strasbourg on the 16th September with residence too. We played on an official stage on the 21st June for the "fête de la musique" (yearly music festivals in entire France). It was great and really crowded, about 300 people ! We have more dates coming in for September. As a non conventional band, it gives us the opportunity to be visible.
RAN: A word to Florida, to end this interview?
FS: Hi to Florida! We're ready to come, … anytime!
RAN: Thank you, all the best for your next projects!
Ciao ciao, caro Howie Saw (maSeimoH 😉)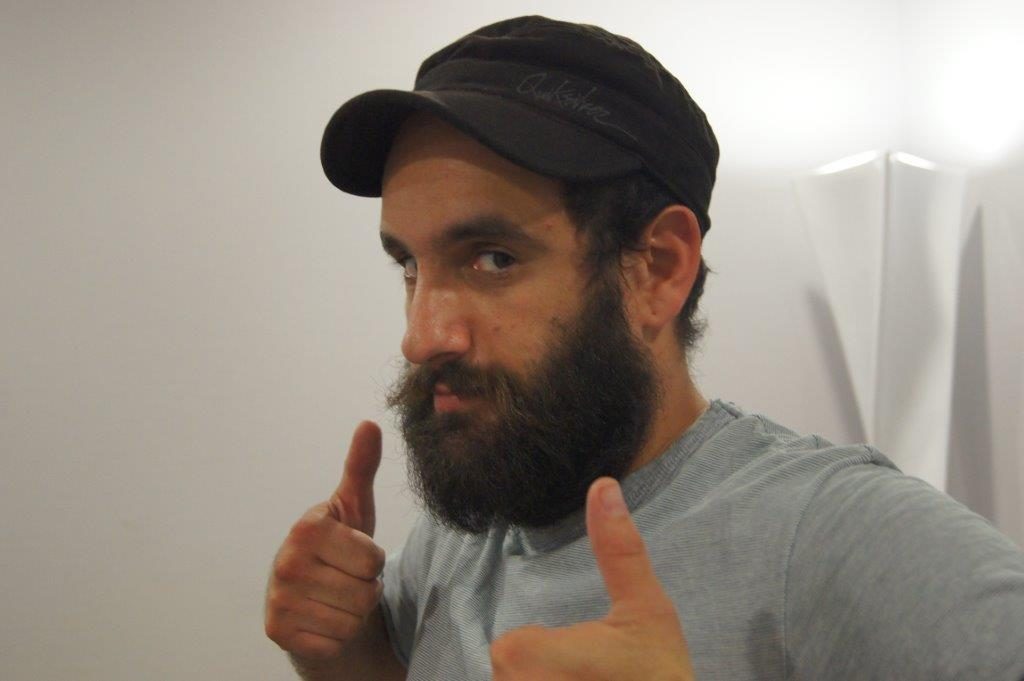 SoundCloud
Video
Members: *Amir(Bass) // Nick(Guitar, Backing) // Massimo(Vocals,Theremin, Megaphone) // Fred(Drums): Genre: weird rock
Photo Gallery
Facing Stanley
After the Facing Stanley "schizophrenic rock", the public was warmed up to welcome BEARTOOTH. The Americans from Columbus, Ohio were ready to" plug in "with their hardcore punk madness!
Caleb Shomo, the lead singer, formed the band in 2012. He produced, sang and played all the instruments on a first EP Sick, followed by two albums Disgusting and Aggressive. After hitting the road with Slipknot last fall, BEARTOOTH's international tour stopped by Le Grillen, a venue in Colmar. Yeah, here they were, and despite the big metal festival Hellfest, their fans definitely showed up!
Although the stage was quite narrow compared to what they're used to playing, it didn't seem to stop their, already famous, energy. Caleb Shomo was very receptive to the excited crowd, directing his mic to let everyone sing along! You could see the smiles between Caleb and the new drummer Connor Denis ! A live concert can't be better than seeing the great fun and involvement these musicians have, playing on stage. From the first songs "The Lines", "Aggressive " to the last one " Body Bag", Caleb Shomo, Taylor Lumley, Oshie Bishar, Kamron Bradbury and Connor Denis gave an amazing performance and it's not surprising they form a winning combination! A great live band!
BEARTOOTH has been nominated at the AP Music Awards for the Artist of the Year, Best Live Band and Caleb Shomo for the best vocalist. The results will be announced on July 18th!
They also released a tee-shirt to help out the victims of the Pulse Nightclub shootings in Orlando. One more reason to love you guys, come see us again soon!
Many thanks to Live Colmar for the nice welcome and barbecue!
Beartooth

Latest posts by Rosine Alleva
(see all)