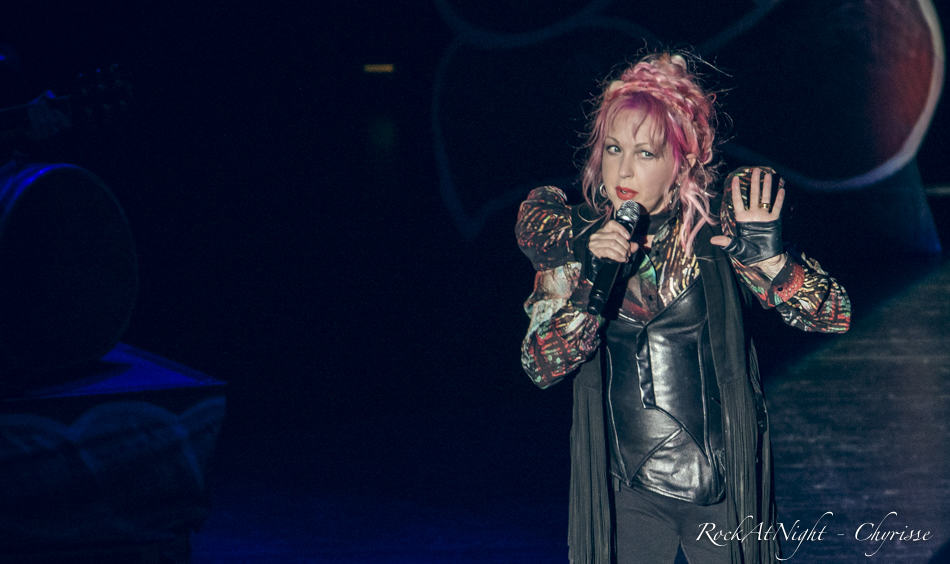 By Chyrisse Tabone, Rock At Night Tampa Correspondent
Venue: Ruth Eckerd Hall, Clearwater, Florida–June 9, 2016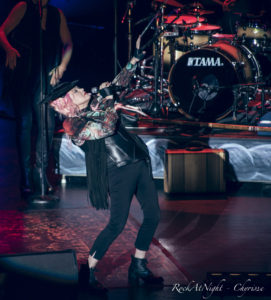 Cyndi Lauper and her Detours Tour rolled into town on Wednesday evening to a packed auditorium at Ruth Eckerd Hall, Clearwater, Florida. The crowd was filled with mostly Generation X'ers and some Baby Boomers, many dressed in mini skirts and teased 80s hair. This crowd was ready to relive their youth however, the new Detours album (you can see Rock At Night's review) rekindles Cyndi's love of classic country western and rockabilly hits from the 50s and 60s. Cyndi Lauper's style has never been static as she has dabbled in pop, rock, blues (Memphis Blues) and even Broadway (Kinky Boots), so now the evolution to retro country hits should not be a surprise. Actually, before she went solo in the 80s she was in a retro-rockabilly group called Blue Angel, so essentially she is going back to her roots.
I saw Cyndi back in the early Millennium when she was touring with Cher and I knew the night would be special. Her voice is in my Top 3 favorites of women singers, along with Annie Lennox and Ann Wilson. She can sing any style, make it her own, taking it to the next level.
The evening started with The Peach Kings, a duo from Los Angeles, who played an interesting brand of retro music that would fit well in a David Lynch film like "Blue Velvet", "Wild At Heart" or perhaps his "Twin Peaks" series. Kittenish Paige Wood tossed her hair, swiveled her hips, and sang in a gorgeous sultry voice as Steven Dies played a lime green electric guitar and cuddled up with her. During the set she also played the electric guitar, sang, and danced around with her over-the-knee boots. Their music is original and very intriguing in a sexy, retro kind of way. If you want a taste of them, check out their video for the song "Fisherman".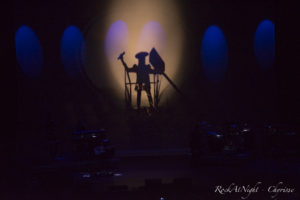 Finally, it was time for Cyndi. As the concert opened, the stage was dark except for a silhouette of a female figure behind a curtain. The curtain rose and Cyndi Lauper walked down a platform with a little suitcase in hand and wearing a striking black cartwheel hat. She looked absolutely stunning with her pink hair and black leather fringed vest-jacket. Really, she has not changed much since the 80s when she was the "Unusual Girl". She was fun, wise-cracking—really, a Lucille Ball with pink hair.
Cyndi started off with the Wanda Jackson classic "Funnel of Love" and then played one of her beloved hits "She Bop" which really got the crowd going. She continued with songs from her Detour album and stopped between the songs to have a chat with audience, which felt so personal. She is probably the most authentic musician/songwriter out there today, often explaining about the songs, the music business (how the labels wanted her to change), and her personal background (my brothers and sisters grew up watching country western shows eating our Cocoa Puffs….my brother is named "Butch" and my sister Ellen, well, as Rosie O'Donnell would say 'she is butch'). In the beginning of the show, Cyndi explained that in the old days country western music and shows were considered pop or mainstream—and differed a lot from today's style and culture. She always wanted to sing this genre of music and explained "it's never too late to live your dream."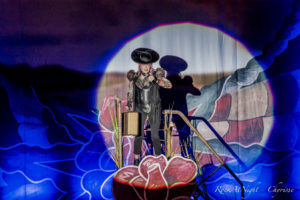 Before singing "I Want to Be a Cowboy's Sweetheart", she wanted it to be known, even with her little horsey prop, she was not making fun of the genre but embracing it. She was paying homage to a simpler and happier time, especially to the women songwriters (Patsy Cline, Wanda Jackson, Patsy Montana) that often get lost in the shuffle. It is well-known fact that Cyndi is a strong supporter of equal rights for all, for this reason many have embraced her as an icon and leader in the LGBT community.
Cyndi's voice was exquisite and the acoustics in Ruth Eckerd Hall made her totally shine. She danced, sang, and conversed like a "real person." I guess with her, money didn't change everything! She is actually known for being very charitable and giving to the community.
Some touching and tearful moments occurred when Cyndi paid homage to Muhammad Ali and Prince.  She sang "When You Were Mine" by Prince and talked about what a great and funny person he was.  With her voice cracking, she later said about friends and loved ones, "make sure you tell them how much you appreciate them". Another lump-in-your-throat moment was when she played "True Colors" with the electric dulcimer, which really highlighted how great she can sing without all the bells, whistles, and autotuned voices of today. There were plenty of audience sing-alongs with "Time After Time" and "Girls Just Want to Have Fun", which Cyndi changed the lyrics, singing "Girls Just Want Equal Funds". Amen, sista'!
Overall, the performance, evening, and choice of songs were thrilling. Again, Cyndi Lauper proved she can sing anything and make it "cool again."
SET LIST
Funnel of Love (Wanda Jackson cover)
She Bop
Heartaches by the Number(Ray Price cover)
I Drove All Night
The End of the World (Skeeter Davis cover)
Walking After Midnight (Patsy Cline cover)
I Want to Be a Cowboy's Sweetheart (Patsy Montana cover)
You Don't Know
When You Were Mine (Prince cover)
Money Changes Everything
Encore 1:
Misty Blue(Eddy Arnold cover)
Time After Time
Encore 2:
Girls Just Want to Have Fun
Encore 3:
A Part Hate/True Colors
Photo Gallery
Cyndi Lauper
Videos
https://www.youtube.com/watch?v=88XNDs5wdZc
Photo Gallery
The Peach Kings
The images may not be reproduced, copied, transmitted or manipulated without the written permission to Rock At Night and the photographer. Use of any image is a violation of the United States and International Copyright laws.

Latest posts by Chyrisse Tabone, Ph.D.
(see all)