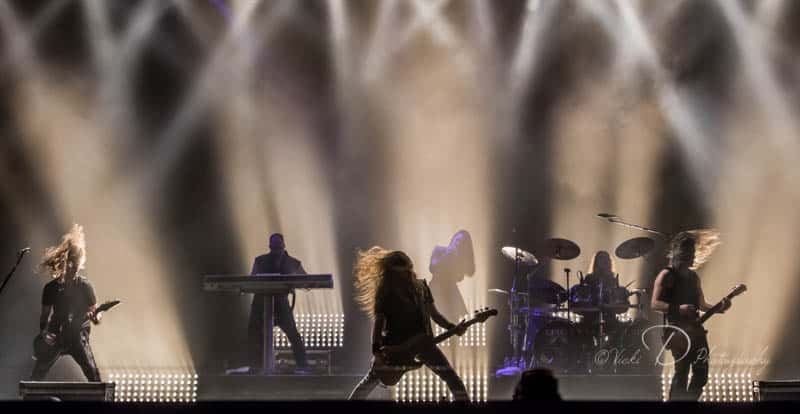 By Vicki DiAddezio, Rock At Night Orlando Correspondent
Venue: House of Blues, Orlando, Florida-February 3, 2016
Those that think you have to wait until the weekend to go out to hear great music have probably never been to the House of Blues in Orlando on a weeknight. Last Wednesday, Dutch symphonic metal band Epica brought down the house at a venue packed with enthusiastic fans of all ages. While the set list was predominantly in support of their latest album The Quantum Enigma, Epica thrilled their fans with many favorite songs from some of their previous albums. Epica was joined by supporting band Starkill, an American melodic death metal band from Chicago, Illinoise as well as special guests, the Portuguese gothic metal band, Moonspell.
Throughout the night, the band commanded the stage with a high-energy performance that both excited and engaged the audience. With a mesmerizing light show, plenty of head banging, a bit of moshing, and the powerful vocals of Simone Simons mixed with the growls of guitarist Mark Jansen, Epica played ten songs before heading back stage to gear up for their three-song encore. It's clear to see why "Epica has earned its reputation as one of the foremost symphonic metal bands".
As this was my first experience catching one of the their shows, I can only advise everyone to get your tickets and check out a show when they come to a town near you. Currently, there is one more US stop on their tour before they head over-seas, so unfortunately you'll have to wait until their next tour to get out to a show.
It was mentioned late last year that Epica was in the process of recording their seventh studio album, which is rumored to be released sometime in 2016. With new music on the horizon I am guessing that it's just a matter of time before they head out on a new tour in support of their new endeavor. In the meantime, you can check out more about Epica by visiting their website and social media pages.
Band Members  Simone Simons – vocals; Mark Jansen   – guitar, vocals; Coen Janssen – keyboards; Ariën Van Weesenbeek – drums; Isaac Delahaye – guitar; Rob Van Der Loo – bass
Set list
The Second Stone
The Essence of Silence
Sensorium
Unleashed
Martyr of the Free Word
Cry for the Moon (with drum solo)
Chemical Insomnia
The Obsessive Devotion
Victims of Contingency
Design Your Universe
Encore:
Sancta Terra
Unchain Utopia
Consign to Oblivion
PHOTO GALLERY
VIDEOS
House of Blues-Orlando-February 3, 2016
"Unchain Utopia"
Website      http://www.epica.nl/
Facebook   https://www.facebook.com/epica
Instagram   https://www.instagram.com/epicaofficial/
YouTube    https://www.youtube.com/user/epica
Latest posts by Vicki DiAddezio
(see all)