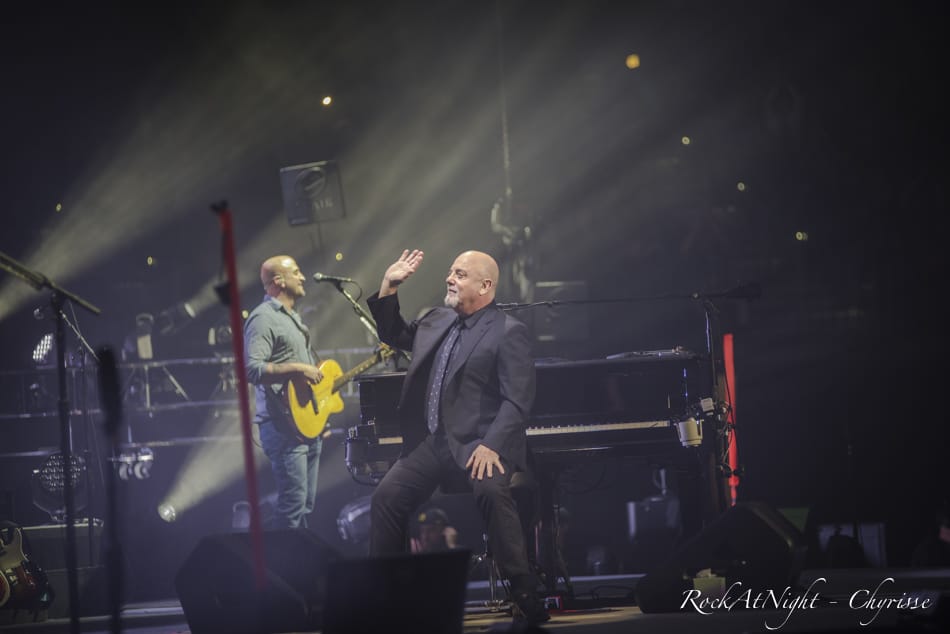 By Chyrisse Tabone, Rock At Night Tampa Correspondent
Venue: Amelie Arena-Tampa, Florida–January 22, 2016
When I think of Billy Joel, the first thing that comes into my head is "Piano Man" (which I used to play all the time on the piano) and "Just the Way You Are" (as a teenager my boyfriend used to sing it to me). Later, the music of Billy Joel followed me into my college years with songs like "They Didn't Start the Fire" and "Uptown Girl" which I used to change the words and sing to my cat Tessie ("Uptown Cat").  Oh when she's purring and meowing so fi-i-ine…
Just the usual trivia I reveal in my reviews…
Okay…enough blabbering. Since 2016 began, Joel played at Madison Square Gardens and the Jimmy Fallon Show before heading south to sunny Florida. His tour will take him throughout the U.S. before ending in September 2016 in Germany and finally Wembley Stadium, London.
Tonight I was able to see Billy Joel live in Tampa at the Amalie Arena, which was packed with 17,000+ Baby Boomers waiting to rekindle their youth. There was no photo pit this evening and the floor chairs were spread right up to the stage so Joel could have more of an intimate feel for the evening.
As the concert began, Joel was sitting at a black Steinway grand piano which revolved slowly in a circle so all could see him. He was backed by a full band of top notch musicians and began the evening with "Miami 2017 (Seen the Lights Go Out on Broadway)" and later segued into "My Life". During the concert, the stage was adrift with smoke and colored lights while Joel was illuminated with a white spotlight which shined on his shaved head. Joel sported a nice grey mustache and goatee–and looked tan and dapper.
Since the photographers were limited to two songs this evening, I cannot fully describe the concert. However, by any indication of the first two songs, the evening was full of nostalgia and top notch entertainment by one of America's most beloved songwriters and performers.
Photo Gallery
The images may not be reproduced, copied, transmitted or manipulated without the written permission to Rock At Night and the photographer. Use of any image is a violation of the United States and International Copyright laws.

Latest posts by Chyrisse Tabone, Ph.D.
(see all)