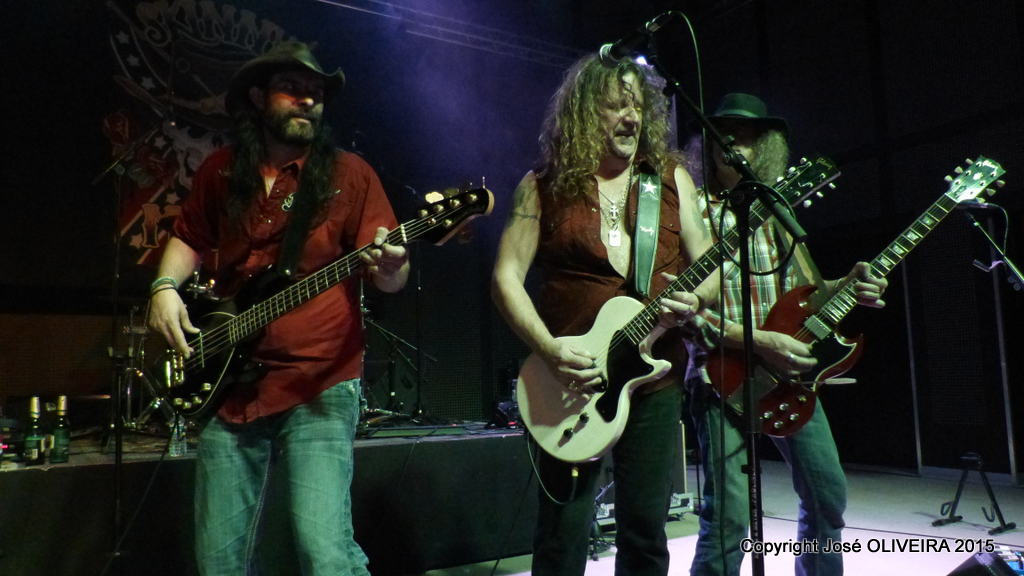 By José Oliveira, Colmar, France Correspondent
Venue: Wood Stock Guitares, Alsace, France-November 7, 2015

Alsace, located in eastern France, has always been a land for hard rock and heavy metal music!  But U.S. Southern rock and obviously Lynyrd Skynyrd are still mystical in this area!  People came not only to see Skinny Molly but also to listen one of the best voices of Nashville: Mike Estes, formerly with the Lynyrd Skynyrd!
Hearing songs from his recent album Here For A Good Time  and from Haywire Riot by a talented foursome band rolled the show into a hot climate. At the beginning of his set, Mike Estes explained  that the Skinny Molly guitar player, Jay Johnson could not come on the tour because of a heart problem. He had been replaced by a French guitar player, Manu Aeesbach, who gave solid guitar work on stage.
Mike was really happy to come and play in this venue and interacted with the audience between the songs. During Rock At Night's interview I was so astonished to see what a kind and simple man he was! He is really a genuine Southern man–and on stage this idea amply strengthened, thanks to a show conducted quickly and efficiently by the hand of master!
Mike Estes's voice is better with age, like an old Bordeaux wine! His guitar work is as solid as a rock! He performs with the feeling of a "job well done" and his guitar playing reflects the Southern gruff tones of his voice.
The rhythm section was absolutely great, rolling the show to perfection. The audience reacted with great pleasure and joy that night, producing in return, a very warm welcome.
Once the band left the stage, the Wood Stock crowd called out for more and were rewarded with an extended encore of two title songs from Lynyrd Skynyrd.
The audience was happy with a well-done performance!  It was a memorable Southern rock night with a great Nashville Band!
PHOTO GALLERY
Skinny Molly
The images may not be reproduced, copied, transmitted or manipulated without the written permission to Rock At Night and the photographer. Use of any image is a violation of the United States and International Copyright laws.

Latest posts by Jose Oliveira
(see all)