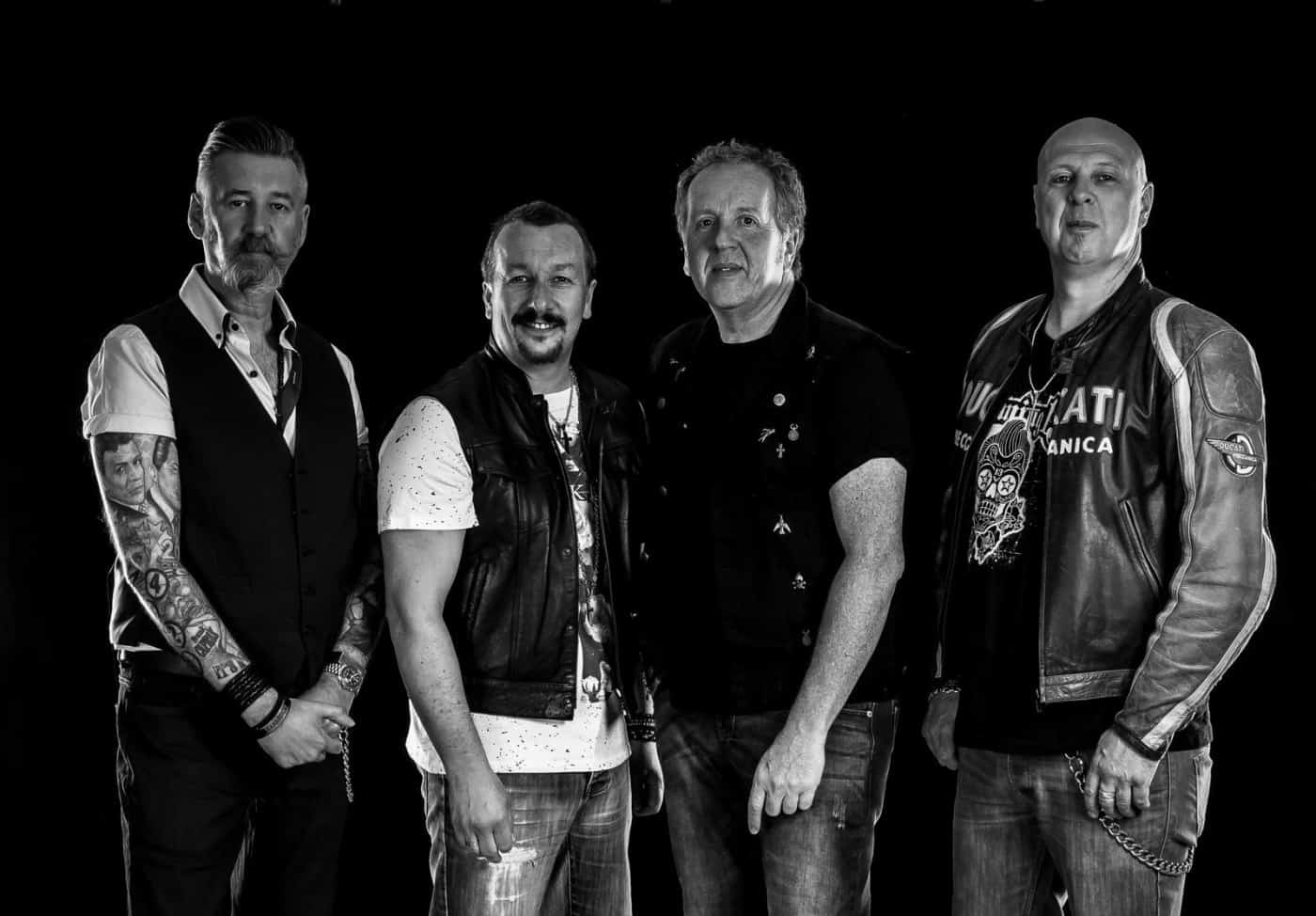 By Ian Jefferies, Rock At Night Manchester Correspondent
REVIEW: Blood Red Saints album Speedway (Release date December 4, 2015)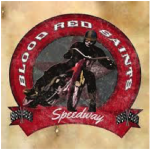 It's been a long anticipated wait for me for the release of the first album from Blood Red Saints. A new British melodic rock band formed towards the end of 2014. I say anticipated as I have been looking forward to hearing Speedway for some time ever since learning the names making up this band. Two of my favourite albums from last year were from In Faith and Angels Or Kings, so take members from both bands to form one project and already I'm excited. Angels Or Kings bassist Rob Naylor and In Faith vocalist Pete Godfrey got together to form Blood Red Saints. Completing the group are drummer Pete Newdeck (In Faith) and Lee Revill (Gary Hughes) an excellent and well respected guitarist from the local scene. Throw in the 'Martin brothers' from Vega (co writing) and Harry Hess from Harem Scarem and already the album has got a great number of people talking.
In their own words "The album is an impressive slice of classic British AOR following in the traditions of early Dare, FM and Newman so according to Pete if you were to take elements of Bon Jovi, Def Leppard, Winger, FM mix them all together I think that is pretty much where we are. Our intention was to have great songs and next we want to take them out live and put on a great show."
Speedway opens with the Tannoy commentary into "Kickin' Up Dust". A great opener that sets a good pace paying tribute to the legendary speedway team of the Blood Red Saints. Pete's smooth easy listening vocals are already giving us that slice of classic AOR but also asserting that Blood Red Saints are here. I find it staggering that "There is a Storm Coming'" was his first release as a lead singer. "Mercy" carries us through at a similar pace but allows us an insight into some superb guitar work from Lee Revill. Again I can't believe this guy has not been snapped by a label before now.
It comes as no surprise that the Martin Brothers have a hand in "Best Of Me". A slower paced classic 80s sounding tune that could whisk you back to the front row of an 80s FM gig. Need some convincing? Just lose yourself in Lee's guitars and soon you find yourself surrounded by shoulder pads and perms again.
Dangerous is another easy listener, again with some commentary mixed in to provide a little more drama to the title. "Love Set Me Up Again and Better Days" highlight the emotional melodic voice of Pete Godfrey, again questioning why this voice has not had much more recording work before.
Whether it's the first listen or one of many there is always a track that will grab you. "The Best Thing" is a fantastic, maybe predictable, but nevertheless brilliant ballad. Very memorable with lovely tinkling keyboards, again a classic touch accompanying Pete's vocals until Pete Newdeck, Rob and Lee elevate us into power ballad status.
If you haven't quite mastered time travel yet allow "Unbreakable" to give you 'One more night back in 85 now wouldn't that be good?' Well? It would for me anyway as I was having the time of my life. "Unbreakable" conjures up a romantic nostalgic photo album. Memories of first dates and broken hearts. Beautiful girls obscured by dry ice and blinding lights. Ah first love.
"Wrapped up in these Arms" is a very radio friendly tune, catchy chorus and one that slips easily into your memory. Let's hope this gets some airtime as I can see it appealing to a wider audience.
CGRNR is Lees instrumental intro into "Feels a lot Like Love". A track written as a tribute to his friend and buddy Chris Greer who sadly passed away. Fitting end as a bottle is cracked open in dedication to Chris. Cheers Chris and cheers Lee. Your support to your friend was admired.
"Feel a lot Like Love" is a heavenly sounding track full of catchy backing vocals and harmonies. Reminds me a lot a of something I could hear Steve Overland singing. One of my favourites.
Finally "Faith" is a track that was written perfectly for Pete's voice accompanied by haunting melodies of the keys and highlights how finding a vocalist of this quality can really put the icing on the cake.
With Speedway, Blood Red Saints have strived to achieve that 'impressive slice of British AOR' and with this album they have undoubtedly succeeded. Superb vocals, amazing guitars, great keys and a rock solid rhythm section from Rob and Pete. An album released amongst fierce competition and even more so from its own camp Frontiers. With the melodic rock scene being as good now as it ever was there is strong competition around but this album stands firmly amongst them. Just sneaking in before the close of the year, this without a doubt a contender for album of the year.
Legends never fade.
The band:  Pete Godfrey – vocals,  Lee Revill – guitars,  Rob Naylor – bass guitar,  Pete Newdeck – drums
"Kickin' Up Dust"
"Best of Me"
TRACK LISTING
Kickin' Up Dust
Mercy
Best Of Me
Dangerous
Love Set Me Up Again
Better Days
The Best Thing
Unbreakable
Wrapped Up In These Arms
CGRNR -Feels A Lot Like Love
Faith.
Label: Frontiers Music SRL
Latest posts by Ian Jefferies
(see all)