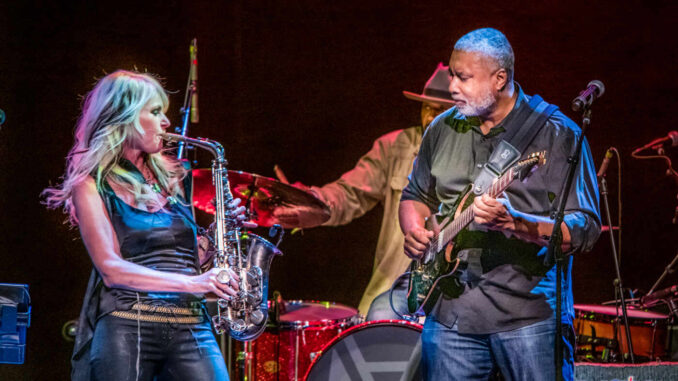 By Chyrisse Tabone, Rock At Night Tampa
Review: Mindi Abair – The Capitol Theatre, Clearwater, Florida–April 3, 2021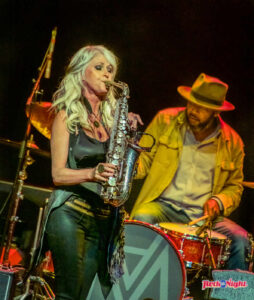 Last week the world was feeling normal for us at Rock At Night magazine.  First, on Monday we covered Joe Bonamassa's concert in Clearwater and Saturday, our favorite saxophonist and cover of our Winter 2020 "Women's Issue" magazine, Mindi Abair.  Without the Boneshakers, Mindi Abair performed a special solo show with friends in tow—and even a special guest, Yankees legend Bernie Williams.
Performing at a socially distant concert at Nancy & David Bilheimer Capitol Theatre, Clearwater, Florida, the venue was sold-out. Mindi performed a combination of old favorites and some new songs, from her just released CD The Best of Mindi Abair.  Abair chatted with the audience between songs, which she performed with support from Frank Richardson III AKA "Third Richardson" (drums, vocals), Ron Reinhardt (keys), Tim George (bass), and Peter Mongaya Hogsholm (guitar).  After each performance, the audience cheered and yelled "Mindi rocks", as many loyal fans have followed her since the early days of her career in St. Petersburg, Florida.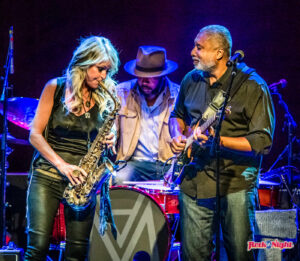 Abair asked the audience if anyone could answer a trivia question regarding a song she recorded with friends in her living room. Over the years it has garnered thousands of hits on YouTube but was never officially recorded. It is now featured in her 19 song CD. She asked, "Does anybody know which song it is?"  A woman yelled, "Imagine" and ran up to the stage, smiling ear to ear, as Abair handed her the new CD and posed for a selfie. Since the woman already purchased the new CD, she intended to gift it to a lucky friend.  Abair and the band proceeded to perform a very emotional and moving rendition of John Lennon's "Imagine."
Abair explained that when the world was shutting down during the March 2020 pandemic lockdown, she was in the studio recording an album. She wanted to introduce a special new song called "April". Again, she reiterated her gratitude to be performing for the crowd saying, "It feels good to play new music again."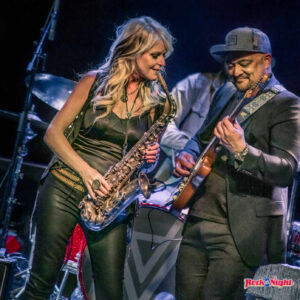 With a little stage prop rearranging, the band sat near the front of the stage on stools. Third Richardson propped himself behind a cajon. Abair sang the gospel-tinged song of female empowerment "Be Beautiful".  The audience sang along with the chorus, "Be free. Be Strong. Be beautiful." Really moving.
Abair explained that growing up in the area, she would go to Al Lang Stadium, the training center for the Yankees.  She said, "Here, we have immense respect for baseball".  Williams and Abair collaborated beautifully on "African Blues" and "Moving Forward." After receiving a standing ovation from the crowd she said, "It is fun to have the world back, supporting the venues, and musicians. We are celebrating tonight. [Bernie] he's retired. He's got a record. I have a record."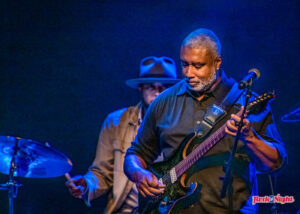 She "went back a few years" to perform an old favorite "Smile" before segueing to her signature song, "Pretty Good for a Girl." Abair proceeded to perform "Lucy", the "first song I ever put out" and the audience sang the "da-da" vocal part.
The crowd stood and danced to Ike & Tina Turner's "Baby, Let's Get It On", which featured a duet between Abair and Williamson. The version was totally rocking, and later melded into T. Rex's "Bang a Gong (Get It On)".  Abair announced the last song of the evening was "The Joint", a favorite of Pam McGregor, the administrator of her fan club
Overall, it was an evening filled with uplifting jazz, funk, and blues. I am sure everybody that attended left with a smile on his/her face—as did I.
PHOTO GALLERY
LINK to Rock At Night podcast interview- October 2020

Latest posts by Chyrisse Tabone, Ph.D.
(see all)