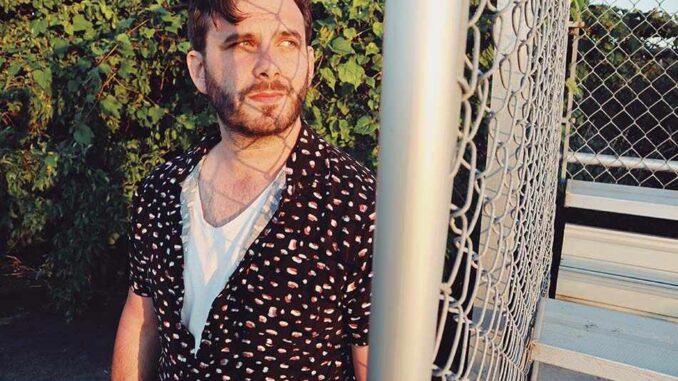 BY Mike McKenney, Rock At Night New England
EP Review: Local Nomad – Release date July 10, 2020

Multi-instrumentalist Michael Desmond, aka, Local Nomad released his five track EP today.  A unique collection of original songs, Local Nomad has an other worldly aura about it.
"Love Is Gone" is a soon to be hit, with biting lyrics and a compelling dance beat in an Imagine Dragons way. An excellent choice to open with, "Love Is Gone" has a great hook to pull you in and the hard hitting lyrics cut with the precision of a surgeon.
With "Gates", Desmond continues to defy stagnation. As the music insists on progress it's impossible not to move with it. "The idea for this collection of songs was born out of a turbulent time in my life," Michael says. "I had gotten out of a six-year relationship, my artist name was stolen by someone I knew, my uncle passed away in a tragic accident, and I was gigging full-time while simultaneously working a day job to afford to finish up my college degree. I lost my balance, felt the weight of the world and I couldn't find the comforts that come with a sense of home. I was at a crossroads and, I don't want to say I was having a mid-life crisis, but I felt the need to get a lot of things off my chest."
Unabashedly using all his resources "Getting Old Is A Bitch" has a strange, quirky sound, created from a saying his Grandmother used when he was growing up. It also showcases Desmond's unique ability to match great lyrics to an impressive sound with light airy synths that run through this EP.  On "Young Vampires" Desmond's soulful vocals captures from the first note.
Certain to be fan favorite, "Young Vampires" is well produced and highlights Michael's great songwriting ability that teases the lyrics out on the edge of nasty but pulls them back with an understanding of inevitability.
Closing out with "Summertime", an uplifting song about carefree childhood days, Local Nomad takes us circle.  While this collection takes us on a journey through some of life's rough times, Local Nomad does it with open honesty and humor, while the music keeps us moving forward, always.
There are no "throw aways" on this EP, Local Nomad is a must have for any Indie/Pop fan!

TRACK LIST
* Love Is Gone
* Gates
* Getting Old Is A Bitch
* Young Vampires
* Summertime
SPOTIFY

Latest posts by Mike McKenney
(see all)