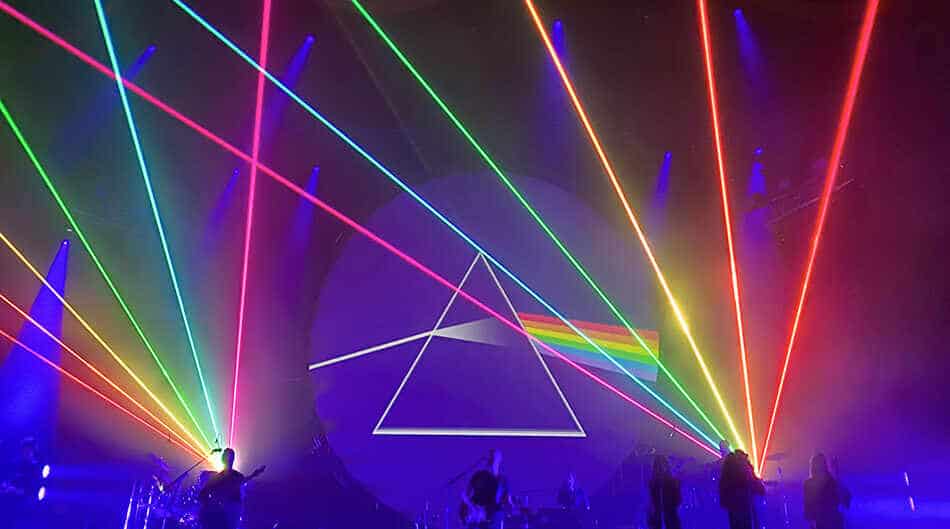 By Mike McKenney, Rock At Night New England
Venue: The Vets-Providence, Rhode Island- March 10, 2020-Brit Floyd Echoes Tour
The phenomenal Brit Floyd continues to impress on their 2020 Brit Floyd World Tour. "Echoes" is from the Pink Floyd's "Meddle" album first released over fifty years ago.  Brit Floyd delivered a 23 minute, note for note recreation of one of Pink Floyd most iconic songs and as Brit Floyd's Musical Director, Damian Darlington explains in my interview with him before the show, "Echoes" marks an important moment in the history of Pink Floyd's music as it takes a new direction and hints at what's to come. "Dark Side of the Moon", and "Division Bell" were built on the foundations laid from "Meddle".
You can hear Rock At Night's interview Brit Floyd's Musical Director, Damian Darlington BELOW:
Waiting in the lobby of The Vets before the show, there was a buzz in the air as patrons were clearly divided between discussing the brilliance of Brit Floyd, and the Corona virus outbreak as The Vets staff diligently wiped hand railings, rest rooms, and common surface areas with disinfectant. With The Vets sparkling clean, the doors finally opened and the mostly older crowd poured in. Seems everyone had a Pink Floyd story to tell, and many had seen Brit Floyd many times.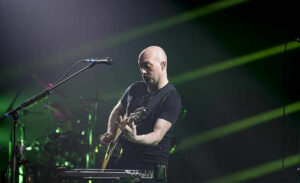 As usual Brit Floyd opened with "Cluster One", from "Division Bell" along with a personal favorite "High Hopes", sandwiched around "Learning To Fly" .
Damian Darlington (Guitar, Vocals) along with, Ian Cattell (Bass Guitar, Vocals, Chapman stick, Trumpet), Edo Scordo (Guitar, Vocals), Ryan Saranich (Sax, Multi Instrumentalist), and Arran Ahmun (Drums) perform each song with perfection.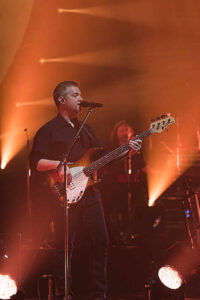 The light show, including new lasers and graphics are expertly timed with the music to create a complete sensory experience, and the audience couldn't get enough. "Time", "Another Brick In The Wall", and "Money" encouraged the crowd to sing and clap along. While Eva Avila's wrenching rendition of "The Great Gig In The Sky" blew everyone away. The songs chosen for the "Echoes" tour were carefully crafted to provide a wide representation of Pink Floyd and there is not a throw away song in the entire setlist. "Wish You Were Here", "Shine On You Crazy Diamond" and "Comfortably Numb", featuring an incredible guitar solo by Darlington were clearly fan favorites, while"Run Like Hell" put the exclamation mark on the night.
Quintessential Pink Floyd music played to perfection by great musicians in an atmosphere that ties it all together, Brit Floyd is an incredible experience that somehow manages to improve with every tour.
The Brit Floyd 2020 World Tour "Echoes" is a must see event!
Set:1
Cluster One
Learning to Fly
High Hopes
Welcome to the Machine
A New Machine (Part 1)
Terminal Frost (featuring Ryan Saranich)
Time
The Great Gig in the Sky (featuring Eva Gougeon-Avila)
Summer '68
Another Brick in the Wall Part 2
One of These Days
Set:2
Echoes
Get Your Filthy Hands Off My Desert
The Fletcher Memorial Home
Set the Controls for the Heart of the Sun
Money
Wish You Were Here
Shine On You Crazy Diamond (Parts VI-VII)
Comfortably Numb
Encore:
One Slip
Run Like Hell
PHOTO GALLERY

Latest posts by Mike McKenney
(see all)