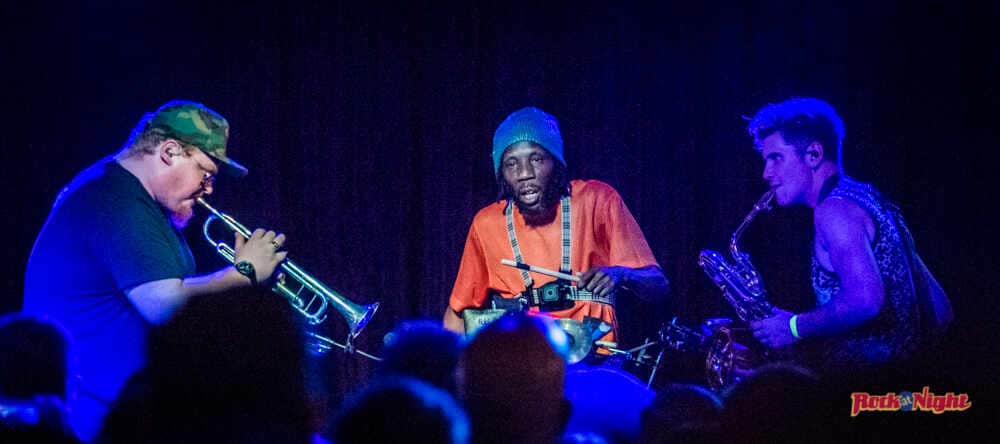 By Chyrisse Tabone, Rock At Night Tampa
Venue: Crowbar Ybor, Tampa, Florida-January 14, 2019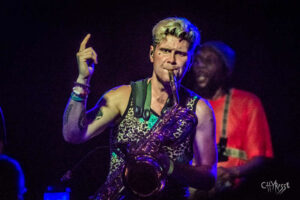 Rock At Night kicked off the New Year by covering the Too Many Zooz concert in Ybor City, Tampa, Florida, last night.  This genre-bending band, whose drummer  David "King of Sludge" Parks has deemed "Brasshouse", got its start while busking in the NYC subways around 2013.   Essentially, the music may be described as a "musical conversation" between saxist Leo P., trumpeter, Matt Doe, and King of Sludge.
Too Many Zooz later gained notoriety after releasing the videos "Car Alarm", which features an alarm as the main beat in the song, and "Bedford", which shows the band playing and dancing in the NYC subway.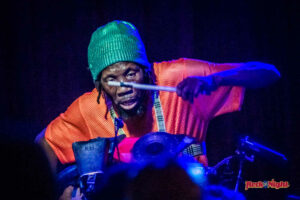 Too Many Zooz supported Beyoncé during her performance of "Daddy's Lessons" at the CMAs.   The band also work with outside projects. Trumpeter Matt Doe performed in Harry Styles' band in SNL and Leo P. (real name Leo Pellegrino) collaborates with saxist Grace Kelly in 2SAXY.
Fresh off of the Jam Cruise 18, the band rolled into the Crowbar Ybor City, where the night was unseasonably warm (70s) for the month of January.  The venue was completely packed to the back wall with twenty- and thirty-somethings dressed in shorts, jeans, and wearing Lettuce caps, assumedly from the Jam Cruise.
Too Many Zooz began playing their Brasshouse at 9:15 p.m., which consisted of booty-shaking funky, jazz, and Latin horn riffs melded with Afro-Cuban rhythms, which put me into a trance-like state.  One couldn't help but move and be totally immersed in the musical experience.  Although the room was jam packed, people were dancing and moving in place.  Too Many Zooz mesmerized the audience with their musical prowess, as they grooved on the small stage. Leo P. kicked and moved, although inhibited due to the size of the stage.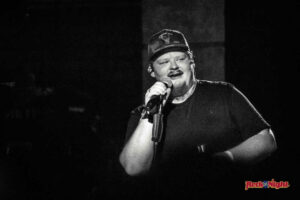 The band played for 45 minutes straight without a break, when they finally stopped to take a breath and drink some water. Their physical endurance, playing rapid fire grooves and beats without stopping, were amazing. At this time, Matt Doe spoke briefly to the audience, explaining that his legs were still shaky after spending the last week on the Jam Cruise.
The band continued their performance, which turned out to be a real uplifting concert.  I cannot stress how enjoyable the show was last night and I truly look forward to their return to Florida. It was truly an anti-depressant—and the perfect way to start off the new year.
PHOTO GALLERY
US TOUR INFO
January 13th.   THE SOCIAL, Orlando
January 14th.   THE CROWBAR, Tampa
January 16th,  VARIETY PLAYHOUSE, Atlanta
January 17th,  EXIT/IN, Nashville
January 18th, THE GREY EAGLE, Asheville-NC
January 19th, THE BLIND TIGER, Greesboro-NC
January 21st, CAT'S CRADLE, Carrboro-NC
January 22nd, THE SOUTHERN, Carlottesville-VA
January 23, UNION STAGE, Washington DC
January 24th, BROOKLYN BOWL, Brooklyn
January 25th, THEATRE OF LIVING ARTS, Philadelphia
January 28th, THE HOLLOW, Albany-NY
January 29th, THE HAUNT, Ithaca-NY
January 30th, BUFFALO IRON WORKS, Buffalo
January 31st, BEACHLAND BALLROOM, Cleveland-OH
February 1st, URBAN ARTIFACT, Cincinnati-OH
February 4th, EL CLUB, Detroit
February 5th, CONCORD MUSIC HALL, Chicago
February 6th, MAJESTIC THEATRE, Madison, WI
February 7th, OFF BROADWAY, St. Louis-MO
February 8th, THE BOTTLENECK, Lawrence-KS
Video

Latest posts by Chyrisse Tabone, Ph.D.
(see all)