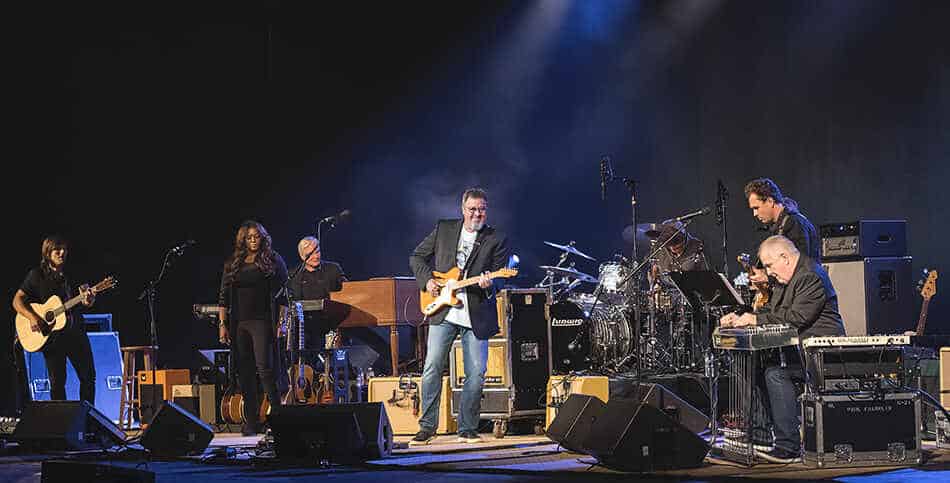 By MIke McKenney, Rock At Night New England
Venue: The Vets-Providence, Rhode Island-October 11, 2019–Vince Gill with Jedd Hughes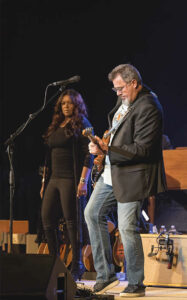 A full house greeted the 18 time CMA & 21 time Grammy Award winning songwriting country superstar Vince Gill at The Vets. Gill and his incredible 7-piece band took the stage and started right off with "One More Last Chance" a funky "What the Cowgirls Do", and "Oklahoma Dust".  A member of the Nashville Songwriters Hall Of Fame, The Grand Ole Opry, and The Country Music Hall of Fame, Vince Gill has produced albums for country musics elite as well as making guest appearances on more than 1000 albums.
On Friday night he brought all that experience and wisdom with him as well as his silky smooth voice. Ranging from alto to high tenor, the 62-year-old Gills' vocals age like fine wine and he backs himself with a fantastic band featuring top of the line musicians, including guitarist-vocalist Jedd Hughes who also served brilliantly as the opener for tonight's show.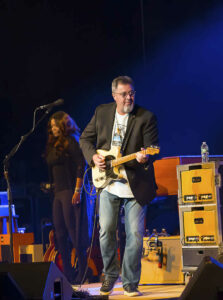 Gill & Co continued through his catalog while sprinkling in an occasional cover. Merle Haggard's "The Bottle Let Me Down", and Ernest Tubb's "Drivin Nails In My Coffin", while Wendy Moten gave a stunning "Ode to Billie Joe" (Bobbie Gentry cover).
New songs from Gills' recently released (august) album "Okie", "I Don't Wanna Ride The Rails No More", and "A World Without Haggard", are sure to be popular cuts. "A Letter To My Mama" was accompanied by a poignant story from Vince about his relationship with his Mother.
While Vince Gill's repertoire spans from traditional to modern country, his sweet spot is right in the center. "The Old Lucky Diamond Motel", Pocket Full Of Gold", and "Liza Jane" showcase not only his great vocals but also his guitar genius. Gill is widely known as being one of the most talented guitar players of all time. Not too shabby from a man who started out, as he says, "Just trying to make a living out of playing the banjo".  Throughout his 28 song set, Vince entertained the crowd with stories and jokes between his hits. Telling the crowd, "If we didn't have the cheatin' songs we wouldn't need the gospel songs".
With great sound and lighting perfectly timed to go along with great music, a Vince Gill production sets the professional standard as the over 2 1/2 hour show a flew by.  A busy schedule is ahead for Vince Gill but fans can still catch the current tour as it continues through November. Then watch out for a short holiday stint at the Ryman Auditorium with wife Amy Grant, followed by a new "Hotel California" tour with the Eagles early next year!
Vince Gill Setlist:
One More Last Chance
What the Cowgirls Do
Oklahoma Dust 
 (The Notorious Cherry Bombs song)
Tryin' to Get Over You
Pocket Full of Gold
Cinderella
I Still Believe in You
Down to My Last Bad Habit
Feels Like Love
Guitar Slinger
The Old Lucky Diamond Motel
Look At Us
Take Your Memory With You
Young Man's Town
When I Call Your Name
The Bottle Let Me Down 
 (Merle Haggard and The Strangers cover)
Together Again 
 (Buck Owens and His Buckaroos cover)
A World Without Haggard
Forever Changed
I Don't Wanna Ride the Rails No More
A Letter to My Mama
When My Amy Prays
Ode to Billie Joe 
 (Bobbie Gentry cover)
Drivin' Nails in My Coffin 
 (Ernest Tubb cover)
Go Rest High on That Mountain
Pretty Little Adriana
Oklahoma Borderline
Encore:
Whenever You Come Around
Liza Jane
PHOTO GALLERY

Latest posts by Mike McKenney
(see all)