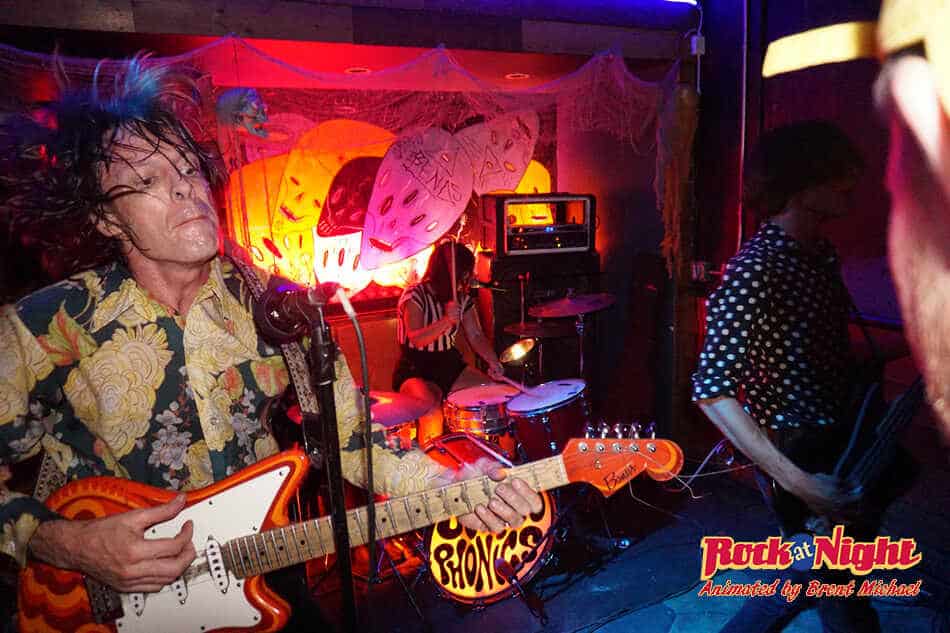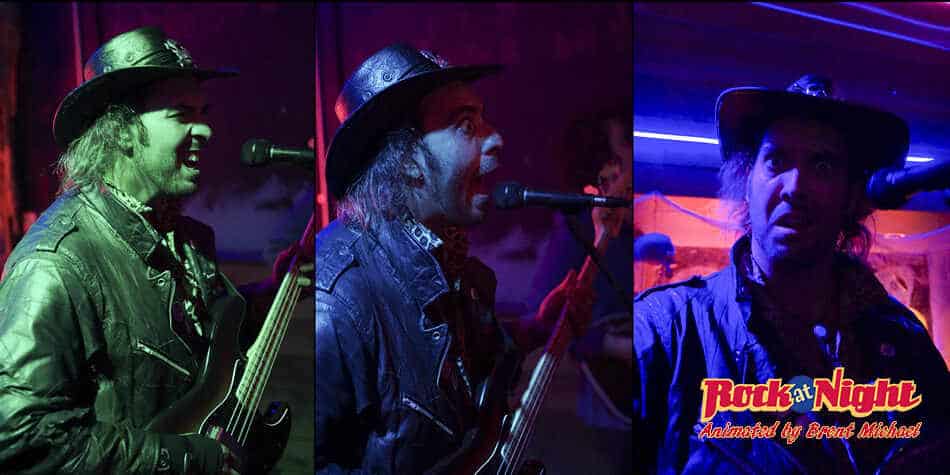 By Brent Michael, Rock At Night Tampa Correspondent
Venue: The Bends, St. Petersburg, Florida–October 24th, 2019
Bands:Schizophonics with Johnny Mile & The Kilometers and The Woolly Bushmen,
Bands on Facebook/Social: Johnny Mile & The Kilometers, Woolly Bushmen, Schizophonics
I first ran into Johnny Mile & the Kilometers in June of 2018, and have had the pleasure of seeing them several times since. At the time, Gentle Giant Chris Cordon was clearly the stand-out member of the band, beginning with his size alone – he towers over the room, and is built like a linebacker – and continuing with his expressive actions and facial reactions. Chris hasn't slowed a bit, and his size will always make him noticeable, but Gino Capone and Tyler Stoelting are catching up, they were much more animated than I've seen them before, and that's a great thing! If you're in the Tampa Bay area or if they come to yours, make it a point to be there! Oh, and of course, their music is great, a sensational blend of punk, rockabilly, and blue-collar garage rock, give them a listen!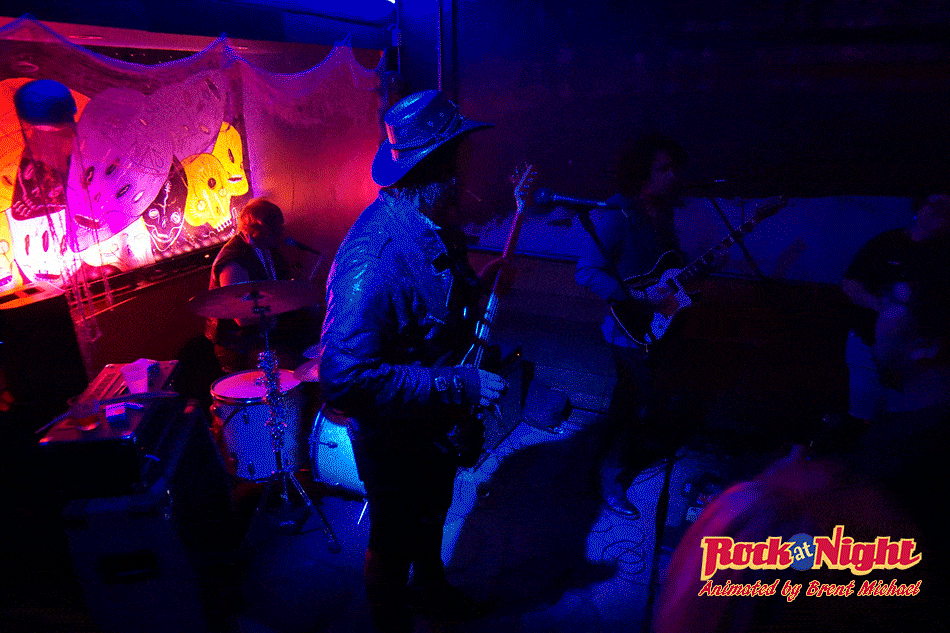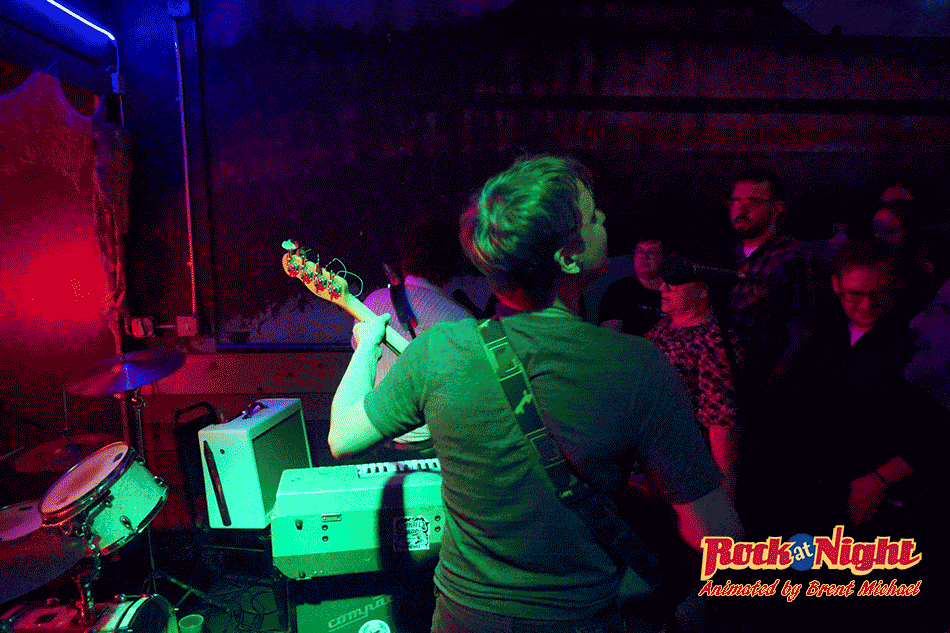 Next up, The Woolly Bushmen took over. Hailing from the Suburbs of the Kingdom of the Mouse, aka Winter Park, FL, it was my first opportunity to see a band I'd heard about, and I wasn't disappointed! They describe themselves as "garbage rock," they have managed to combine 1960's rock and roll with 1950's rockabilly and a dash of soul, forming their own unique genre of all original crowd-rocking songs. Formed in 2011, Simon Palombi (vox/organ/twang stick) is a Jerry Lee Lewis movealike, Jacob Miller (bass/twang stick) more slides than moves, and Julian Palombi (vox/skin buckets) have carved a genre-bending niche for themselves, despite Jacobs' loss of a good foot of hair! They are constantly touring and have recently released a new album, hunt them down, it's a trip into the bush you won't regret even when it gets wild!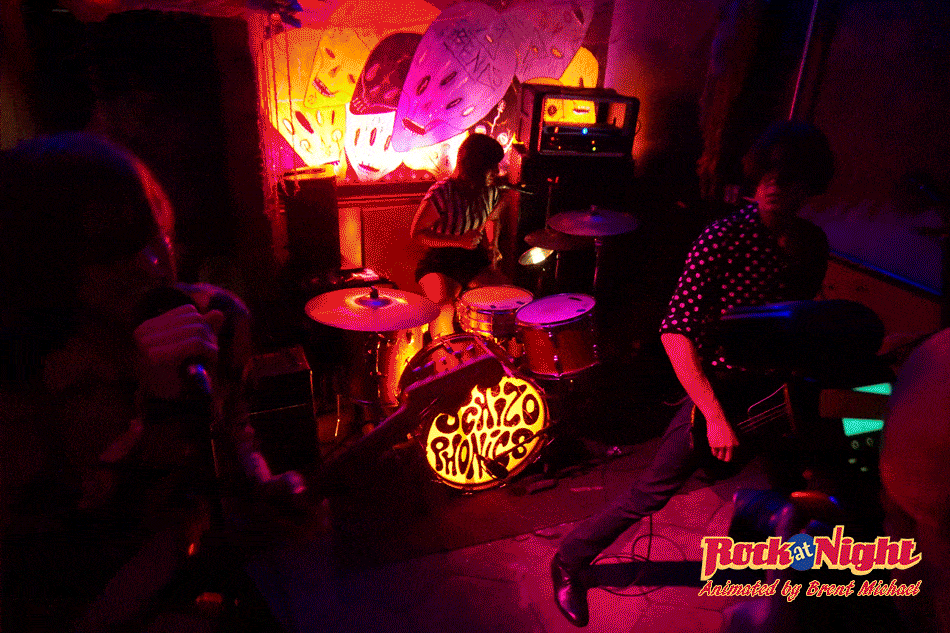 Last, but by no means least, the Schizophonics staked out a claim to more of the floor – and they needed it! Pat Beers and Lety Beers, Guitar/vocals and drums respectively, form the core of the band, with whatever bassist they can find who can keep up with Pat. The term "bouncing off the walls" was invented for this guy, and I mean that literally! The energy exuded by that guy could power the state 24/7! Not that the bass player of the night or Lety banging out the rhythm in back were slouching, but I've seen acrobatic acts that had fewer moves. Musically, they remind me of The MC5, a sonic force to be absorbed, but smoother, early Stones-like. (I actually wrote that line before reading their website, which says, "Tapping into the same unstoppable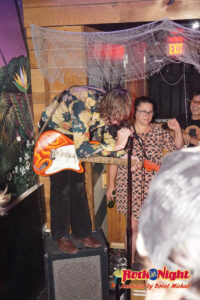 combination of rock 'n' roll energy and showmanship that fueled THE MC5 in the heyday of the Grande Ballroom, their wild live show is heavily influenced by artists like JAMES BROWN, IGGY POP, JIMI HENDRIX, LITTLE RICHARD, and THE SONICS." Really, I absolutely did not plagiarize it! Of course, it might help that, pre-show, one of the songs playing on the sound system was "Rama Lama Fa Fa Fa!" But still, the comparison is apt. High energy is an understatement when describing this band!
Their second full-length album titled People in the Sky will be released on October 31st, 2019 on Pig Baby Records, but if you are at one of their live gigs beforehand, you could have one in your hot little hands now!
The band is a touring tour de force, so if you live anywhere in the USA you're likely to be able to catch them soon. You'll be glad you did!
You can read Rock At Night's interview with Schizophonics at Woodstock Guitares in Ensisheim, France (April 2019) HERE.
Photo Gallery

Latest posts by Brent Michael
(see all)