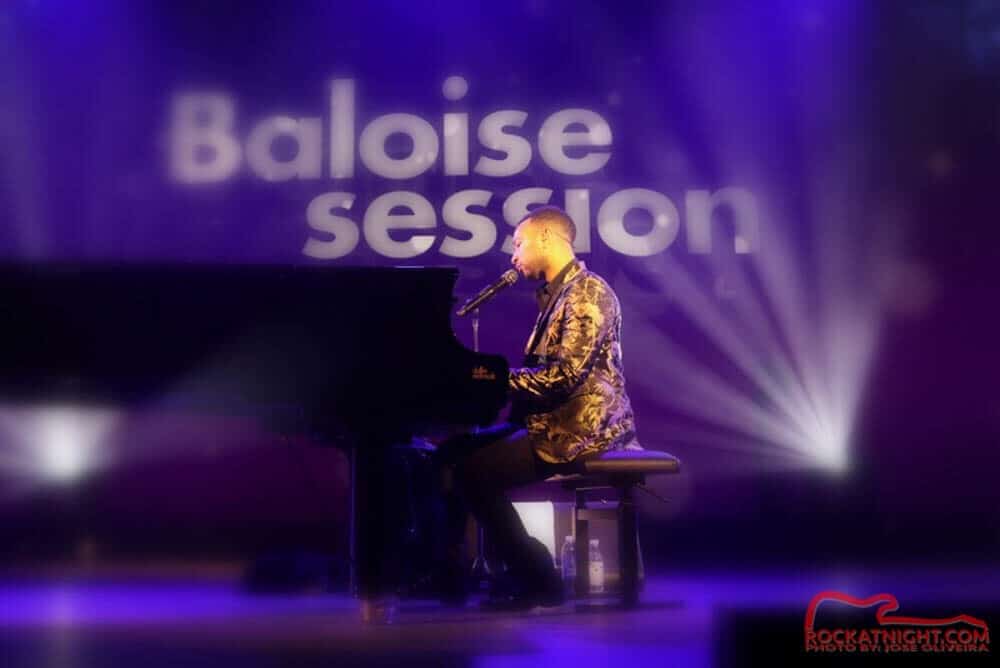 By Rosine Alleva, José Oliveira, Journalist/Photographers – Rock At Night France, Switzerland 
The BALOISE SESSION in Basel is the most popular Indoor Festival in Switzerland and ranks on the podium of the best Indoor Europeans.
There were 15,500 people for this 2018 edition, each evening as a sell out, in an intimate club atmosphere, making these 10 musical evenings shows a real success. A deserved recognition for the Team led by Béatrice STIRNIMANN, the organizer of the event.
No other music festival in Switzerland offers you this typical ambiance and intimacy with the stars. As a public, you are comfortably settled in an elegant atmosphere around candlelit tables, just a few meters from the musicians. It is also one of the few European Festivals giving an enormous chance to the country's new talents, allowing them to be support acts, in front of a large audience. Rock At Night had the huge privilege to interview the most beautiful contemporary Blues voice, BETH HART.
We also had the to discuss with two representatives of the Brazilian Resistance: MARIA GADU and the TRIBALISTAS. Several concerts were retransmitted by ARTE Concert and, as we couldn't make it for LAURYN HILL show, ARTE Concert gave us again the chance to of live!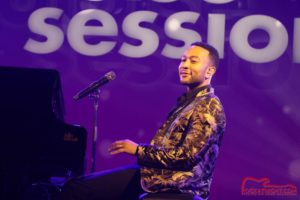 Our first evening began with JOHN LEGEND. He told us about his childhood. Nothing surprising to have this charming young man with such a talent and such a success….with a mother organist, a choir directed by his grandmother and a grandfather pastor, "I spent all my youth in churches! He says in a loud laugh. We understand better from where his gospels origins are coming from. John Legend is an amazing piano player, and his great voice and beautiful love songs (most of the lyrics speak about love) delighted the audience in this well-known and cozy atmosphere of the festival.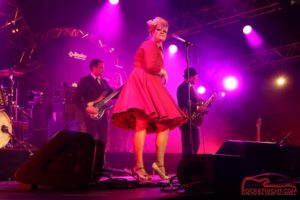 We saw him on his second evening at the Baloise Session. A perfect headline act after discovering the amazing Nicole BERNEGGER, the pride and the beautiful « Voice of Switzerland ».
BEN HARPER & THE INNOCENT CRIMINALS
Ben Harper is still as charming as ever. The kind of person never getting old. Obviously neither in his music. We saw him few years ago in France but the first time with the IC ban.
His fans were all present for this very special evening.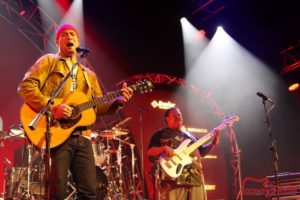 BEN HARPER & the INNOCENT CRIMINALS reunited again in 2015. For the pleasure of the audience and fans of the first times, the bassist Juan Nelson and percussionist Leon Mobley were playing on the Baloise Session stage (from the Innocent Criminals first line-up). The charismatic Ben Harper offered us more than 2 hours concert. His last opus "No Mercy in this land " was released this year with Charlie Musselwhie, the harmonica virtuoso. Everything had been prepared to make it a very intimate concert. An oriental carpet but not only, Ben Harper's sound, his soft and sensual voice were recognizable from the first note. Just a bit sad the sound was sometimes too loud.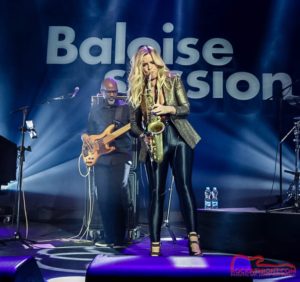 RAD. Trio feat. CANDY DULFER opened the evening.
The trio – Rose Ann Dimalanta, RAD., the Californian keyboarder, accompanied by the bass player Raymond
McKinley and the drummer Massimo Buonanno performed on the first part of their show. Joined by Candy Dulfer the Dutch famous saxophonist for the second part of their set, they played many titles from Stevie Wonder to George Duke or Bill Evans .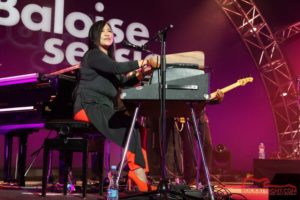 Fantastic musicians, Rose Ann Dimalanta and Candy Dulfer were part of the New Power Generation with Prince (2003 & 2004) and showed us their legendary complicity again to start another great Baloise Session evening.
MARIA GADU/TRIBALISTAS
After France, Portugal, Italy, Argentina and Spain, it was The BALOISE SESSION who presented the famous TRIBALISTAS from Brazil. A first time in Switzerland. Fifteen years after their great first album, MARISA MONTE, ARNALDO ANTUNES and CARLINHOS BROWN reunited again for a new musical adventure.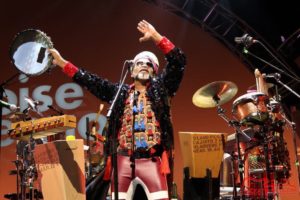 TRIBALISTAS is the meeting of three great Brazilian artists, authors, composers, interpreters: MARISA MONTE, one of the most beautiful and exotic popular Brazilian voices – CARLINHOS BROWN, ex leader of TIMBALADA Group, renowned percussionist and ARNALDO ANTUNES, ex singer of the Rock Band TITAS. They didn't consider themselves as a group but as partners , feeding their music after all, with the existing musical diversity of each of them. Their success remained a mystery. The launch of the first opus did not benefit of the traditional promotion, like concerts, interviews or even TV or stages, but only Radio and the mouth to mouth circuit.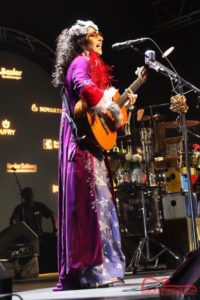 Their music, largely acoustic and very attractive, drew on a setlist of 20 songs which higher moments were "Velha Infância", "Carnavàlia", "Paradeiro/Consumado" and the famous hit "Jà sei Namorar"!
With the recent presidential election and the crazy political situation in Brazil, there was an enormous hope of the largest Brazilian audience around this evening. Knowing the danger it represents for a Brazilian artist to express himself abroad, we wondered how this would take shape….
Finally, Maria GADU was the only one to declare loud and clear, by interpreting in French Jacques BREL's mythical song, "Ne Me Quitte Pas", that we should not abandon Brazil and saying that the Resistance would be enormous and the preservation of the Democracy would be its battle horse! Rarely surprised by a support band or singer, to the point to steal the show to the main artist, it's exactly how we felt with Maria GADU's performance!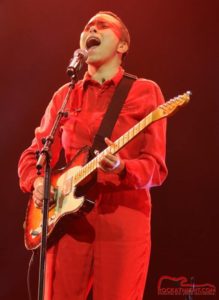 Alone on stage with drummer/percussionist Felipe ROSENO, Maria enchanted us with an innovative set, energic level, inciting the public to dance. With the first accords of "BELA FLOR" , people came to the front stage and sang every word along.
Her best known hit "Shimbalaie" closing her beautiful set, was of course the highest moment with "Dona Cila", dedicated to Gadu's grandmother. We really love her groove!
They both accepted to talk to us, more particularly to José Oliveira as he's Portuguese! An interesting chatting with exotic people!! Interviews following soon!
FACEBOOK |  INSTAGRAM | TWITTER
PHOTO GALLERY

Latest posts by Rosine Alleva
(see all)