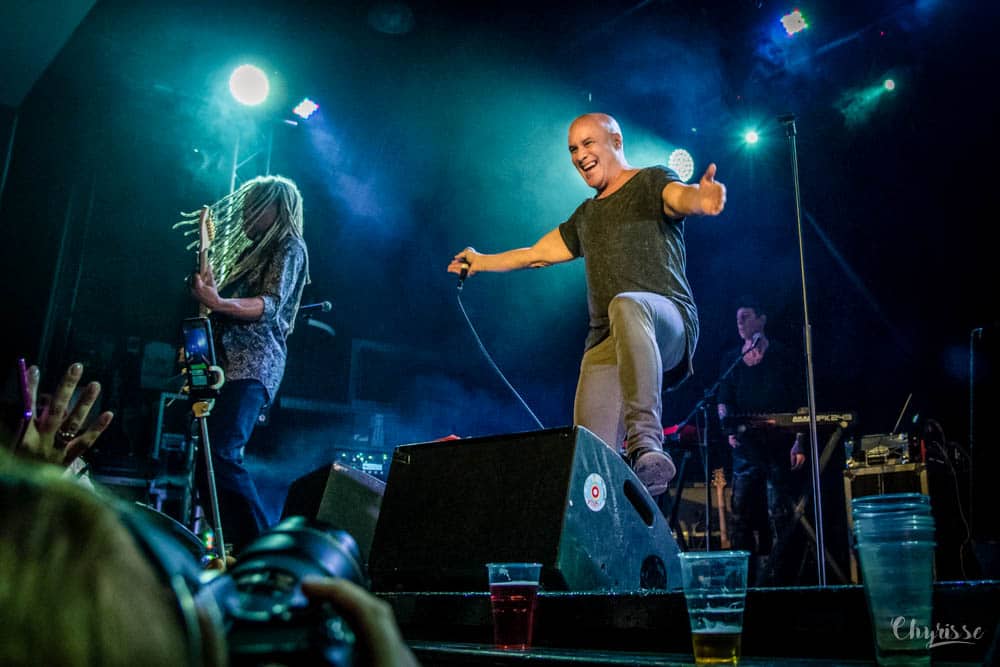 By Chyrisse Tabone, Rock At Night Tampa
Venue: The 229 Venue, London, UK–November 23, 2018–The Origin Tour with Dan Reed Network, Mason Hill, and Hollow Star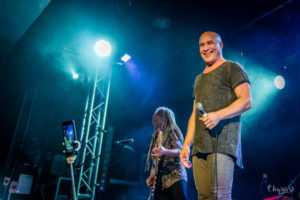 Dan Reed Network embarked on the Origins UK Tour in Bilston on November 7th and ended the tour in Manchester on November 25th to promote the release of their brand-new studio album Origins on Reed's own Zero One Entertainment label.  The eight-song album consists of new and re-imagined versions of 80s classics.  Dan Reed notes, "A major part of this idea was taking control of the creative process moving forward as well as reclaiming music we'd recorded in the past."
From the get-go when I listened to Origins, I perked up because funk rock is always ear candy for me. Growing up with all the classic 70s funk bands makes me partial to songs like "Ritual" with its funky groove, cool synth riffs, and almost "disco" flair to it.  Listening to "Forget to Make Her Mine" with its slapping bass and rhythm makes me visual Don Johnson in his pink suits and sockless tennis shoe feet, running around Miami.  Pure guilty pleasure!  There are also new songs in the mix like "Fade to Light" which has a Lenny Kravitz-rock flair to the song, which describes how relationships or conflict can be renewed and healed from despair to hope.
---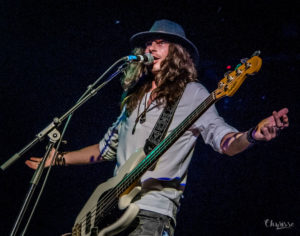 Rock At Night caught up with the Origins Tour in London as the tour was winding down. It was a chilly Friday night at the 229 Venue on Portland Street, as many long-time fans huddled into club.  There was an air of anticipation and excitement, as people grabbed drinks, and began gathering at the stage.  Two young and aspiring rock bands, Hollowstar and Mason Hill, were set to warm up the crowd, for what would be a memorable evening of great music.  Wyatt Wendel of Planet Rock was on-hand to introduce the bands.
Hollowstar, which hails from Cambridgeshire, came out on the stage promptly at 7:30 p.m., with all guns firing. The four-piece band has been successful in the summer festival circuit, since the debut of their EP Some Things Matter, with influences of classic and 80s rock. Stand-out songs during the evening included "Feel the Burn" and "New Age Lullaby".  A touching moment was when lead singer Joe Bronson delivered heartfelt words about depression and mental health, before delivering "Sweet Suicide". A superb set, guys…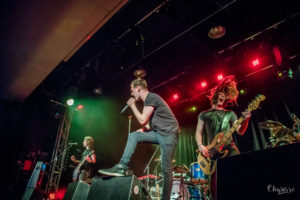 Next up was the five-piece Scottish rock band Mason Hill, which put on a very energetic set—and I'm sure, gained a lot of new fans.  The mid-twenties lads had the finesse and presence of a mature band, as lead singer Scott Taylor, waltzed and perched on the edge of the stage, singing with such emotion. Matthew Ward's hair whipped in the air, and Craig McFetridge pounded the drums, arms raising high.  The whole band was very tight and performed as if in front of an arena and not a club venue.  Stand-out songs included "Now You See Me"  and "Against the Wall".
As Mason Hill was breaking down their rig, I looked around and saw the venue was wall-to-wall people.  Indeed, it was a very large crowd standing in anticipation of getting their "funk on". Many were wearing "Dan Reed Network" t-shirts and loyal fans came as far as the band's home base Portland, Oregon, to cheer them on.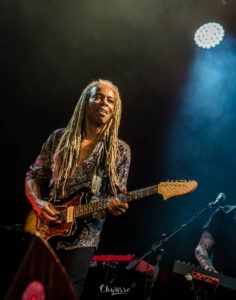 Finally, original members Dan Reed (vocals, guitar), Brion James (guitar), Melvin Brannon II (bass), and Dan Pred (drums), and newcomer Rob Daiker (keys) arrived on the stage, diving into "Rock U All Nite Long", which kicked off what would essentially become a rock-funk dance party.  Many of the people were bobbing and booty-shaking to 80s classics like "Rainbow Child", "Resurrect", and "Forgot to Make Her Mind."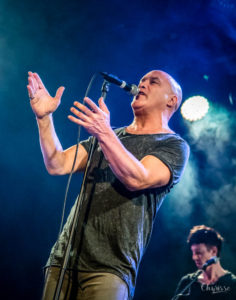 Reed was no longer sporting long locks and high-waisted Z.Cavaricci pants of the 80s but now favored a shaved head look. He danced, traded glances with James and Brannon, and had the crowd eating out of his hand.  James was a joy to watch as his waist-long dreds shook from side-to-side as he stroked the guitar.  Pred's drum kit was behind the bass-slapping Brannon at the right side of the stage, leaving the center open for Reed's movement.  Daiker provided his keyboard wizardry, as smoke-filled the stage.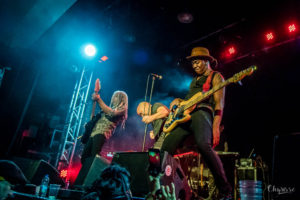 There's a reason this band has been together and making music for so many years. One can see the joy on each member's face as they genuinely enjoy what they're doing, trading glances, and totally connecting with the crowd. Not only was the music compelling and rich with a blend of rock and soul, but nostalgic, making me want to bust-a-move back to the 80s and 90s. Brilliant job, gentlemen!
Set List:
Rock U All Nite Long
Divided
Forgot To Make Her Mind
Under My Skin
Doin the love Thing
Baby Now I
Resurrection
Rainbow Child
Rob's Song
Fade to Light
Get To You
Tiger
Stronger Than Steel
Champion
Save the World
Ritual
Photo Gallery
MASON HILL: Scott Taylor (vocals), James Bird (guitar), Marc Montgomery (guitar), Matthew Ward (bass), Craig McFetridge (drums).
HOLLOW STAR: Joe Bonson (vocals/bass), Jack Bonson (drums), Phil Haines (guitar) and Tom Collett (guitar).

Latest posts by Chyrisse Tabone, Ph.D.
(see all)