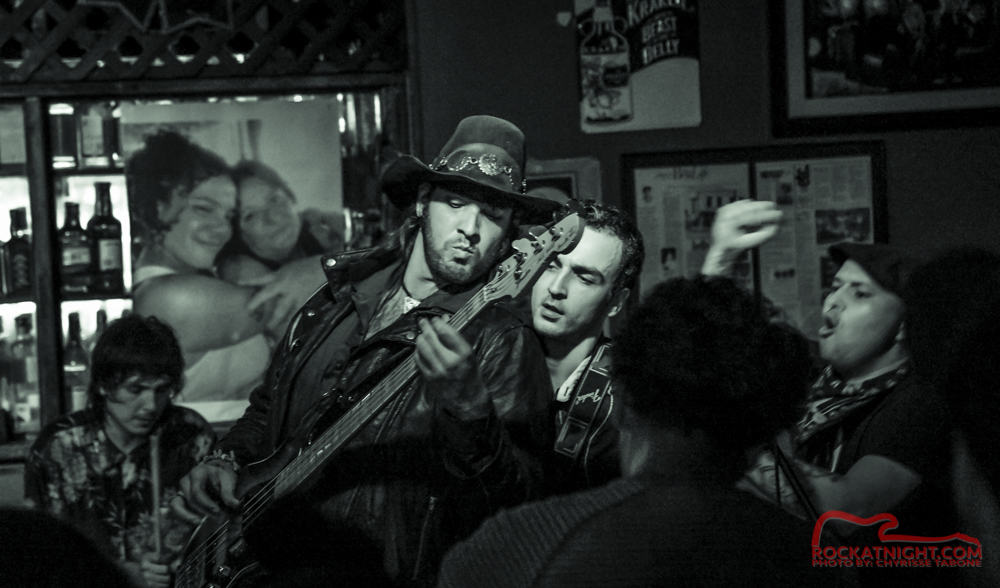 By Anita Stewart, Chyrisse Tabone, and Brent Michael–Journalists/Photographers-Rock At Night Tampa, Florida

Venue: The Hub, Tampa, Florida…September 2nd, 2018-Johnny Mile & The Kilometers with openers, the Spoon Dogs and Fever Beam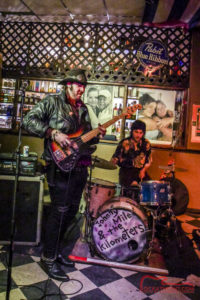 Rock At Night has been following retro rockers Johnny Mile & the Kilometers for a few months now, since seeing them at the Tarpon Fest and Wild Rover Brewery gigs. This time, we came armed—Rock At Night journalist and photographers Anita Stewart, Chyrisse Tabone and Brent Michael spent the night on the town on Sunday night during the Labor Day Weekend, checking out the band's gig at the Hub in downtown Tampa and also some new retro bands that were opening the show.
It has been our observation that the early 60s/70s rockabilly/punk rock sound has never left the UK scene. Rock At Night's English journalists and photographers cover the bands that play this mashup genre on a regular basis and there is now a resurgence of this music here in the U.S. Lucky for us as we love it! For example, American-bred but London dwelling Cage the Elephant, certainly have been influenced by the early 60s/70s, punk and R&B tinged sound, as well as other bands; Vintage Trouble, the Record Company, Greta Van Fleet, the Black Keys—all bands we frequently cover.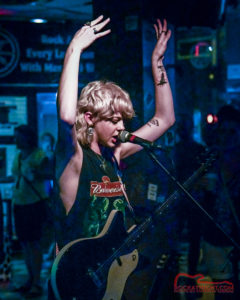 Firstly, the historical corner bar The Hub is located on Franklin Street in downtown Tampa, on the same block as the Tampa Theatre. This watering hole used to be the hang-out for reporters of the old Tampa Tribune as well as many colorful locals. The place is basically a hole-in-the-wall and smelled of thick smoke and it was rather like sitting in an ashtray—or perhaps a coal mine. Pretty dingy, dank, damp and dark. The three of us sat down at tables in front of the stage while the first band, Fever Beam, set up their gear. The quartet Fever Beam consists of two guys and two gals; a female-lead punk rock singer/guitarist and the other girl on the drum kit with the standard rhythm guitarist and bass player.
As soon as the band started playing, a group of their fans stepped in front of our tables and proceeded to dance and obstruct our view. One guy who will forever be called "Spaz Dude" was dancing in an exaggerated, jerky fashion throughout the entire evening, sometimes waving a lit cigarette around. He truly looked like he was having seizures. It got pretty dangerous as at one point as he took off his shirt, started whip-lashing it above his head, hit the stage lighting with it and would only stop after the bouncer grabbed him and threateningly squeezed his arm. A few minutes later and he would be at it again.
Fever Beam's music may be described as punk with a 60s-garage rock twist. In fact, a few of the songs used familiar riffs and some of the same chording, making the songs sound like Kinks knock-offs. The music was pretty good but they need to work some more on making the songs sound different.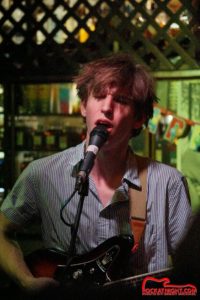 Next up was the Spoon Dogs, which appeared to be very much like Cage the Elephant and had their own fan base crowding around the stage area. By this time their set started, the bar was fully packed. There was plenty of dancing, desperate attempts to mosh in this very tight space and a group of people were sitting in chairs, holding onto the legs and hopping around. We at Rock at Night had to climb over chairs and tables to get photographs. Yes, quite crazy! Now the Spoon Dogs really rocked, showed a ton of energy and sweat, and we would love to see more from this band that hails from Orlando, Florida.
Finally, our favorite band, Johnny Mile and the Kilometers, set up their gear. At this time most of the crowd changed; most of Spoon Dogs's fans cleared out and walked outside—maybe to get fresh air or perhaps to leave. A few of the die-hards remained and joined the loyal Johnny Mile and the Kilometer's fans in the empty spaces around the stage area. Anybody that left early surely missed out on what we thought was a top notch show. Gino was wearing a white sport coat, looking very Sinatra-like, strumming his guitar, and belting out lyrics. Bassist Chris, wearing his familiar floppy hat, boots, and eyeliner, looking like a mad swashbuckler, ripped and thumped the bass. The band's regular drummer, Tyler, had left for his pilgrimage to Burning Man, so Rod stepped into his shoes for this gig—and a fine job he did. With his 60s Beatle-esque hair cut and high–water pants, he not only looked the part but knew what he was doing on the drum kit.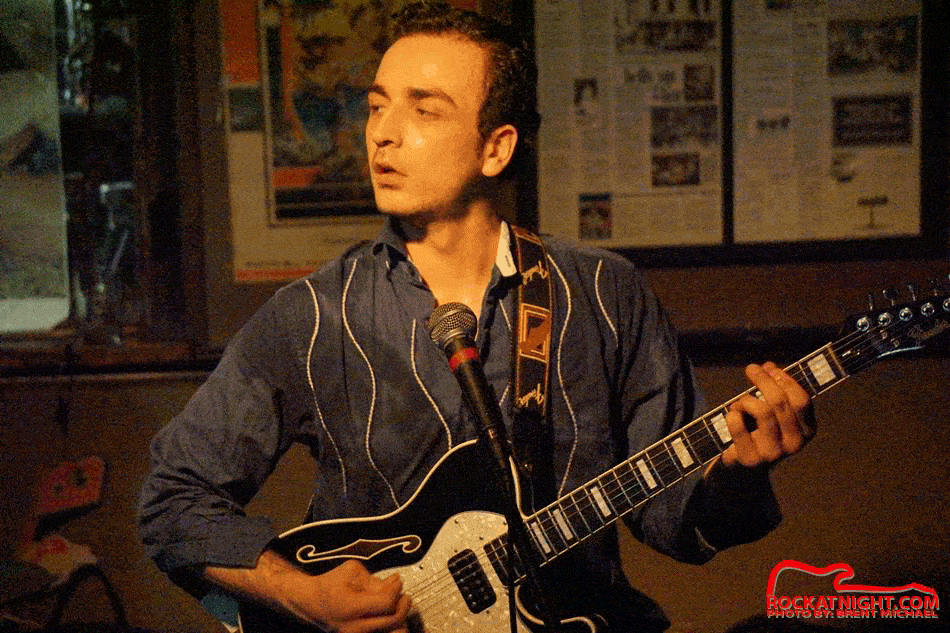 The crowd was in a dance frenzy during the whole set. At one point, "Spaz Dude" dropped to his knees in front of Gino and started doing lewd motions; we will leave all of that to the reader's imagination. Everybody was waving their arms, dancing, and really, really, getting into the music. Crowd favorites included "Wanted By the FBI," "Can't We Just Rock?" "She's Gonna Be My Baby," and "I Got the Shakes." This was an incredible set!
Johnny Mile and the Kilometers have the "it" factor and really need to get more exposure and perhaps play outside of Tampa Bay and environs. They promote themselves as the "blue collar rock and roll band" and "working class cool" (an album title) and currently have two albums out that you can check out on Spotify. They are very busy doing local gigs and their members are still working their daytime jobs. We see a lot of potential in this band—and will continue watching and supporting them in the future. We think YOU should check them out too! Prepare to get crazy with the crowd at their gigs! After all the ultimate question is, can't we just rock?
PHOTO GALLERY

In Order of Appearance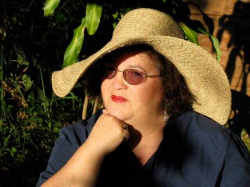 Latest posts by Anita Stewart
(see all)