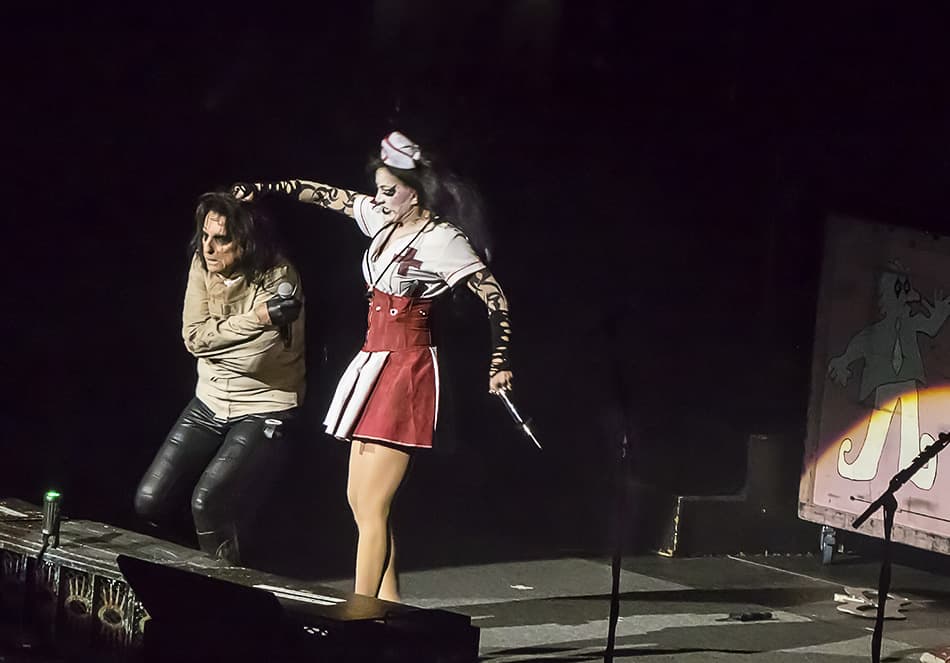 By Mike McKenney, Rock At Night New England
Venue: Mohegan Sun Arena, Uncasville, Connecticut–Alice Cooper with Edgar Winter–March 8, 2018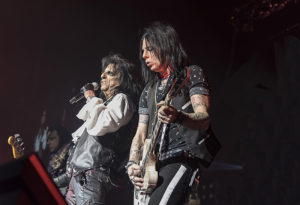 Shock- Rocker extraordinaire Alice Cooper (aka Vincent Furnier) arrived with all his friends, including Monsters, a 13 foot Frankenstein, and a Psychotic nurse, Thursday night to promote his latest album "Paranormal". Alice, with his teasingly taunting voice sounding as good as when Frank Zappa discovered him back in '69, is still a great showman, able to excite his audience.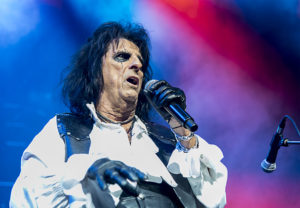 Starting off in high gear with "Brutal Planet", "No More Mr. Nice Guy", and "Under My Wheels"), and backed by what Alice calls "The best tour band I've worked with in my entire career", Alice and his band revved it up all night. Mixing old hits with new "Paranormal" songs, the night culminates in a psycho-drama where Alice starts as an evil character. Particularly disturbing is his brutal attack on his nurse (played perfectly by his wife Sheryl). After some time in a straight jacket and a shock in the electric chair, Alice loses his head (literally) in his famous guillotine and is then resurrected, returning in white tails and top hat as changed man.
Alice at 70yrs old hasn't slowed down a bit matching energy with the slithering, jumping, and twirling, guitarists Ryan Roxie Chuck Garric, and Nita Strauss. A drum solo by Glen Sobel, and a solo intro by Nita Strauss were nice touches as Alice finished the night with long time favorites "I Love The Dead", "I'm Eighteen"' and every kids summer anthem "School's Out".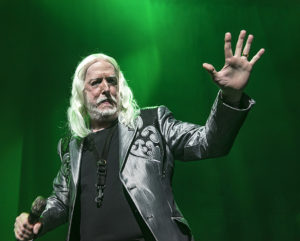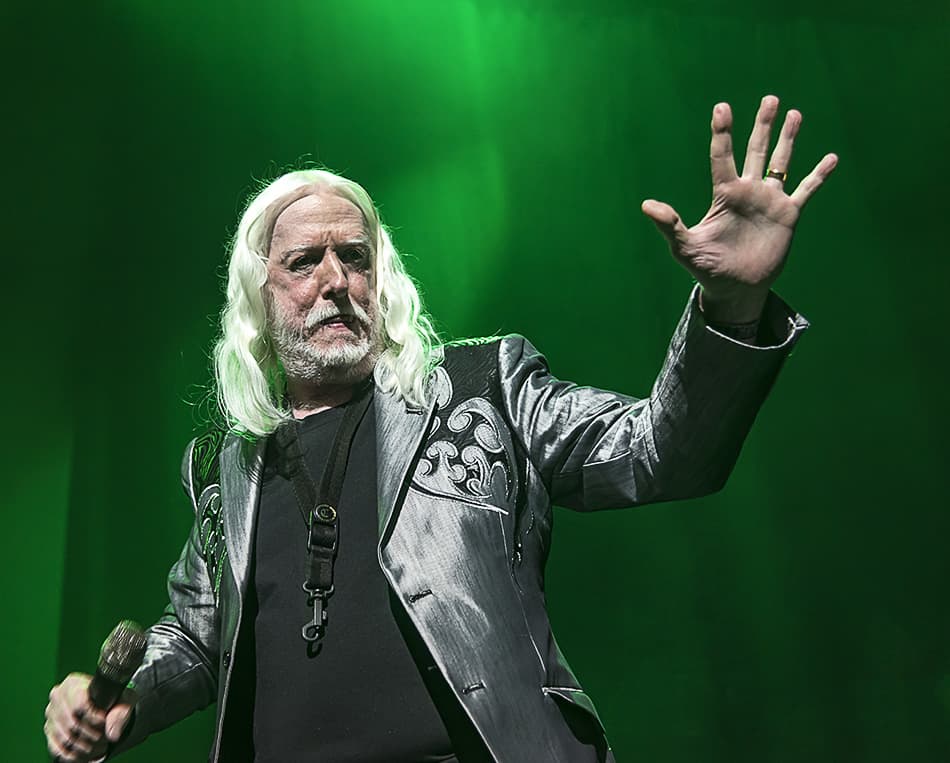 Opening for Alice Cooper was the legendary Edgar Winter Band. Edgar, with over twenty albums since 1970, along with current bandmates, Doug Rappoport (guitar), kobo Powell (bass), and Jason Carpenter (drums), got the crowd going early with hits "Tobacco Road", "Free Ride" and the iconic "Frankenstein"
Photo Gallery
Videos
The images may not be reproduced, copied, transmitted or manipulated without the written permission to Rock At Night and the photographer. Use of any image is a violation of the United States and International Copyright laws.

Latest posts by Mike McKenney
(see all)