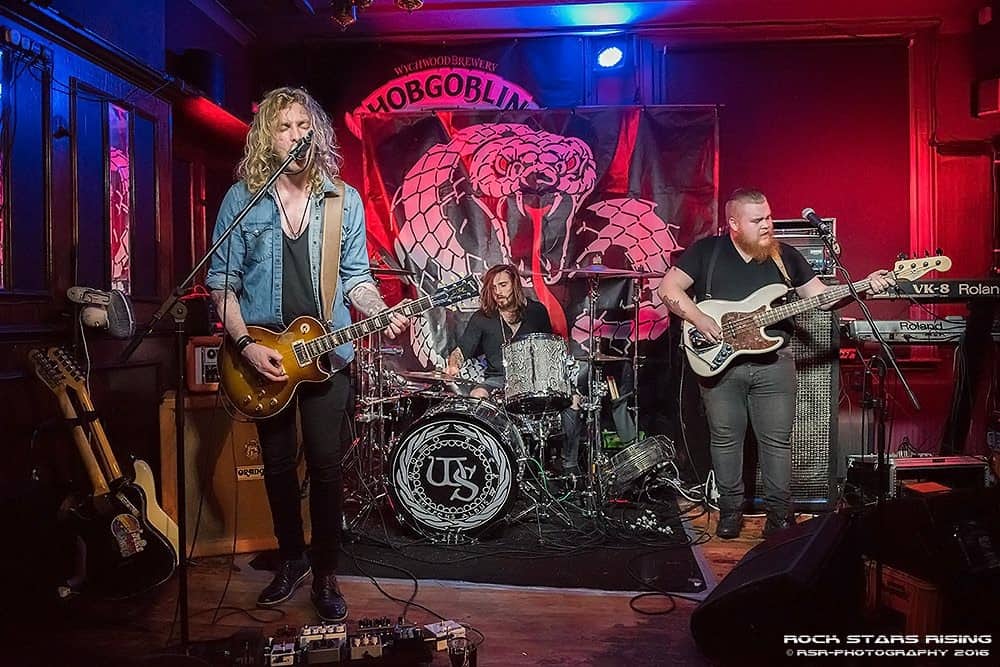 By Chyrisse Tabone, Rock At Night Tampa
ALBUM REVIEW: BAD FLOWERS' "STARTING GUN"–Release date February 16, 2018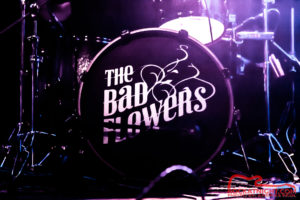 Rock At Night always loves the classic rock sound and Bad Flower's debut album Starting Gun totally delivers! From the roaring Thin-Lizzy-like song "Thunder Child" to grooving melody and riff of "Hurricane", this album totally packs the punch that fans of 70s and 80s rock will embrace.  Here's a run down of the songs on the album:
Thunder Child-Here we have the 70s or 80s power chords, guitar lead, and harmonies with a real hard-driving feel.  The song  has almost a Thin Lizzy sound, like mentioned before, but the vocals are reminiscent of Sammy Hagar too. Sweet!
Lion's Blood—This song has the same feel as "Thunder Child" and I had an ear worm for about a week from hearing the chorus "You got a lion's blood"…very infectious!
Secrets—There are some good heavy and fuzzy chord riffs and cool bass lines here!
Rich Man—I am liking what I hear!  This song has a real "dirty blues" sound with its heavy guitar and bass riffs.  Nice and sleazy!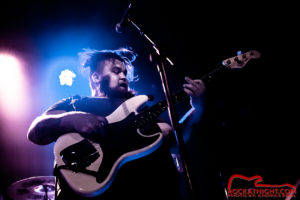 I Hope—This song is an acoustic-driven "love song" which really stands out! I understand it almost got left off the album but I'm so happy it was included!  It really is pretty in the vein of a slow anthem by Lynyrd Skynyrd or Bon Jovi. Tom Leighton sings, "I hope that you will be loved like you deserve to be loved."
Let's Misbehave—This song starts off with an acoustic guitar but gets progressively heavier as it goes on. Very cool!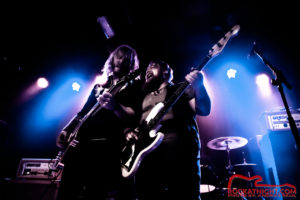 Be Your Man—This song has a definite 70s classic rock feel. Nice lead guitar and drumming, I might add…
Hurricane—This song is one of their singles that got the band the attention they deserve!  It has a very catchy riff, groove and melody as Tom Leighton sings…"I can't get away from my sweet little hurricane!"
I Don't Believe It—This song has a darker tone than the rest with almost a Brit blues-rock, heavy groove. It is actually on the brink of being a metal song.
City Lights—Another dirty blues-rock song which makes you want to shake your moneymaker!
See Rock At Night's interview with Tom Leighton (guitar/vocals)
To dovetail the release of the debut album, The Bad Flowers will be special guests on Stone Broken's nationwide 12 date UK tour that starts on Thursday 22nd February at The Haunt Brighton. The tour also includes an appearance at Planet Rock's Winters End Festival.
Videos
'STARTING GUN' – ALBUM TRACK LIST
Thunder Child (3:59)
Lions Blood (3:49)
Secrets (3:44)
Rich Man (3:14)
I Hope (3:24)
Let's Misbehave (5:40)
Who Needs A Soul (3:17)
Be Your Man (2:56)
Hurricane (3:44)
I Don't Believe It (3:16)
City Lights (4:44)
Produced by Adam Beddow and Tom Leighton
Recorded and engineered by Adam Beddow
At Vigo Studios
Tom Leighton – Vocals, Guitar's.
Dale Tonks – Bass guitar and Backing vocals
Karl Selickis – Drums
Mastered by Fabian Tormin at Plätlin Mastering, Hamburg, Germany.
 The Bad Flowers || Official Website || Facebook || Twitter @TheBadFlowers || Instagram

Latest posts by Chyrisse Tabone, Ph.D.
(see all)