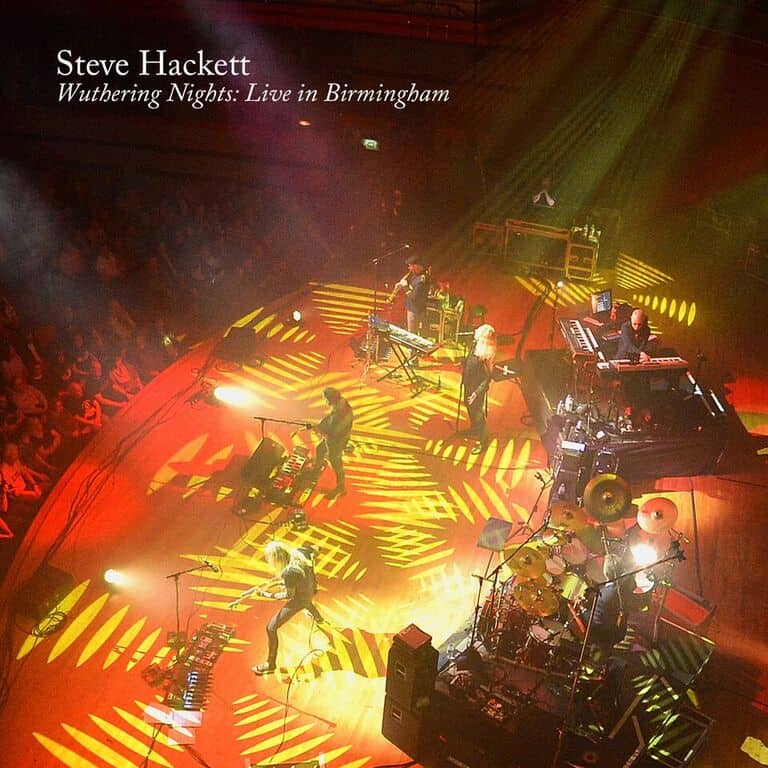 By Geoff Bailie, Rock At Night Belfast
Release Date: Friday, January 26th, 2018
On 26th January 2018, Inside Out Music release Wuthering Nights: Live in Birmingham, the new live release from guitar legend Steve Hackett. Wuthering Nights was filmed at the Birmingham Symphony Hall during Hackett's recent, critically-acclaimed Genesis Revisited & Classic Hackett tour. It's available as Special Edition 2DVD + 2CD Digipak, Blu-Ray, Digital album and Blu-Ray in stereo & surround sound.
The DVD reflects the theme of this tour with the first half of the show featuring both classics from Steve's extensive solo catalogue and also songs from his latest studio album The Night Siren.  The second part of the show pays tribute to Steve's final album with Genesis, Wind and Wuthering, with live debuts for the Hackett band of "One for the Vine" and, rare track, "Inside & Out" which didn't feature on the original album but is very much in the spirit of the music.
The band are: Roger King (keyboards), Gary O'Toole (drums/percussion), Rob Townsend (saxes/flutes), Nick Beggs (bass, stick & twelve string) and Nad Sylvan on vocals plus special guests John Hackett and Amanda Lehmann.
Based on the shows, and the high standard set by Hackett's previous DVD releases, this is one to save the Christmas money for!
Details:
Special Edition 2CD + 2DVD Digipak – 88985473862
Blu-Ray- 88985473879
Digital Album – G010003778599D
2CD+2DVD Digipak Tracklisting
CD 1:
1. Every Day
2. El Nino
3. The Steppes
4. In the Skeleton Gallery
5. Behind the Smoke
6. Serpentine Song
7. Rise Again
8. Shadow of the Hierophant
CD 2:
1. Eleventh Earl of Mar *
2. One For the Vine *
3. Acoustic Improvisation
4. Blood on the Rooftops *
5. In That Quiet Earth *
6. Afterglow *
7. Dance on a Volcano *
8. Inside and Out *
9. Firth of Fifth *
10. The Musical Box *
11. Los Endos *
(* Genesis track)
DVD 1 – Concert Part 1:
1. Every Day
2. El Nino
3. The Steppes
4. In the Skeleton Gallery
5. Behind the Smoke
6. Serpentine Song
7. Rise Again
8. Shadow of the Hierophant
– Bonus –
Wuthering Nights, Live in Birmingham – Behind the Scenes Documentary 32:32
DVD 2 – Concert Part 2:
1. Eleventh Earl of Mar *
2. One For the Vine *
3. Acoustic Improvisation
4. Blood on the Rooftops *
5. In That Quiet Earth *
6. Afterglow *
7. Dance on a Volcano *
8. Inside and Out *
9. Firth of Fifth *
10. The Musical Box *
11. Los Endos *
(* Genesis track)

– Bonus –
Official videos
Behind the Smoke
Fifty Miles from the North Pole
West to East
For further information , please visit:

Latest posts by Geoff Bailie
(see all)