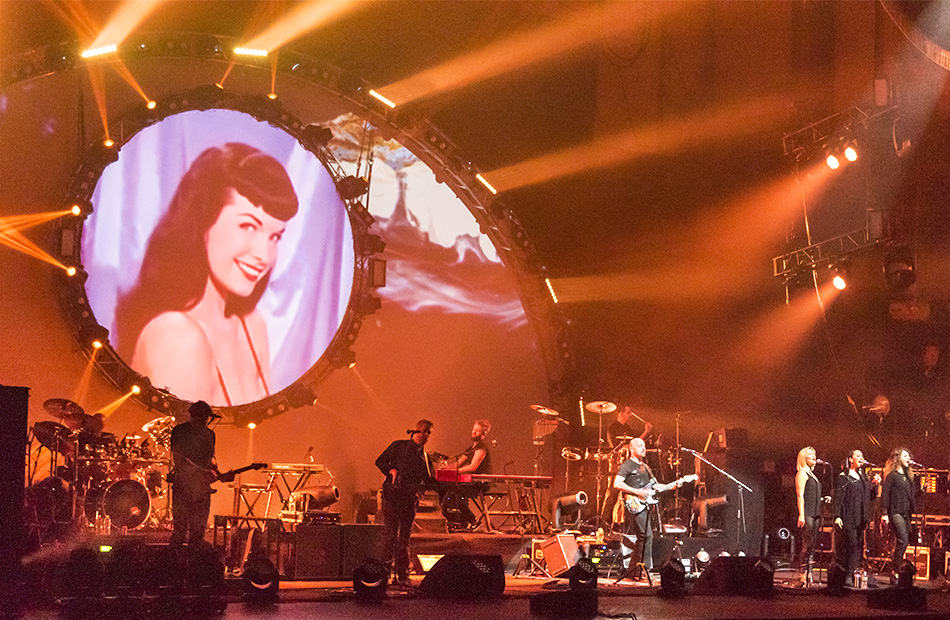 By Mike McKenney, Rock At Night New England
The Vets – Providence, Rhode Island-Wednesday, November 8, 2017-Brit Floyd Immersion World Tour 2017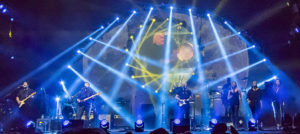 The music of Pink Floyd is alive and well in the hands of the brilliant Brit Floyd. Their current Immersion World Tour has it all, from the floating pig and poignant screen graphics, to an insanely intense laser light show. The Immersion tour is by far Brit Floyd's most extensive endeavor to date. From the outset, the audience is submerged into a complete Pink Floyd environment, set perfectly to the great selection of Pink Floyd songs, arranged specifically for this purpose.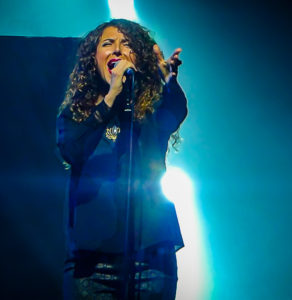 Beginning the night with The Division Bell's "Cluster One", "What Do You Want From Me", and "Coming Back To Life" this Brit Floyd show was proving to be unlike any previous. With Damian Darlington (Musical Director, Guitar, Vocals) and Ian Cattell (Bass Guitar, Vocals, Chapman Stick, Trumpet) switching vocal leads, and singers Ola Bienkowska, Angela Cervantas, and Roberta Freeman (they are way to talented to call them backup singers!) propelling  the sold out crowd deeper into the "Floydian" experience, with songs "Welcome To The Machine", "Another Brick In The Wall Part 2", "Lost for Words" and "One of These Days".
That Brit Floyd is widely regarded by many as the greatest Floyd show touring today is due in no small part to their musicianship. Led by Damian's incredibly talented guitar work, Italian born Guitarist Edo Scordo is a spot on Gilmore. Searing sax and guitar solos punctuate the night  while drummer Arran Ahmun, and  master keyboardist Tom Ashbrook played with absolute precision.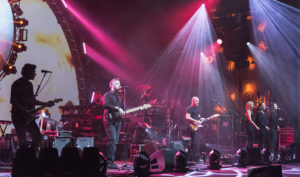 The audience fell in love immediately with Angela Cervantes as she wowed the crowd with her passionate soulful haunting solo  "Great Gig In The Sky" (catcalls to Angela were heard throughout the rest of the show as the men in the audience couldn't get enough of her).  For over three hours, Brit Floyd held the appreciative audience in their grasp as they wove through selections from albums including "Wish You Were Here", "Animals",Dark Side Of The Moon", The Division Bell", "The Piper at the Gates of Dawn", and "A Momentary Lapse of Reason".
Culminating in Damian Darlington's iconic guitar solo in "Comfortably Numb". While a two song encore including "Run Like Hell" kept everyone on their feet. The Brit Floyd Immersion World Tour 2017 continues thought the U. S. and is a not to be missed highlight of the year concert!
In addition to Brit Floyd's musical genius, they were extremely friendly and humble at the pre show Meet and Greet, where all the members gave generously of their time and were very accommodating with requests.
To read my recent interview with Brit Floyd's Damian Darlington,  click here
Set List:
       Cluster One
What Do You Want from Me
Welcome to the Machine
Coming Back to Life
Another Brick in the Wall Part 2
Lost for Words
One of These Days
Us and Them
Any Colour You Like
Brain Damage
Eclipse
Astronomy Domine
Pigs on the Wing 1
Dogs
A New Machine (Part 1)
Terminal Frost
Time
Breathe (Reprise)
The Great Gig in the Sky
Money
Wish You Were Here
Shine On You Crazy Diamond
Comfortably Numb
Encore:
Not Now John
Run Like Hell
Photo Gallery
The images may not be reproduced, copied, transmitted or manipulated without the written permission to Rock At Night and the photographer. Use of any image is a violation of the United States and International Copyright laws.

Latest posts by Mike McKenney
(see all)