By Joel Barrios, Rock At Night's Top Reviewer
With their 2015 debut Birth And The Burial, Act Of Defiance delivered a blast of pure and unadulterated metal that ignored fads and hit home hard. This year, the band returns with their sinister new album, the crushing Old Scars, New Wounds, hitting retailers on September 29th via Metal Blade Records and they have only upped the stakes. "Act Of Defiance is built around the idea of writing and composing the way we want without any other influences on the music, and if people don't like it, that's fine," guitarist Chris Broderick states plainly. Drummer Shawn Drover agrees. "We don't write to please a certain musical demographic or try to sound like another trendy band at the moment. We just write how we write and formulate heavy metal songs that we like, and hopefully others may like as well." With titanic anthems such as "Overexposure" and "Rise Of Rebellion" and the in-your-face blasts of "Molten Core" and "Another Killing Spree", they prove their mettle time and again. Moreover, each of the eleven tracks sound fresh and urgent while wielding a timeless quality that will connect powerfully with metal fans new and old – and there aren't many contemporary bands who can make such a claim.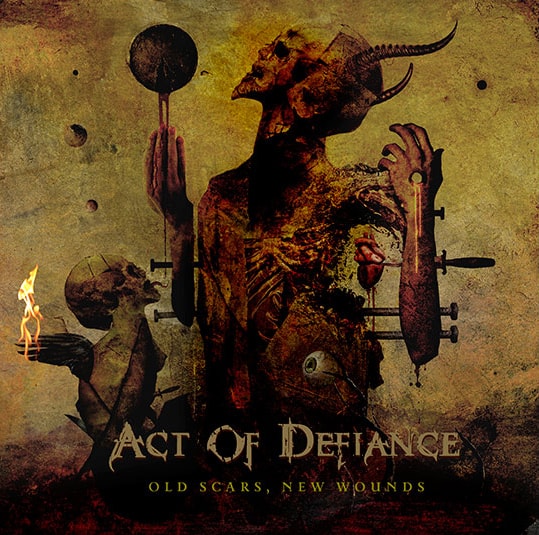 Naturally blending a plethora of metallic styles and never recycling ideas, Old Scars, New Wounds is an even more dynamic and diverse collection than its predecessor, which was written solely by Broderick and Drover prior to recruiting bassist Matt Bachand and vocalist Henry Derek. "I think 'Birth And The Burial' is a great debut record, and I honestly cannot believe we released it literally nine months after Chris and I formed the band!" the drummer enthuses. "We then toured for a year on that record and played over a hundred shows, and spending that kind of time on the road you really get a sense of what your bandmates are like and what they are capable of, which has definitely worked to our benefit on this new record." With a fully-seasoned, tour-hardened band in place, there was room for everyone to bring something to the table this time around, and their varying styles helped shape the record. "Matt brings his east coast vibe, Shawn is pure metal, Henry has almost a Scandinavian vibe, while I've gone back to my roots and gotten a little more technical with my writing," Broderick states.
The title – plucked from the blistering "Conspiracy Of The Gods" – stands as a metaphor for life in general, and the breadth of lyrical matter covered is as broad as the styles of heavy music found on the record. "Another Killing Spree" looks at hardcore drug use, while "Lullaby Of Vengeance" is an angry song about singing angry lyrics, and "Overexposure" is an anthem dedicated to not selling out. There is also some very topical material, most notably on "Mis-Information Age" and "Broken Dialect". "'Mis-Information Age' is very applicable in today's social climate, where we can no longer blindly trust the source of facts that determine our view," Broderick explains. "It asserts that we should be skeptical, making sure we have the truth and not someone's propaganda, while 'Broken Dialect' conveys the idea that people can no longer hold a conversation with each other where their views differ, instead turning to sources that only support the view they want to hold on to." With every track featuring a blistering solo from Broderick, fans of his shredding can rest assured that the guitarist has not held back – though that was not his initial intention. "I actually wanted to tone it down a bit technically in terms of my solos but the opposite happened! This was because I inadvertently ended up creating a few new techniques to use in my trick bag and saw their potential, so I worked really hard on the execution so they could make the record."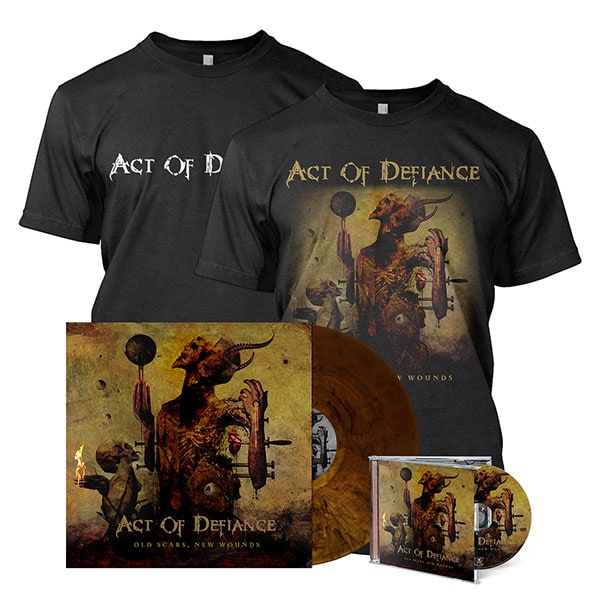 Going into writing the record, the quartet had no grand plan, and spread across the continental US, the individual members worked separately, bouncing demos back and forth and building on each others' ideas. Like many contemporary bands, through taking advantage of available technologies they made a record that is very much a collaborative effort, despite the distances lying between the members' home bases. Recruiting producer Dave Otero (Cattle Decapitation, Allegaeon) they tracked the record likewise, with Broderick laying down guitars in his own Ill-Fated Studios in LA, Derek and Broderick's vocals tracked at Red Light Studios also in LA, with Bachand tracking his contributions at Manshark in South Hampton, MA and Drover's drums were laid down at Atlanta's Glow In The Dark Studios. "Atlanta is near where I live, which oddly enough was the first time I have recorded there in my career, so it was nice to be able to track all day then go home and relax before heading back the next day. It was an overall great experience for me," the drummer says, and cognizant of the time available to them the entire process ran smoothly and without a hitch. When it came down to artwork the band looked once more to the vision of Travis Smith – whose visuals have accompanied records from the likes of King Diamond, Opeth, Avenged Sevenfold, and Strapping Young Lad. "As always he's delivered a great, bizarre piece of artwork," Drover enthuses. "He has such a great sense of what we're looking for, and working with him again has been really rewarding."
"Old Scars, New Wounds" track-listing:
M.I.A.
Molten Core
Overexposure
The Talisman
Lullaby of Vengeance
Circle of Ashes
Reborn
Conspiracy of the Gods
Another Killing Spree
Broken Dialect
Rise of Rebellion
Having proven themselves on the road in support of Birth And The Burial both as headliners and supporting the likes of Killswitch Engageand Hatebreed, the band are looking ahead to the expansive touring that will accompany Old Scars, New Wounds, and their hunger to get back in front of crowds has not abated in the slightest. "The immediate goal is to tour hard in support of 'Old Scars, New Wounds', play live everywhere we can, and expose as many people to our music as possible," Drover asserts. "Touring is the best way to reach the people, as it always has been – and we will do whatever it takes for Act Of Defiance to get as much exposure as possible."
You can watch a full performance video for the album's intro track, "M.I.A.", in the link below
You can also pre-order the album now at the same link, in the following formats:
CD
180g Black Vinyl (EU exclusive)
Golden Vinyl (EU exclusive – limited to 100 copies)
Auburn Marbled Vinyl (US exclusive – limited to 300 copies)
Act of Defiance line-up:
Chris Broderick – guitar
Henry Derek – vocals
Shawn Drover – drums
Matt Bachand – bass
Act of Defiance online:
Latest posts by Joel Barrios
(see all)