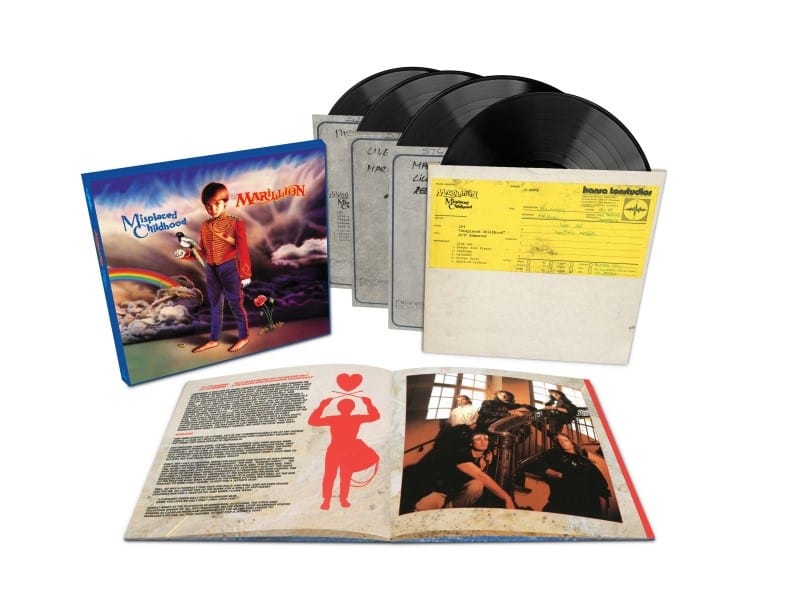 Press Release: British Neo-Prog Rockers' 1985 Breakthrough Concept Album Is Newly Remastered And Expanded With Unreleased Live Recordings For Two New Boxed Sets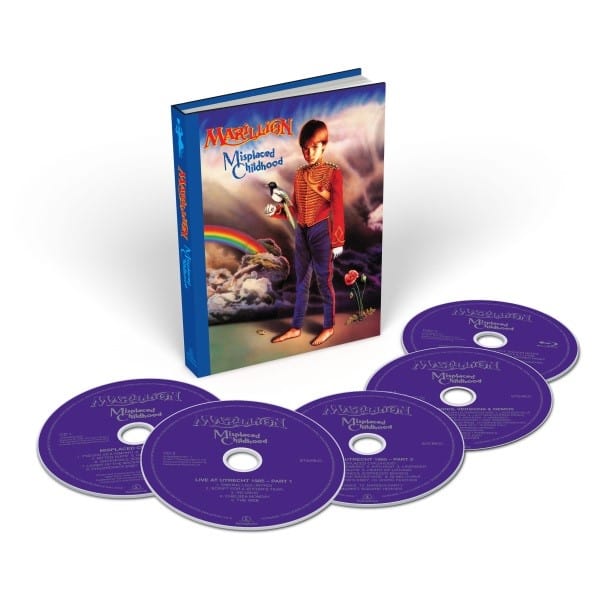 Marillion helped revitalise progressive rock in 1985 when the band released its third studio album, Misplaced Childhood. The concept record became the British quintet's most commercially successful album, scoring Top Five hits with "Kayleigh" and "Lavender." Parlophone builds on the album's legacy with two new versions that boast remastered sound and unreleased recordings.
MISPLACED CHILDHOOD (DELUXE EDITION) will be released on July 7 as a 4CD/1 Blu-Ray set and 4LP boxed set version.
The CD/Blu-Ray set includes the original album newly remastered and a 5.1 surround remix by acclaimed producer Steven Wilson. It's accompanied by a previously unreleased concert from Holland that features a performance of Misplaced Childhood in its entirety, plus demos and rarities remastered exclusively for this set.
The Blu-Ray disc contains an hour-long documentary about the album and promo videos for album singles "Lavender", "Kayleigh", "Lady Nina" and "Heart Of Lothian." Also featured is the original album remixed by Steven Wilson in 5.1 Surround Sound and the 2017 Remaster in high resolution 96kHz 24 bit. Rounding out the disc are Wilson's Surround Sound and Stereo remixes of "Lady Nina," the B-side to "Kayleigh." The entire set is presented in a case-bound book that includes a 60-page booklet with liner notes written by rock writer Dave Everley.
The vinyl version of MISPLACED CHILDHOOD (DELUXE EDITION) features the newly remastered version of the original album and the entire concert from Holland. Pressed on 180-gram vinyl, the four LPs are presented in a 12" x 12" lift-top box, completing the set is a beautiful 24 page booklet which contains replica tour program and extensive writing on the history of the album and how it came to be.
Singer Derek Dick (aka Fish), guitarist Steve Rothery, keyboardist Mark Kelly, bassist Pete Trewavas and percussionist Ian Mosley recorded Misplaced Childhood at Hansa Tonstudio in Berlin, Germany during the spring of 1985. A concept record with two continuous pieces of music, the song cycle explored themes of lost love, lost childhood, and more. Released in June 1985, it was an immediate success, topping the U.K. album chart and earning platinum status. The album included three big hits: "Kayleigh" (#2), "Lavender" (#5), and "Heart Of Lothian" (#29).
Discs two and three contain an October 1985 concert recorded Live at the Muziekcentrum Vredenburg in the city of Utrecht. The performance includes the entire Misplaced Childhood album along with several songs from the band's earlier albums, like "Script For A Jester's Tear" and "Fugazi." All of the live recordings are previously unreleased except for "Chelsea Monday," which was the B-side to "Heart Of Lothian" (The full concert is included with the MISPLACED CHILDHOOD (DELUXE EDITION) LP set).
CD, Vinyl and Digital breakout versions of the newly remastered original album will follow later in the year. The complete tracklisting is as follows:
4CD/Blu-Ray Tracklist
CD1: Misplaced Childhood

1.      Pseudo Silk Kimono

2.      Kayleigh

3.      Lavender

4.      Bitter Suite

5.      Heart Of Lothian

6.      Waterhole (Expresso Bongo)

7.      Lords Of The Backstage

8.      Blind Curve

9.      Childhoods End?

10.  White Feather

CD2: Live at Utrecht 1985

1. Emerald Lies (intro)

2. Script For A Jester's Tear

3. Incubus

4. Chelsea Monday

5. The Web

 

CD3: Live at Utrecht 1985 (continued)

"Misplaced Childhood"

1.      Pseudo Silk Kimono

2.      Kayleigh

3.      Lavender

4.      Bitter Suite

5.      Heart Of Lothian

6.      Waterhole (Expresso Bongo)

7.      Lords Of The Backstage

8.      Blind Curve

9.      Childhoods End?

10.  White Feather

11.  Fugazi

12.  Garden Party

13.  Market Square Heroes

 

CD 4: Demos & B-Sides (2017 Remaster)

1. Lady Nina

2. Freaks

3. Kayleigh (Alternative Mix)

4. Lavender Blue

5. Heart Of Lothian

6. Lady Nina (Steven Wilson Stereo Remix)

7. Pseudo Silk Kimono (Demo)

8. Kayleigh (Demo)

9. Lavender (Demo)

10. Bitter Suite: Brief Encounter/Lost Weekend (Demo)

11. Lords Of The Backstage (Demo)

12. Blue Angel (Demo)

13. Misplaced Rendezvous (Demo)

14. Heart Of Lothian: Wide Boy/Curtain Call (Demo)

15. Waterhole (Expresso Bongo) (Demo)

16. Passing Strangers: Mylo/Perimeter Walk/Threshold (Demo)

17. Childhood's End? (Demo)

18. White Feather (Demo)

BluRay:

Childhood Memories (Documentary 72 mins)

Misplaced Childhood – Steven Wilson 5.1 Surround Mix

Lady Nina – Steven Wilson 5.1 Surround Mix

Lady Nina – Steven Wilson Stereo Remix

Misplaced Childhood – 96/24 Stereo Remaster

Kayleigh (Promo Video)

Lavender (Promo Video)

Heart of Lothian (Promo Video)

Lady Nina (Promo Video)

 
4LP Tracklist
LP1: Misplaced Childhood (2017 Remaster)
LP2: Live at Utrecht 1985 [Part 1]
LP3: Live at Utrecht 1985 [Part 2]
LP4: Live at Utrecht 1985 [Part 3]
LP1: Misplaced Childhood (2017 Remaster)

Side One

1. Pseudo Silk Kimono

2. Kayleigh

3. Lavender

4. Bitter Suite

5. Heart Of Lothian

Side Two

1. Waterhole (Expresso Bongo)

2. Lords Of The Backstage

3. Blind Curve

4. Childhoods End?

5. White Feather
LP2: Live at Utrecht 1985 [Part 1]
Side Three

1. Emerald Lies (intro)

2. Script For A Jester's Tear

3. Incubus

Side Four

1. Chelsea Monday

2. The Web
LP3: Live at Utrecht 1985 [Part 2]
Side Five

"Misplaced Childhood"

1. Pseudo Silk Kimono

2. Kayleigh

3. Lavender

4. Bitter Suite

5. Heart Of Lothian

Side Six

1. Waterhole (Expresso Bongo)

2. Lords Of The Backstage

3. Blind Curve

4. Childhoods End?

5. White Feather
LP4: Live at Utrecht 1985 [Part 3]
Side Seven

1. Fugazi

Side Eight

1. Garden Party

2. Market Square Heroes
Latest posts by Joel Barrios
(see all)