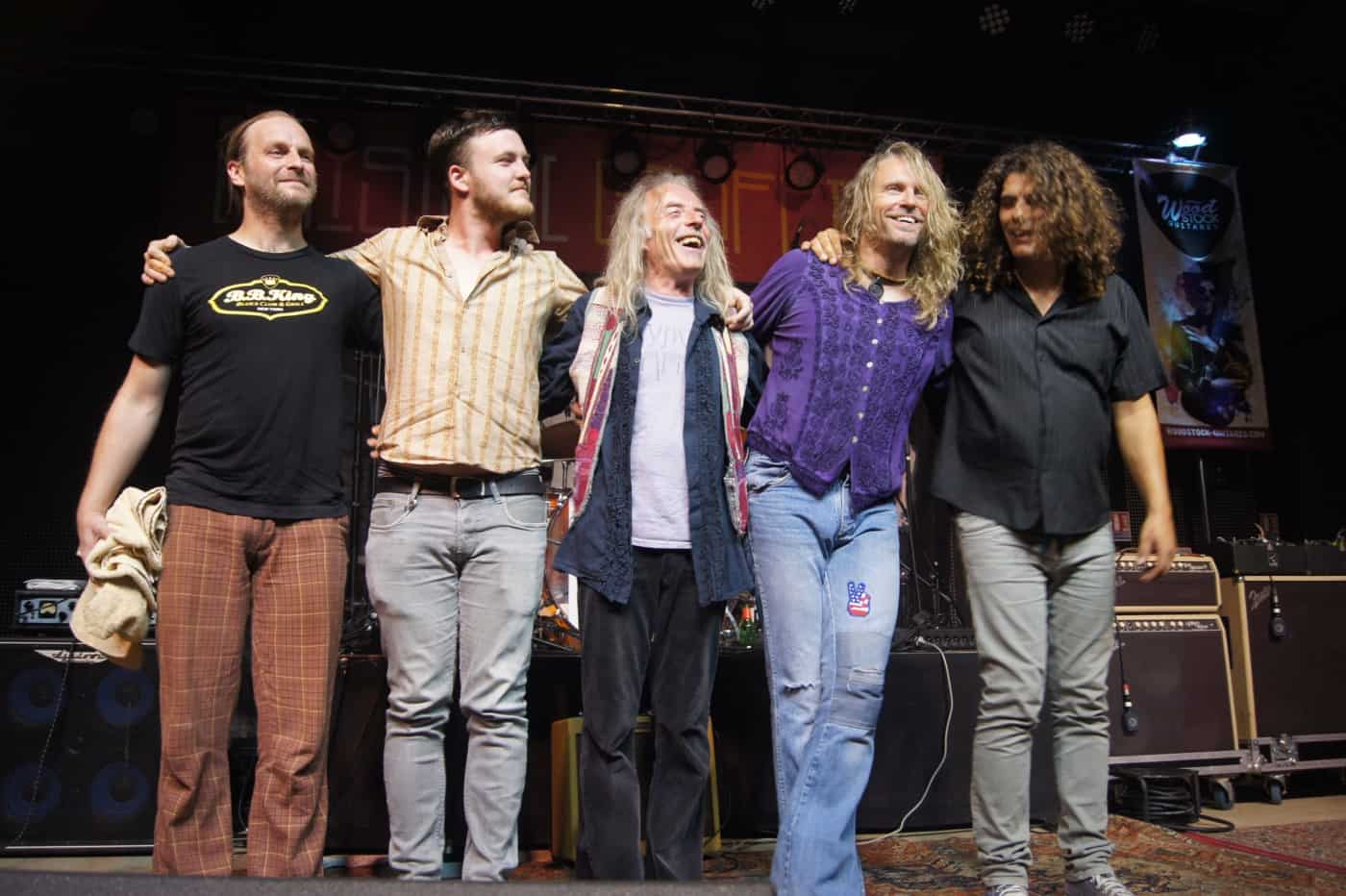 By Rosine Alleva, Rock At Night France Correspondent
Interview with Physical Graffiti September 16, Woodstock Guitars, France
The Ultimate Led Zeppelin Experience…. much more than a tribute!! The real vibe, from head to toe, great musicians, but first of all great people!
After a wonderful concert, cherry on the cake!..I had the pleasure to chat with Andrew (lead singer), Dave (bass) and Jan (drums). What a superb evening!!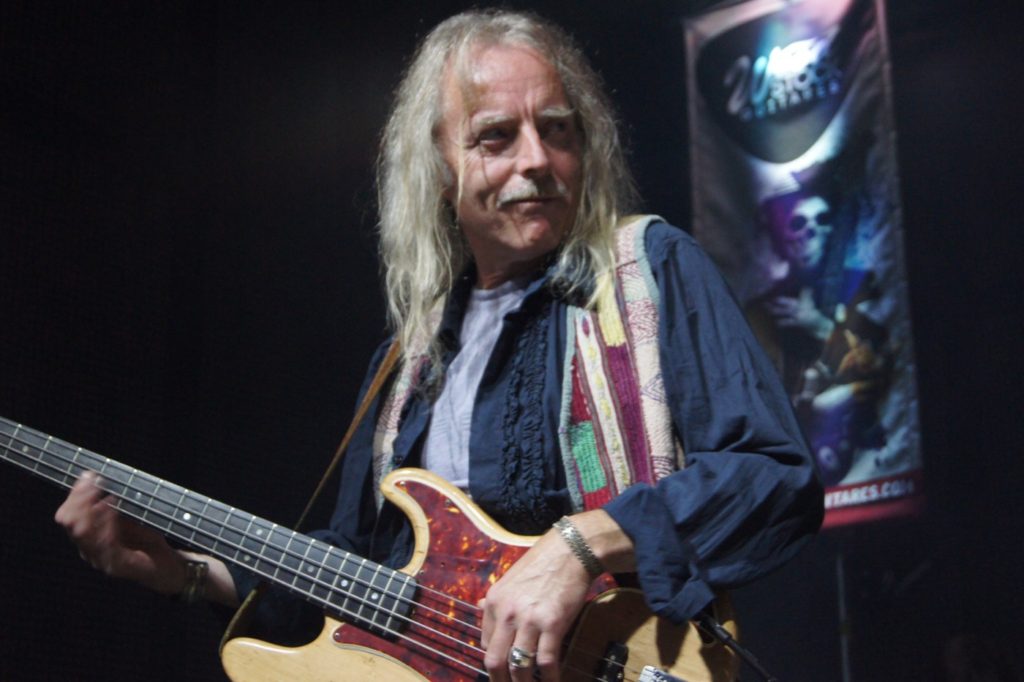 RAN: Here we go…how did you all meet?
ANDREW: I know Daniel, the guitar player, for years. He played in one of my bands when he was really young, but we lost track of each other. He has always been a big fan of Jimmy Page and wanted to do a Led Zeppelin tribute but it never happened. We met again 6,7 years ago and I heard he was.playing in a tribute to Led Zeppelin called Physical Graffitti. I was really happy for him, wow, he can play this shit out of Jimmy Page. One day he told me he wasn't happy with the situation, they were not playing that much and he really wanted me to be the singer. But I didn't wanna' force it, the band had to decide. So 6 years ago, we did a rehearsal, recorded it and it just clicked. Whether with your own music or a tribute band,bad word for many people, it didn't matter, there was a vibe. So,they told the other singer they would continue with me. I didn't only bring in my voice, we needed to do this in a proper way, with an agent, play on bigger stages, not in bars. We just took off from there, through Jazz Haus agency, where we had some gigs and to prove we're a really good band. We first did it as a four piece, no keyboards, and slowly involved into what we are now.
RAN:You 're touring quite a lot since a few years!!
ANDREW: Yeah,we play a lot. We're a steady band in Germany and Holland, we did some shows in Denmark, Scandinavia. Our agent organizes us a full month in different periods of the year. That's the only way to do it cause everybody has their own thing going on. Quite a slow process, it's still just a tribute band…
RAN: But what a tribute band! Last year's audience was back and even many more people showed up tonight, everybody just loved it!!
ANDREW: We kind of go for it like if it was our own music, that's maybe the difference with other tribute bands.I always have the feeling when I'm on stage that's it's my music. It's crazy but that's the way I feel.
RAN: You performed in Russia as well, how was it ?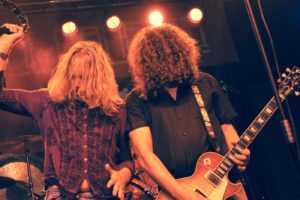 ANDREW: We went to Russia twice, it was fantastic. We played in an unbelievable big theater that holds 1500 people and we sold it out twice!
RAN: You should go to places like Dubai, I'm sure people would love the band!
ANDREW: We would play anywhere if it's worth. Is it something we want? I'd rather let the music do the talking, it might be naïve but I believe there is a point where the people will know. In the meantime, we spent 5 years nursing this thing and, if I can say so, that's why we sound so good, everybody is on the same level and knows how we play it.That's the great thing about this band. It doesn't 't feel like a tribute band.
RAN: You don't sound like other Led Zeppelin tributes.
ANDREW: Tonight someone said "you don't try to copy Robert Plant but you have the same vibe". A lot of tribute bands look at videos, it's fine….I don't. I can't wear the same clothes, do the same moves, say the same things Robert Plant did in 1973 in Madison Square Garden! I sing the songs the way he sang them, and try to put the emotion in it. I think people who never saw Led Zeppelin before, could easily be mistaken for watching Led Zeppelin, because of the vibe. And this doesn't happen overnight but because we've been playing 6 years together. Even stuck in traffic jams and getting to venues like tonight just one hour before doors, we're there to do a job, to enjoy ourselves and then the magic happens, we love to do it!
RAN: Does Gert-Jan still play keyboards with you sometimes ?
ANDREW: No, he needed to move on, he has been asked to join another band called Demon's eyes, a tribute to Deep Purple with the ex RAINBOW singer. He did a studio album with him. And he brought in REMCO, who definitely fitted right in!
RAN: What about your individual project?
ANDREW: I just finished an album, a project I'm working on 3 years, with some friends of mine. I'm singing, playing acoustic guitar, the bass player does a song, the drummer also plays guitar and keyboards. It's an independent release, it should be coming out at the end of the year and it's called " Seven miles to Pittsburgh", like the name of one of our songs. It sounds different to this or in the past with Sleaze Beez. It just happened, no pre-conception, no pre-thought, it just came out of nothing and it feels good!
RAN: You have another tribute I think, Foo fighters?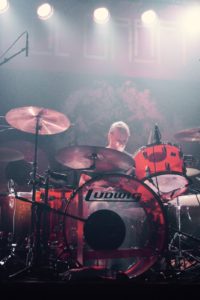 ANDREW: Yeah, besides being tour manager for Walter Trout, Kenny Wayne Shepherd, I do a lot of different sessions, AC/DC, Tom Petty….Whatever people come up with, you take what you can get. I enjoy performing and playing but I have to do it all together to make a living….which is cool, I do what I love. It's a lot of work with planning but there's a lot of dynamics in my life. Even at my age, playing with different bands, there's still a lot to learn. And in the meantime I do my own music. A longer process though. And again, when you get older, record companies don't wanna know. This doesn't mean you can't still make a good record. I think our album is really good and it will come out through the back door. People will listen to it, spread the word. We won't be asking for money, our crowd fund will be asking people to buy our album. DANIEL doesn't wanna come in the room. "You're up next!"…No Daniel (laughs).
ANDREW: We don't know if we're going to play live but we're already starting a second album, we don't depend on record companies, imposing to do things after being signed to big record labels, pumping lots of money. Here it's only about music! We can do what we want, it's fun! It's a great bunch of guys, no pressure and it turns out great!
RAN: So it seems you're the one in the band then to make a living from the music business, how is it for the other members in the band?
ANDREW: DAVE does a couple of sessions but he has a day job, like DANIEL has a day job. JAN gives lessons, is Mother's Finest tour manager and has a company for drums pedals and mics stands, great idea and if we can promote it through this band, it's cool for JAN. And REMCO does a few sessions and teaches piano.
RAN: Well you're a great bunch of guys for sure! Friendly and musically talking!
ANDREW: "Par for the course", an english golf term, I hate golf but it's a good term. It means what should be expected. Whichever band you're in, you need good vibes, you only live once, you might as well have a good time in doing what you do, you know! It reflects on what you do, and in music you'll hear it.
RAN: I hope you'll get more gigs in France, and in other countries where you didn't perform yet, you're a great band, you deserve it! Thanks a lot for your time Andrew!
DAVE! Welcome…How did you meet the other Physical Graffiti members ?
DAVE: I'm the only original member of the band left, which got together in 1977 for the fun and we used to play 60 covers. The audience was always asking for the LED ZEPPELIN covers. Then we decided to have a tribute to Led Zeppelin. We made a demo tape and began hunting to play in pubs. One day, we met a manager who had a radio program and gave us a spot on an afternoon. He recorded it, liked it and had us a first gig in Herbor, Germany, Jan's home town… and it was sold out. We got booked there again after a few months and sold out again. And that's where I met Jan, after the gig, it was nice to meet him. On that second gig, a manager from Mannheim came to see us play. He wanted to sign a contract but we said we would make a deal and work on trust only. He accepted and we worked with him about 9 years. The 1st year, in 1999, as there was no tribute to Led Zeppelin around, we played every weekend.
RAN: You met Jan, but he wasn't yet playing with you, how did he become the actual drummer then?
DAVE: One day the drummer didn't want to hold us back, he said he couldn't play John Bonham better than he did then, and said he was leaving the band.This was in 2000. I knew Jan in the meantime as a friend. So I decided to call him and ask him if he would be interested to play with us. He said "are you kidding? Thank God I'm seating on a coach, I would fall off from my chair otherwise!! I love this music, would love to play with you guys, and I always thought why doesn't the drummer break a leg so I could fit in for a while…Yeah, I' m in!!"
RAN: I can easily imagine how he must have felt!…
DAVE: I never heard him play before, was a good intuition. In 2002, our guitar player was tired of traveling, so we found another one, Drago, who played with us for a couple of years but his personality wasn't really fitting in the band and decided to leave. First the drummer and then the guitar player.
RAN: Is this when Daniel joined the band then?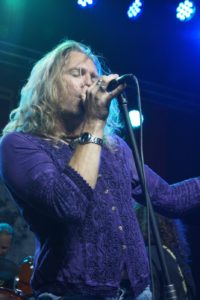 DAVE: I didn't see Daniel for a while. 2 months later, we met in a pub, he was coming back from U.S working then with Mother's Finest and I knew he loved Led Zeppelin so I proposed him to join us. After thinking about it and 2 rehearsals, he said "Ok, I'm in!"
Then, Bruno, the singer, getting to a certain age, couldn't sing so good anymore and we found out we were getting less gigs as well. So, we had to tell him we couldn't continue with him, which wasn't really an easy thing to do, as he was a old friend of mine. We didn't know another singer. Daniel knew Andrew Elt and thought we should contact him. So we did! We had a rehearsal in Venlo and it just clicked, bingo!
That was the group of people who could make it happen, with the passion and the professionalism. And it's like this until today! We introduced the keyboards later. We met Gert-Jan at a festival in Germany and again, after a rehearsal he fitted in!
RAN: And you made it happen, you're having many gigs!
DAVE: Also thanks to Andrew and his connections, it went to an upper level.
RAN: Do you play with other bands?
DAVE: I've been full time musician for 7/8 years and when Physical Graffiti came along, I was taking another direction, it changes through the years. I wanted to have my own job, a certain stability.
RAN: How did you choose to play bass?
DAVE: Cause I couldn't put my brains around the guitar, that why! (laughs)
Playing upside down wasn't easy as a left handed. I tried the bass of one of my mates and it just felt natural. And one day, I've been lucky to understand what I'd been told by a great Dutch guitar player….I didn't need to concentrate on my parts anymore, and be stuck with my instrument. I became one with it, I went over that fence. A stage where you can leave the instrument and only be busy with the passion and the emotion. You reach the level where the real piece of gold is. The beauty with a bunch of guys like this, it is almost like the 1st time every time. Going on stage and something's gonna happen. You don't play your instrument anymore, you just go with the flow. Beautiful freedom. And playing with Jan is amazing! We feel each other, it works really well.
JAN enters the room.
RAN: Nice beard Jan! (Laughs)…How did things happen for you?
JAN: Well, I started to play drums at the age of 6 in my dad's big band…and didn't stop since then. My first U.S. tour was in 1979, I was 4 years old. From then off it went.
I played in several bands, supporting bands on tour. I went to University, studying classical drums, played in many classical orchestras and ended in this band…somehow. Final destination, which is great! So, basically I still play with the big band and Physical Graffiti. And whatever comes in between, and also other projects
RAN: What kind of other projects?
JAN: Whatever the people are asking for, last time I played in a friend's ska band.
RAN: I heard about German Hardware solutions. Can you tell me more about this ?
JAN: That's a pretty unique thing, well the bass drum pedal is rather exclusive. We try to feature something for singers. Since everybody else has his instrument, shinny guitar or nice drum kit, we focus now on microphone stands. Yeah, that's a little side project….besides tour managing Mother's Finest which was never Plant, I just slipped into it. I just do what I think it's right and people seem to like it.
RAN: People love it you mean!!
JAN: Seems to fit …, I don't know, maybe the big band background that I kind of share.
There is also an evolution in playing with this band, I'm looking back on 16 years of not only playing drums in that time and having done that so many years before but also these particular 16 years of playing Led Zeppelin. I played all the songs differently 15 years ago, 10 years ago or 5 years ago. Something started to grow there. I don't think anyone of us really sat down and listened to the songs and tried to pick it all out.You play the songs the way are, they need to be played and then you try to get the right vibe and get the right feeling.That's the way to interpret music.
RAN: You can feel it when you're on stage…thank you all so much for your time, it was an absolutely awesome moment at the concert and after!!
Photo Gallery
The images may not be reproduced, copied, transmitted or manipulated without the written permission to Rock At Night and the photographer. Use of any image is a violation of the United States and International Copyright laws.

Latest posts by Rosine Alleva
(see all)