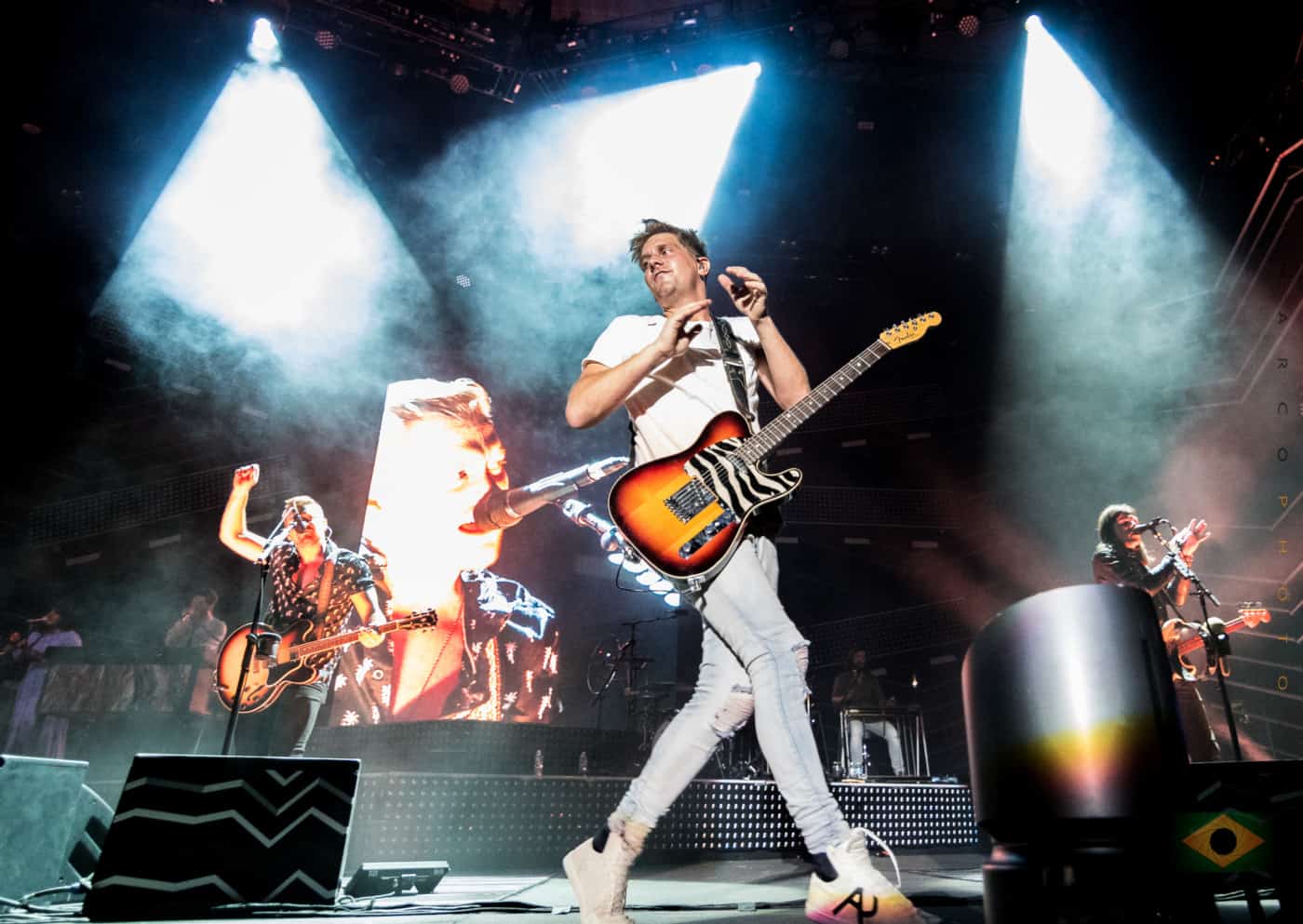 By Gus Samarco, Rock At Night Raleigh Correspondent
Venue: Red Hat Amphitheatre, Raleigh, North Carolina–August 17, 2016
What's up, dear rock'n'roll brothers and sisters?
So I found myself out there in one of "those assignments" where I had no idea what to expect, so, I was thinking "Please don't fail me now, dear editor."
While I waited to be escorted to the pit, I poked around the internet using my cell phone and learned that NEEDTOBREATHE, is in fact a Christian rock band. Why is that even important?  Well, I grew up as a Christian kid in the 80's and 90's, in the country of Brazil that still believed rock was the devil's music (seriously!).  I learned later that I had to be a difference maker if I wanted to keep listening to the music I loved. I imagine the artists then had to hustle to keep playing, so mad respect there. Yup, I listen to the NewsBoys.
I started getting impressed when I stepped into the pit. There were speakers taking up about 70 percent of the pit. I knew it was going to get loud! The show started with some cool videos on the big screen and a bit later the band emerged from the shadows, with a ton ofl the energy, playing "Great Night". I knew I was going to have a good time—and indeed I did! Next came "Feet, Don't Fail Me Now" which totally reminded me that I'm Brazilian. With all the groove NEEDTOBREATHE had in stock, they threw this song at us. I looked behind me and everyone younger than 30 was dancing like crazy. I know, I was.
With "Difference Maker" NEEDTOBREATHE took our breath away. I'm glad I took a bunch of pictures during the first two songs. I actually found myself hypnotized by the intensity of this song. The band could have repeated it 5 times and everybody would remain still, captivated by the music, and mesmerized by the amazing lyrics.
I was a bummed to have to leave the pit after the third song was over (the common "rule" for photographers). Well, I actually went back into the Amphitheater for some more! The music was that good!
Okay, at this point, I was officially off the clock, but let me tell you about the song "Happiness". I was a bit skeptical when Bear told us the bus with the choir didn't make it, they only had a few singers, and needed our help. There was a small possibility he might have been luring us into sing really hard for them… Whatever, it worked, the crowd really became one with the band to perform "Happiness".  I could almost see the music filling the air, I confess, Happiness truly made me feel happy 🙂
See Rock At Night's review of  HARD LOVE
Setlist
Intro
Great Night
Feet
Difference Maker
Money & Fame
Happiness
Keep/Washed/Testify
Trouble
Oh Carolina (Acoustic)
Devils
Multiplied
Clear
Mountain Part 1
Hard Love
Wasteland
Be Here Long
Brother
Photo Gallery
You'll have plenty of opportunities to see them between now and Mid-November:
TOUR
Aug 18    Charlotte Metro Credit Union Amphitheatre-Charlotte, NC
Aug 19    Volvo Car Stadium- Charleston, SC
Aug 20    Verizon Wireless Amphitheatre at Encore Park-Alpharetta, GA
Aug 22    Wolf Trap-Vienna, VA
Aug 23    Bank of New Hampshire Pavilion-Gilford, NH
Aug 25    Columbus Commons-Columbus, OH
Aug 26    PNC Pavilion at Riverbend Music Center-Cincinnati, OH
Aug 27    Farm Bureau Insurance Lawn at White River State Park-Indianapolis, IN
Aug 28    Meadow Brook-Rochester Hills, MI
Aug 31    Ogren Park at Allegiance Field-Missoula, MT
Sep 01    Marymoor Park-Redmond, WA
Sep 02    Oregon Zoo Amphitheater-Portland, OR
Sep 03    Les Schwab Amphitheater-Bend, OR
Sep 06    Idaho Botanical Garden-Boise, ID
Sep 08    City National Civic-San Jose, CA
Sep 09    Vina Robles Amphitheatre-Paso Robles, CA
Sep 10    Greek Theatre-Los Angeles, CA
Sep 11    Cal Coast Credit Union Open Air Theatre-San Diego, CA
Sep 13    Red Butte Garden-Salt Lake City, UT
Sep 15    Red Rocks Amphitheatre-Morrison, CO
Sep 16    Stir Cove at Harrah's Casino-Council Bluffs, IA
Sep 17    Starlight Theatre-Kansas City, MO
Sep 18    Landers Center-Southaven, MS
Sep 20    The Shreveport Municipal Auditorium-Shreveport, LA
Sep 22    Tuscaloosa Amphitheater-Tuscaloosa, AL
Sep 23    Ascend AmphitheaterNashville, TN
Sep 24    Sweetland Amphitheatre at Boyd Park-Lagrange, GA
Sep 25    Knoxville Coliseum-Knoxville, TN
Oct 12    USF Sun Dome-Tampa, FL
Oct 13    St. Augustine Ampitheatre-St Augustine, FL
Oct 14    Pompano Beach Amphitheatre-Pompano Beach, FL
Oct 15    Hard Rock Live-Orlando, FL
Oct 17    Saenger Theatre-New Orleans, LA
Oct 18    Revention Music Center-Houston, TX
Oct 20    United Supermarkets Arena-Lubbock, TX
Oct 21    Taylor County Expo Center-Abilene, TX
Oct 22    Verizon Theatre-Grand Prairie, TX
Oct 23    Skyline Theater at the Long Center-Austin, TX
Oct 25    Criterion Theater-Oklahoma City, OK
Oct 27    Roy Wilkins AuditoriumS-aint Paul, MN
Oct 28    Veterans Memorial Coliseum at Alliant Energy Center-Madison, WI
Oct 29    Chaifetz Arena at Saint Louis University-St Louis, MO
Oct 30    Aragon Ballroom-Chicago, IL
Nov 02    Beacon Theatre-New York, NY
Nov 04    Agganis Arena-Boston, MA
Nov 05    Electric Factory-Philadelphia, PA
Nov 06    Big Sandy Superstore Arena-Huntington, WV
Nov 07    DeltaPlex-Grand Rapids, MI
Nov 09    Rupp Arena at Lexington Center-Lexington, KY
Nov 10    Soldiers & Sailors Memorial Auditorium-Chattanooga, TN
Nov 11    Bon Secours Wellness Arena-Greenville, SC
Nov 12    Liberty University Vines Center-Lynchburg, VA

Latest posts by Gus Samarco
(see all)