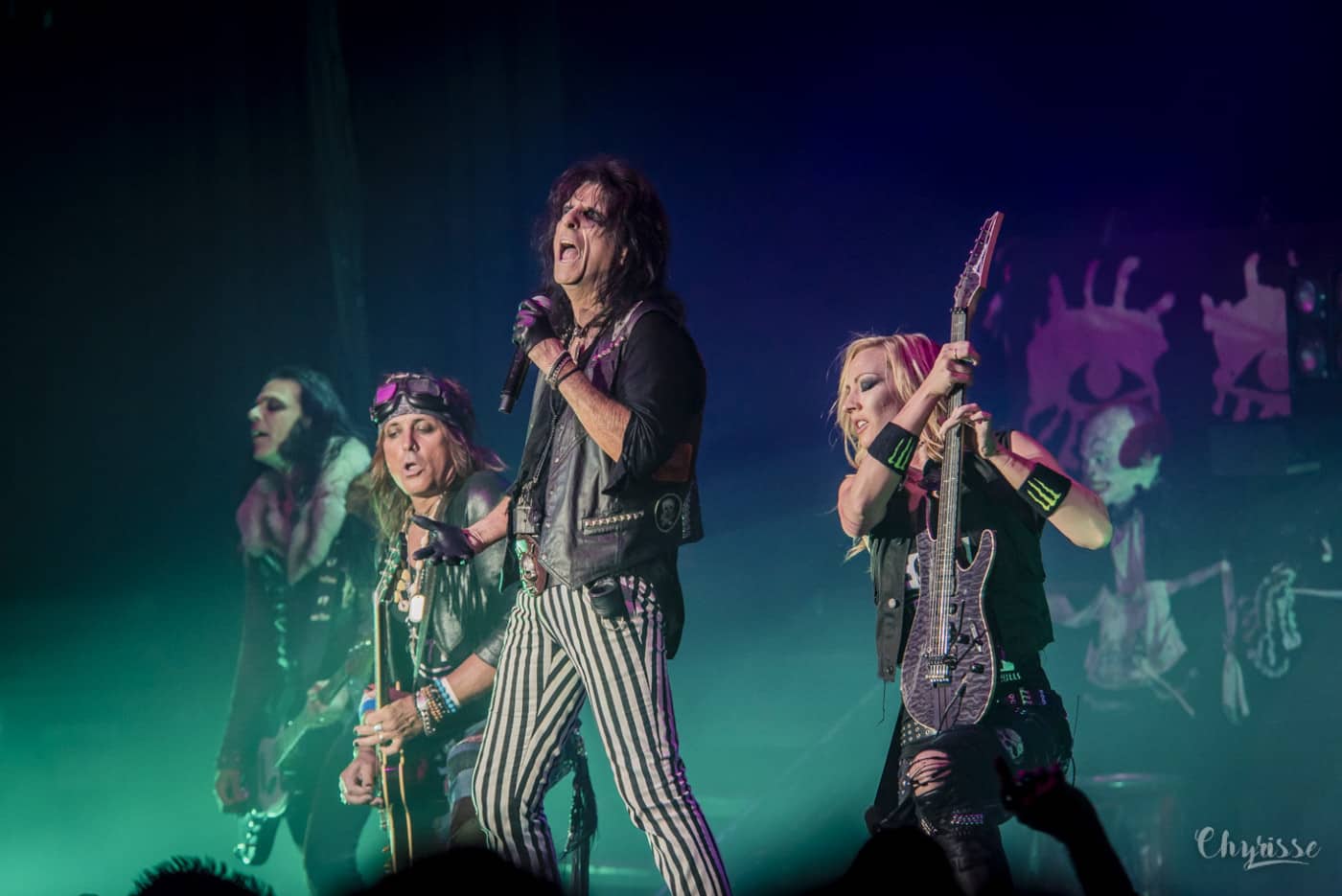 By Chyrisse Tabone, Rock At Night Tampa Correspondent
Venue: Ruth Eckerd Hall, Clearwater, Florida–August 13, 2016
Well, what can I say? Alice Cooper is a legend going at it just as strongly as the heyday of the 70s. The man is touring non-stop, is "running for President", tours with the Hollywood Vampires, and has a radio show Nights With Alice Cooper which can be heard on radio stations around the world. The man is a regular Everyready Bunny but with perhaps make-up and a snake.
The first time I heard of Alice Cooper was when I was a kid growing up in suburban Detroit. His "Schools Out" album had just come out and my parents bought it. The album cover actually folding to resemble a school desk with graffiti. I thought he was the coolest thing that every lived at the time—and the chanting of the lyrics of "Schools Out" became a regular anthem with the neighborhood kids. We would be riding on our bicycles with banana seats and sickle bars, chanting, "Schools out…for…the summer!" The whole theatrics plus the hard rock music really appealed to us.
Later when Billion Dollar Babies came out "Elected" and "Eighteen" became the new favorites—and so on and so on. The whole schtick with the guillotine, make-up, and blood appealed to our inner Halloween. It was like watching a rock 'n' roll Sir Graves Ghastly or The Ghoul (you have to be from Detroit-Metro or northern Ohio to understand this).
So now, for me, whenever I see Alice Cooper perform, it brings back that nice sense of childhood memories and nostalgia for me. The man is an icon.
What is funny is during this election year Alice is running as "A Troubled Man for Troubled Times".  He has also re-released a 2016 version of the song "Elected".
Tonight, Alice Cooper played at Ruth Eckerd Hall, Clearwater, to full-packed venue.  I noticed walking into the venue the patrons, who were mostly in their 40s and 50s, were dressed with black eye make-up, wearing top hats, and rock 'n' roll garb.  It appears age doesn't matter!
Near the stage only the curtain was revealed and a dark spooky Vincent Price intro began. Then, the curtain fell and various members of the band wearing steampunk goggles and costumes carried the curtain away. The stage was filled with smoke and then Alice Cooper emerged wearing a black cape wrapped tightly around him. He began singing "The Black Widow" and later dropped the cape to reveal a black and white striped suit and carrying a cane that he whipped high in to the air.  He growled and pranced on the stage as the beautiful blond guitarist Nita Strauss and Ryan Roxie played back-to-back.   The performance was very entertaining and theatrical with lots of props (baby doll heads, Halloween masks), colored lights, smoke–you name it.  The crowd was loving it as he started to sing "No More Mr. Nice Guy."
During the evening, Alice Cooper played lots of his greatest hits but also paid homage to those we lost in the last year like David Bowie and Lemmy. He even threw in a Jimi Hendrix tune for good measure.
I would say the crowd got exactly what they were looking for–and expected–from an Alice Cooper Concert.  It is always a Halloween party and a trip back to one's youth.
Chuck Garric (bass); Ryan Roxie (guitar); Nita Strauss (guitar); Tommy Henricksen (guitar); and Glen Sobel (drums)
SET LIST
Vincent Price intro
The Black Widow
No More Mr. Nice Guy
Under My Wheels
Public Animal #9
Billion Dollar Babies
Long Way to Go
Is It My Body
Woman of Mass Distraction
Guitar Solo
Poison
Halo of Flies
Feed My Frankenstein
Cold Ethyl
Only Women Bleed
Guilty
Ballad of Dwight Fry
Killer / I Love The Dead
Pinball Wizard (The Who cover)
Fire(Jimi Hendrix cover)
Suffragette City (David Bowie cover)
Ace of Spades (Motörhead cover)
I'm Eighteen
School's Out / Another Brick in the Wall Part 2
Encore:
Elected
Photo Gallery

Tour
08/13/16
Clearwater, FL, US
Ruth Eckerd Hall
08/14/16
Orlando, FL
Dr. Phillips Center for the Performing Arts
08/16/16
Tallahassee, FL
The Pavilion at The Centre of Tallahassee
08/17/16
New Orleans, LA
Saeger Theater
08/19/16
Oklahoma City, OK
The Criterion
08/20/16
Abilene, TX
Taylor County Coliseum
08/21/16
Austin, TX, US
ACL Live at The Moody Theater
08/23/16
Houston, TX
Revention Music Center
08/24/16
Grand Prairie, TX, USA
Verizon Theater
08/26/16
Tucson, AZ, USA
AVA Amphitheater
08/28/16
Las Vegas, NV
Hard Rock
09/22/16
Waukegan, IL
Genesee Theatre
09/23/16
SPEND THE NIGHT WITH ALICE COOPER
Akron, OH
Akron Civic Theater
09/24/16
Indiana, PA
Kovalchick Complex
09/26/16
Elmira, NY, US
First Arena
09/28/16
Albany, NY
Palace Theatre
09/29/16
Reading, PA
Reading Eagle Theatre
09/30/16
Lakewood, NJ, USA
First Energy Park
10/02/16
Windsor, ON, Canada
The Colosseum at Caesar's
10/04/16
Toledo, OH
Stranahan Theater
10/05/16
Indianapolis, IN
Murat Theatre
10/06/16
Milwaukee, WI
Milwaukee Theatre
10/08/16
Omaha, NE
Ralston Arena
10/09/16
Bemidji, MN, US
Sanford Center
10/11/16
Winnipeg, MB, canada
Burton Cummings Theatre
10/12/16
Regina, SK, Canada
Conexus Arts Centre
10/13/16
Lethbridge, AB, Canada
ENMAX Centre
10/15/16
Calgary, AB
Winsport Arena
10/16/16
Penticton, BC
South Okanagan Eventer Center
10/18/16
Victoria, BC, Canada
The Q Centre
10/19/16
Vancouver, BC, Canada
Queen Elizabeth Theatre
10/20/16
Tacoma, WA
Emerald Queen Casino
10/22/16
DAZE OF THE DEAD
Portland, OR
Keller Auditorium
10/25/16
Reno, NV
Grand Sierra Resort
10/26/16
San Francisco, CA
The Warfield Theatre
10/28/16
San Diego, CA
Harrah's Resort SoCal
10/29/16
Indio, CA
Fantasy Springs Casino
10/30/16
Los Angeles, CA
Pantages Theatre
The images may not be reproduced, copied, transmitted or manipulated without written permission to Rock At Night and the photographer. Use of any image is a violation of the United States and international Copyright laws.

Latest posts by Chyrisse Tabone, Ph.D.
(see all)