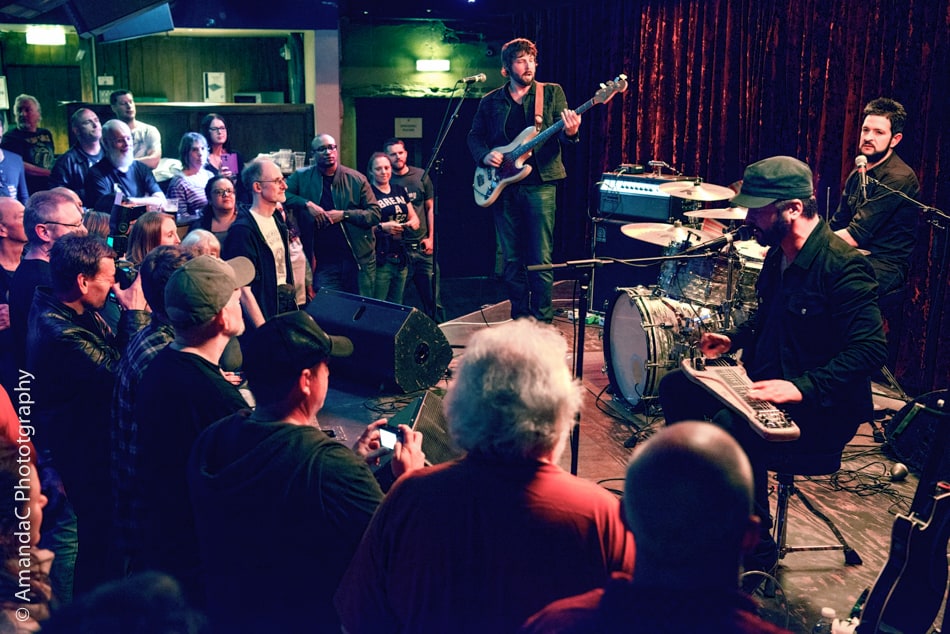 By Amanda Cunningham, Rock At Night London
Venue: Borderline-London-May 4, 2016
The Record Company, a unique three-piece blues-rock band from the States, played the Borderline on Wednesday, a popular intimate packed out venue in London. Not knowing much about this ballsy threesome, I went along to shoot the gig with no idea of what to expect, other than the fact they have been recently opening for the likes of, Buddy Guy, Blackberry Smoke and the recently departed B.B. King!
Chis Vos, the lead singer, Alex Stiff, bassist, and Marc Cazorla, drummer took to the stage. Chris announced his gratitude to 'London' and the crowd responded with a raise of cheers. I was still not sure what to expect, they appeared just as your normal regular guys! Chris took a seat, picked up his acoustic guitar–the lighting was non-existent, other than some tubing backlights–drew the audience in to listen, and began to heat up the crowd. He truly has an original sound– a bluesy but classic, raw rock sound–almost like dragging the blues to a new level, a traditional respectful level. Chris's swagger is somewhat incredible, inhaling the Delta Blues through his entire body and excelling with that classic rock vibe.
These lads can put it together! "Hard Day Coming Down" (from the album Give It Back To You, released in Feb 2016) was a simple number–an insanely coordinated performance, with Alex and Marc being super tight. Chris stomped the stage and thumped his foot to the feeling, sending the vibes out to the crowd. It was total raw down-home blues at its best!
It's plain to see the influences of this band are Muddy Waters, Jimmy Reed and even a hint of Royal Blood. The Record Company performed a rootsy-raw set, a sound that's clean and catchy. This band was awesome! Spend your hard earnt cash and payout to see this 'one off' band perform–you will not be disappointed, breath in some real music that actually hits your soul!
Members: Chris Vos: vocals, guitars, lap steel, pedal steel, harmonica Alex Stiff: bass, guitars, vocals Marc Cazorla: drums, piano, vocals; Genre: Rock, Blues; Home Town: Los Angeles, California
PHOTO GALLERY
VIDEOS
Borderline-London-May 4, 2016
The images may not be reproduced, copied, transmitted or manipulated without the written permission to Rock At Night and the photographer. Use of any image is a violation of the United States and international Copyright laws.
Latest posts by Amanda Cunningham
(see all)