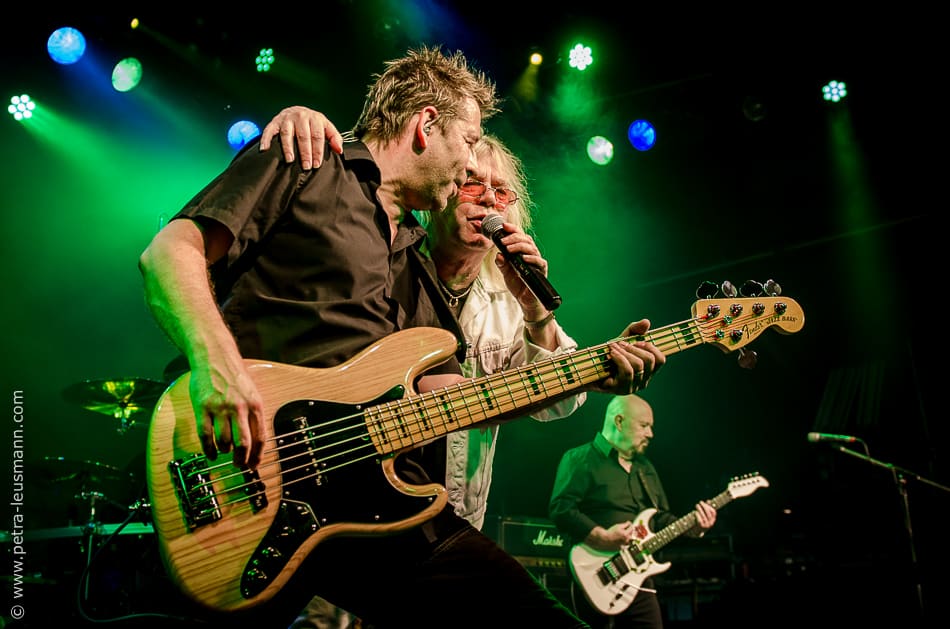 By Petra Leusmann, Rock At Night Germany Correspondent
Venue: Zeche in Bochum, Germany–Magnum and Reds' Cool–May 10, 2016
The 8th of May was quite a sunny and warm day in Germany. Thus,  it's not further surprising that the air was rather stuffy at the venue, which was already filled up with people around 20 minutes before the show started.
When opener Reds' Cool gets on with cracking "Dangerous One" , the musty air is a secondary matter.
At first I was irritated a little bit… Glenn Hughes at the guitar?
This required a second look, but actually no time remained, because taking pictures, listening, watching, foot tapping (inevitable with this contagious Rock'n'Roll energy) and asking myself 'What's that cool, scratchy voice the singer has? Where are they from and once again, why haven't I heard of them before?'
When looking at some of my photographer colleagues I reckoned they had similar thoughts.
OK, after another glance it was not Glenn Hughes, but that didn't diminish my enthusiasm. These guys were really good. As I already said, the voice of the singer (his name is Slava Spark by the way) pulled me instantly under his spell. Likewise the other guitarist Ilya Smirnov had taken me in immediately (well, to be honest I'm a huge guitar fan anyway).
So the three songs I was allowed to shoot in the photo pit was over much to fast….but I was allowed to stay close to the front row and enjoy Red's Cool.
Unfortunately they did not get the response they deserved and only half of the people were singing and clapping along—but at least they received big applause after every song.
Later after the show I got the opportunity to talk to three guys from the band and I learned they are from Russia and have played quite often in Europe together with bands like Whitesnake, U.F.O., ACCEPT, Kingdome Come, Black Star Riders, Gotthard and… tata… Glenn Hughes, Joe Lynn Turner, Doro, Royal Hunt, Kansas, Nazareth, Suzi Quatro, Black Trip, Marco Mendoza trio, W.A.S.P., T.N.T., 69 Eyes, Lordi, VAIN, Grave Digger, Lake of Tears, Gorky Park and now Magnum.
Soon we swapped Facebook and Twitter addresses and we promised each other to keep in touch. I'm was even encouraged to go over to St.Petersburg, Russia (beware Slava, Ilya and Dmitri, I might be crazy enough to do that ). But I know I hardly can wait to see them again on stage and right now I'm listening to their latest album Press Hard.
But now over to main act Magnum…
As you all might know Magnum is a band that has existed for more than 44 years and have built up a huge and true fan community over all those years. So there was no big wondering–everybody in the audience was middle-aged and very familiar with the band. In fact, the venue was nearly sold out.
As I already mentioned above, the air inside the venue was a bit stuffy and it was obvious that some people's deodorant had failed. That made waiting for the headliner to emerge on the stage between sets a bit tough. These are always the moments when I ask myself, 'What am I doing here?'
Finally quarter past 9 the headliner entered the stage. That is always the moment when you forget all about being uncomfortable. And of course, Magnum performed an impressive show. Since they were the headliner, there were plenty of big and full high lights and high constructions for drums and keyboards, which was bit of a pity as I could hardly see the musicians behind. You don't want to know about stage constructions but about the music? Let me go on….
Magnum opened the show with "Soldier of a Line" and the temperature in the venue rose again. The fans celebrated their heroes frenetically from the very first second. We in the audience were happy they played a few songs from their brand new album Sacred Blood, 'Divine Lies'. That's what I like on Magnum. They always do new stuff and are not something like a tribute band of themselves.
Singer Bob Cately acted fit and agile, guitarists Tony Clarkin seemed as cool as one could ever be and kept a straight face at least at the first songs. Bassist Al Barrow did a lot of moving, so there is also something to look at. I do prefer a lot of action on stage during concerts.
For me, it was much too crowed in front of the stage, so I tried to get in the back and enjoyed the show much more where I could breathe. Under such circumstances, the show was like being in a sauna–but that didn't do any harm to Magnum's joy of playing. I  stood back and admired the musicians on stage whom provided perfect music.
There is not so much to say about Magnum as there were no big surprises.  It was a very good and solid rock show–brilliant musicians who know what they are doing.
They left us with "Kingdom of Madness"–and a very happy audience.
Setlist Reds' Cool
Dangerous One
My Way
The Way I Am
Love and Pain
Hey You
Bite
Love Behind
Strangers Eyes
Bad Story
Feel You
Setlist Magnum
Intro (Unknown)
Soldier of the Line
On a Storyteller's Night
Sacred Blood "Divine" Lies
Freedom Day
Dance of the Black Tattoo
Crazy Old Mothers
Blood Red Laughter
Your Dreams Won't Die
How Far Jerusalem
Unwritten Sacrifice
Twelve Men Wise and Just
Les Morts Dansant
All England's Eyes
Princess in Rags (The Cult)
Vigilante
Encore:
The Spirit
Kingdom of Madness
PHOTO GALLERY
Magnum
Reds' Cool
VIDEOS
Magnum-Live at Bochum Zeche
Classic-1992-"Sacred Hour"

Red's Cool
http://www.redscool.nethttps://youtu.be/I5EBOyQxcOAhttps://youtu.be/KVliRWBBS_4https://youtu.be/ITbQ2l7M85Y
The images may not be reproduced, copied, transmitted or manipulated without the written permission to Rock At Night and the photographer. Use of any image is a violation of the United States and International Copyright laws.

Latest posts by Petra Leusmann
(see all)