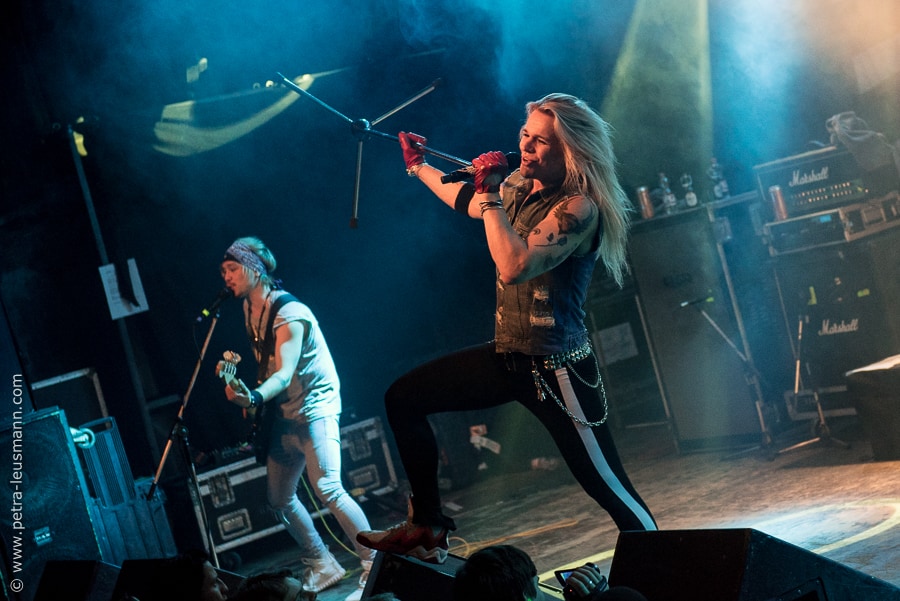 By Petra Leusmann, Rock At Night Germany Correspondent
Venue: Zeche-Bochum, Germany–Reckless Love with support by Santa Cruz–March 29, 2016
If I had to describe Finnish glam rockers Reckless Love with only one word, it would be "hot".
But let's start from the beginning.
Unfortunately, it was not very crowded when the support act Santa Cruz entered the stage. They are also from Finland and rocked out with a mixture of glam-sleaze-rock with a party atmosphere. Their happy mood and catchy tunes were extremely contagious and soon the crowd was dancing and singing along. In the end, they were more than a perfect warm-upper because the audience was brought to a boil by the time Reckless Love entered the stage with the Thin Lizzy classic "Boys are Back in Town".
I have to admit. I hadn't seen them live before and so I thought as soon as singer Oilli Herman came on stage, everything would explode. But he started with quite restrained moves, nonetheless, with a very powerful voice.  In the beginning I had a bit of a problem bringing these two obviously different points to a common denominator and thought, "Something is not right here."
After the first song "Animal Attraction" Olli said he was suffering from a very bad case of flu. That explained it all. Herman posted later on Twitter and Instragram:
(…)  last night was one of the most difficult for me ever in my career. I've tried fighting an aggressive flu for the past week.  The virus has already infected nearly everyone in the bus and during the last couple of days it has got the better of me… my whole body is aching.  The fever, the sore throat, broken voice….I'd rather break my leg on tour than take this (…)
But with taking his sunglasses off for the second song "So Happy I Could Die" it was also as if he was wiping off the illness and transforming into a "party atmosphere".
Also, guitarist Pepe Reckless and bassist Jalle Verne distinguished by totally entertaining the crowd. Both interacted with the fans and it was pure fun to watch and listen.  What a shame the drummer Hessu Maxx was most of the time hidden in between smoke and low lighting.  I think drummers deserve much more attention–especially since it was his birthday!  More of that a bit later…just wait and see or rather read…
As I am a female, I reckon most girls and ladies will agree with me that singer Olli is a treat for one's eyes.  But it was totally unfair and not right if he was just reduced to his looks. When hearing him sing, you would never know he had a cold. H has an awesome powerful voice plus a wide range of tone colour which really was a pleasant surprise.  He hit the high notes on point–and there was never one insecure note from him.
It is unbelievable that he sings like that when he is ill–I wondered how he would sound when he is fit and healthy.  I need to find out and can't wait to see Reckless Love again, which will be later this year as they promised to return.
Unfortunately the time flew by and much too soon–we came to the end of the show.  But of course, we would not let them go without an encore.  When back on stage the band and audience serenaded the to drummer Hassu "Happy Birthday" in both English and German.
When the band waves their final farewell, the audience did not want to let them go.  Reckless Love had to come on for another encore and by then, poor Olli was anguished by the flu.  He thanked the support of the fans and the guys from Santa Cruz.
So, the party had a great ending and everyone was feeling quite pleased.
Members: Olli Herman//Vocals Pepe//Guitar Jalle Verne//Bass Hessu Maxx//Drums; Genre: Merry Metal
SETLIST
The Boy Are Back In Town (Thin Lizzy-Intro)
Animal Attraction
So Happy I Could Die
Monster
Beautiful Bomb
Badass
Edge of Our Dreams
Scandinavian Girls
Born to Break Your Heart
Rock It
On the Radio
Night on Fire
Encore:
We Are the Weekend
Hot
Second Encore:
Back to Paradise
Photo Gallery
VIDEOS
"Zeche Bochum, Germany" – March 2016
"Monster"
Santa Cruz -"Let Them Burn"
The images may not be reproduced, copied, transmitted or manipulated without the written permission to Rock At Night and the photographer. Use of any image is a violation of the United States and International Copyright laws.

Latest posts by Petra Leusmann
(see all)