By Vicki DiAddezio, Rock At Night Orlando Correspondent
Venue: Dr. Phillips Center for the Performing Arts-Orlando–March 8, 2016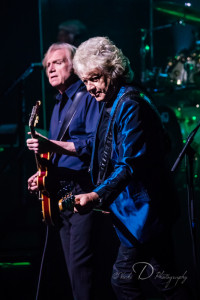 It may have been an ordinary weeknight in downtown Orlando, but for the crowd inside the Dr. Phillips Center for the Performing Arts, fans of The Moody Blues were led on a musical journey down memory lane as they sang along and danced in their seats. The Moody Blues, who have recently embarked on their Fly Me High tour, thrilled and entranced the audience for about 90 minutes with a mix of songs from their extensive catalogue.
The show started around 8:00pm as the band kicked off the night with their 1981 hit "Gemini Dream", which concluded to thundering applause and a standing ovation from some of the audience. Each song they performed was followed up by an enthusiastic response and a standing ovation that grew larger and longer as the night went on. After belting out the 1971 classic, "The Story in Your Eyes", the band left the stage for a 20 minute intermission.
During the second half of the show, the excitement electrified the theater as The Moody Blues performed hits such as "Wildest Dreams", Tuesday  Afternoon", and "I'm Just A Singer (In A Rock and Roll Band)". Directly following "Tuesday Afternoon",  Graeme Edge came out from behind his drum kit to chat with the audience. He invoked laughter from the crowd as he chatted about the band's journey throughout the years and life events that occurred throughout different ages, such as how at "Twenty-one you start drinking… at 25 you can insure your own car…  and then there is a long gap". He then proceeded by saying that "suddenly you're 50 and you get letters from AARP". He mentioned his recent birthday and how at 75 he has "lived through the 60's twice". He said "the first time through, my hair was brown, my teeth were white and this meant peace (he held up his fingers to make a 'V').  The second time through my hair was white, my teeth were brown, and this meant Viagra (again holding up his fingers to form a 'V')". If you think about it, it's still sex, drugs, and rock and roll." The music started and Edge started singing "Higher and Higher" while he played the tambourine and danced around the stage with the energy and zest of someone much younger.
After a few more songs, Edge stepped out from behind the drums again and the stage went silent. Standing in the spotlight he began… "Breathe deep the gathering gloom, Watch lights fade from every room…" He continued on to recite the lyrics to "Late Lament" with as much passion and intensity as there was on the album. As soon as he spoke the last line, the music began and it was finally time for the song I had been waiting for all evening. I grew up listening to The Moody Blues, and "Nights in White Satin" is one of my all-time favorite songs. I have to say that hearing Justin Hayward sing that song live was a  rare and long anticipated treat for me. It was a magical moment as I stood there contemplating why I had waited so long to get to a show for this experience. When the song ended, the audience jumped to their feet with roaring applause and praised the band with a 2 minute standing ovation (yes, I actually timed it).
Before beginning the last song for the set, John Lodge addressed the fans and thanked them for sticking with them all these years on their musical journey. He complimented the beautiful venue and voiced how thankful they were that everyone came out to the show that night. He then expressed a message from the entire band saying, "we wish you all a wonderful life and until we see you all again, take care and keep smiling". The band then broke into the song "Question" as the crowd remained on their feet while dancing and singing along. At the song's completion, the band left the stage only to return in just a few minutes to end the night with a performance of their song "Ride My See Saw" for their encore.
For more than 50 years, original band member Graeme Edge, along with Justin Hayward and John Lodge, have distinguished themselves as a substantial part of rock-n-roll history. They have successfully produced songs that "bridge the gap between rock, classical and pop genres" and have proven over and over that they deserve much more credit than they have been given. The band has been well maintained over the years and they sounded just as good on Tuesday night as any of their fans would hope. If you have never seen them live, I highly recommend that you find a tour date near you and head out to the show.
To round out the band's sound, The Moody Blues were accompanied by Norda Mullen on guitar, percussion, background vocals, and the many amazing flute arrangements in their songs; Julie Ragins on keyboards, percussion, guitar, saxophone, and background vocals; Alan Hewitt on keyboards and background vocals; and an amazing second drummer Billy Ashbaugh.
Setlist
Gemini Dream
The Voice
Steppin'  In A Slide Zone
You and Me
Gypsy
Nervous
Say It With Love
Peak Hour
I Know Your Out There Somewhere
The Story In Your Eyes
Intermission
Your Wildest Dreams
Isn't Life Strange
Tuesday Afternoon
Higher and Higher
Fly Me High
I'm Just A Singer (In A Rock and Roll Band)
Late Lament
Nights In White Satin
Question
Encore
Ride My See-Saw
PHOTO GALLERY
VIDEOS
Moody Blues  in Orlando
Classic Moody Blues!
You can keep up with the latest on The Moody Blues on their website and social media pages.
Website
www.moodybluestoday.com
Facebook
www.facebook.com/MoodyBlues
Twitter
@MoodyBluesToday
The images may not be reproduced, copied, transmitted or manipulated without the written permission to Rock At Night and the photographer. Use of any image is a violation of the United States and International Copyright laws.
Latest posts by Vicki DiAddezio
(see all)