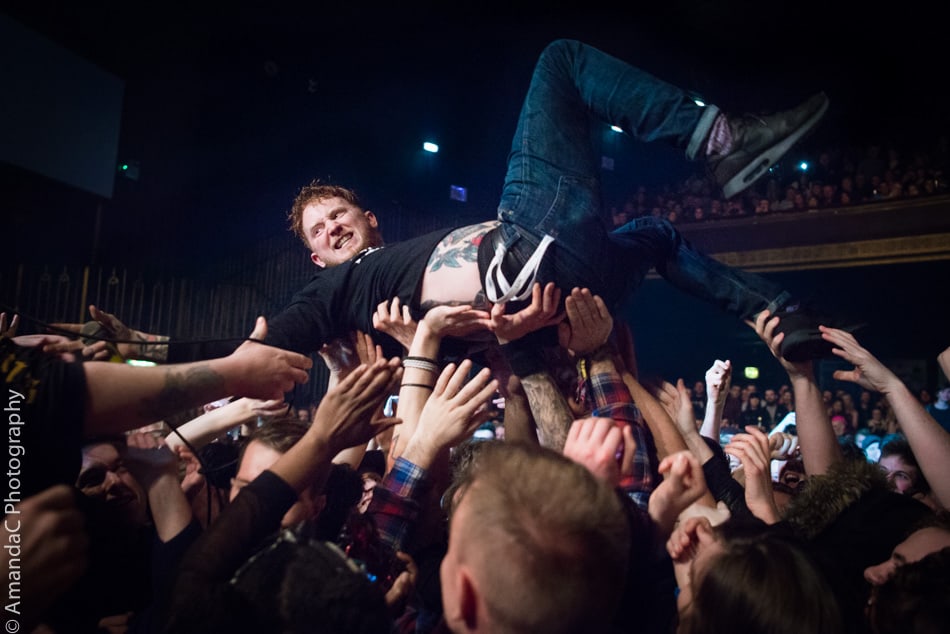 By Amanda Cunningham, Rock At Night London Correspondent
Venue: O2 forum Kentish Town, London- 19th Feb 2016
Biters, hailing from Atlanta, Georgia, kicked off the start of the rock party! Engaging with the audience with a pint in hand, the band embraced poll position, nicely warming up for what was due next.
ROAM, the rockers from Eastbourne, UK then hit the stage.  Alex Adams, (lead vocals) had an chilled out presence–shorts, trainers, and a good-boy haircut, don't be fooled, when he goes, he flies! The lad has a way of surprising the instincts. I really enjoyed this band with its high energy and big impact!
Next up was Frank Carter and the Rattlesnakes. Frank is the adorable lad you would take home for tea with granny! He knows no barriers in social etiquette, a mesmerising loose cannon, perfect to boil up the audience! His clearly petrifying stage attitude, of 'piss me off and I'll smash your face in', gets a round of applause, simply because it's Frank and he's equipped with a shed load of rattlesnakes. He's an entertainer, a bloody good one–I found this set incredible to shoot, albeit the beer flinging, crowd surfers and tense bouncers in the mix. It left me wanting more.  I even learnt how to speak 'Frank'. A must see and a total must for all photographers!
Next was the headliners, Sum 41 – the pop-punks from Ontario, Canada, formed in 1996. Lead vocalist Deryck Whibley appeared on stage in almost a ghost-like appearance, for let's not forget, the dude has nearly died several times! Hard times hit the frontman over recent years, but this sell out venue–all 2,300–waiting to see what he could deliver, back from the brink! As soon as the vocals were launched, he was back in the room! The nostalgia of the noughties was backing up the atmosphere– from shouty Frank to a captive Deryck–warming up at break neck speed he managed to belt out the pop-punk anthems for an impressive long set. Given this band's three-year absence, there was an amazing sense of welcome within the room. Great to finally catch them live, and whilst I could!
PHOTO GALLERY
VIDEOS
O2-Forum-Kentish Town
Biters – 1975
Frank Carter & the Rattlesnakes – Devil Inside Me
WEBSITE-Frank Carter and the Rattlesnakes
The images may not be reproduced, copied, transmitted or manipulated without the written permission to Rock At Night and the photographer. Use of any image is a violation of the United States and International Copyright laws.
Latest posts by Amanda Cunningham
(see all)