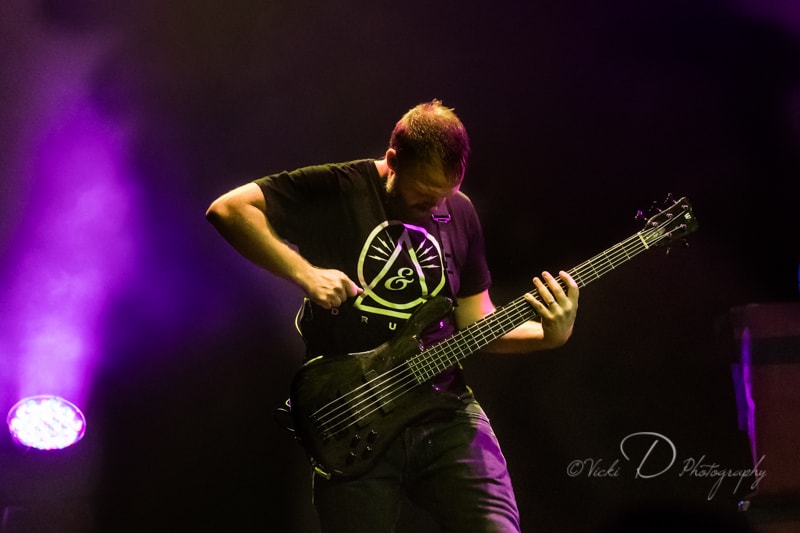 By Vicki DiAddezio, Orlando Correspondent
Venue: House of Blues, Orlando-October 29, 2015

The band Trapt has been rockin' for their fans for more than a decade. Since the debut of their double-platinum, self-titled album in 2002, they have become best known for their chart topping single "Headstrong". "Headstrong" claimed the #1 spot on both the Billboard Mainstream Rock chart and the Billboard Modern Rock chart. The popularity of the song earned it the #1 alternative song and the #8 rock song of the decade of the 2000s by  Billboard.
Over the years Trapt has released six studio albums, and this fall they are set to drop their latest effort titled DNA. The album has been an independent undertaking by the band, with the assistance of an Indiegogo campaign, in which they raised over $50,000 to complete the project. The idea was to allow the fans to be more intimately involved with the making of the album with a more personal involvement in regards to the production and promotion, as well as offering incentives for donations. Remaining independent from a record label affords Trapt the freedom and the ability to proceed in their career with their own set of rules.
Trapt is currently out on the road for their Life In Your Own Hands Tour with supporting acts Adakain & First Decree. Last week they rocked the stage at House of Blues in Orlando. Throughout the night lead singer Chris Taylor took the time to talk to the crowd to express the band's appreciation for their fans, to explain some of their songs, and to encourage the crowd to live life the way they want to. He pointed out that it is best to make choices based on what you want and what makes you happy, and not worry so much about what other people think or approve of; just enjoy life on your terms… words that are perfectly consistent with the band's decision to forgo a label and also with the name of the tour.
Trapt has several more dates set between now and December 19. Be sure to check for a show near you and remember to keep an eye out for their new album DNA to drop later this year. Their new single, "Passenger", is available for download now for only 69 cents.
Band members:
Chris Taylor Brown – Vocals/Rhythm Guitar
Peter "Pete" Charell – Bass
Dylan Thomas Howard – Drums
Ty Fury – Lead Guitar
Setlist:
Human
Who's Going Home With You Tonight
Passenger
Bring It
Contagious
Love Hate Relationship
Black Rose
Waiting
Echo
Headstrong
Stand Up
Sound Off
Encore:
Still Frame
PHOTO GALLERY
Trapt
Trapt – "Passenger"
Website     http://www.trapt.com/
Facebook  https://www.facebook.com/trapt/
Twitter      https://twitter.com/traptofficial
YouTube   https://www.youtube.com/user/officialtrapt
The images may not be reproduced, copied, transmitted or manipulated without the written permission to Rock At Night and the photographer. Use of any image is a violation of the United States and International Copyright laws.
Latest posts by Vicki DiAddezio
(see all)