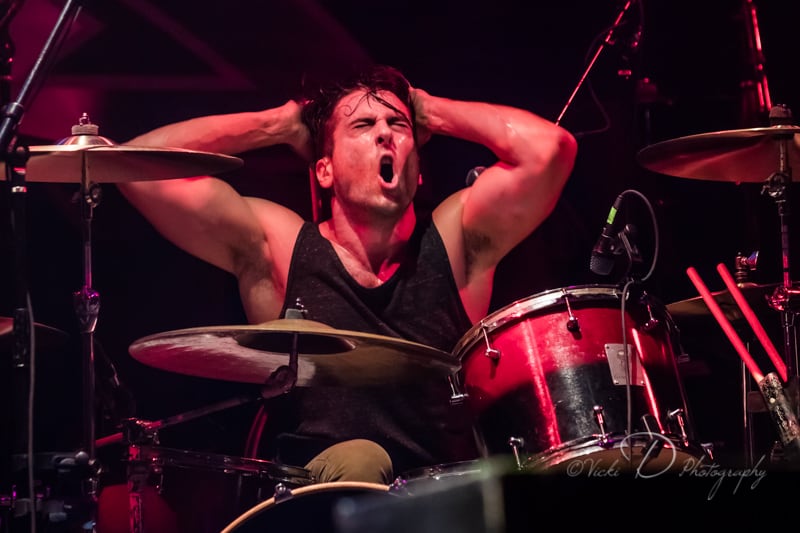 By Vicki DiAddezio, Orlando Correspondent
Adakain is an energetic hard rock band from Dallas, Texas. Having originally formed in 2006, the band has undergone a few line up changes over the last few years to solidify the current line up. Led by front man Ryan Ray, the band is determined, intense, focused, and positive. They genuinely love what they do and truly appreciate their fans. According to the band, they have a philosophy that states, "Our band goal is to play Heavy music that is unconventional yet recognizable, that gives a message of fun, individuality, and encourages people to do what they love in a positive environment. We want to inspire people to be better to one another, and to themselves, and to remember that we are all one and the same, and should treat each other with dignity and respect". Their music is hard-hitting, fun, thought-provoking, and it provides a little bit of something for everyone who loves rock music.
Adakain is currently out on tour with Trapt and First Decree. I had the pleasure of sitting down with Ryan Ray (lead singer/guitar) and Corey Goodwin (guitar) before their show at the House of Blues in Orlando. Despite the fact that the band had a few unexpected issues to address throughout the day, causing the interview to begin almost 40 minutes late, they maintained their positive outlook and came across as pure and genuine.
---
Rock At Night: Adakain originally formed in 2006 and there have been a few line-up changes which have resulted in the four of you coming together. You've all played with different bands or line ups previously. How is being a part of Adakain different than the other bands you've played in? What makes this line up work…what makes Adakain work?
Ryan: The difference between other bands that I've been in and Adakain is that we're not little kids any more. We don't have a warped view of what it's going to take to get where we need to be. We understand that this is work. It's our passion so, you know what they say is do what you love and you won't work a day in your life. We've all heard that before and it's true. It's very organized, it's very professional. It's not a bunch of guys just doing what ever they want. We have our chain of command. Everyone gets assigned tasks and they complete them. It just works because we all want it. Everybody knows their roll and no one is trying to be the leader. We all have our spot and everyone's opinion is taken into consideration, and if their idea is better than the next then it will get used. It works very well….that's the difference. Plus the music, you know, we all work together instead of joining a band and playing somebody else's music.
Corey: We've known each other for a very long time at this point so that helps us gel together as musicians and friends. It makes playing with each other a whole lot easier. We kind of know what to expect from each other.
Rock At Night: Have you always wanted to be musicians or did you originally have different plans for the path your life would follow?
Corey: I wanted to be in the NBA. I wanted to be a basketball star as a kid and once I realized I wasn't growing any taller I should pick up a guitar, which is what I did, and it's led me here.
Ryan: My story is a little different. My dad is a guitar teacher, so I've been playing the guitar since I was six and I've always known…always known what I wanted to be. So, I've never really had that connection with people that say 'I don't really know what I want to do with my life' or whatever because it's never really been that way for me. He started me at six and I was practicing two hours a day before I could go outside and play with my friends. I was in jazz band and classical ensemble. When I was nine, I was playing with a college jazz band in Dallas. I was in the newspaper and all that stuff. My whole life has been music.
Rock At Night: Who was your biggest inspiration in your decision to become a musician?
Ryan: Mine was my dad and then also the bands I was getting into. The bands that made me focus towards being in a rock band would be Jimmi Hendrix and that kind of early stuff but Metallica was the band that I heard that made me say 'okay, I want to do this kind of music and do that for a living'. There are a ton of others, but Metallica and Pantera were the real ones that changed my direction.
Corey: It's my dad. My dad was a singer. You know, he was the 80's rock guy.
Ryan: Great singer!
Corey: He raised me right. He was a singer. I obviously took a liking to the guitar and I just stuck with that. He led me through it, all the way to his last day. He was like, "do what you love, follow your dream!" I always remember those words.
Rock At Night: Never Coming Home is your first national album release. It's available for pre-order now and it drops on November 6. Tell me a little about the creative process, the vision you had for the album, and how it all came together.
Ryan: Well, me and Cory wrote a shit ton of guitar riffs and took them out to LA. We worked with Sahaj Ticotin who was the singer from the band Ra. He's a great producer, songwriter, and engineer. We wrote the record with him. We wrote it in the studio. We had some ideas going into it and I had some ideas of some stuff I wanted to talk about. It didn't take that long; it took three and a half weeks from start to finish. Obviously we had ideas before that. I just had some ideas about what I wanted to talk about. I didn't want to do a bunch of girl songs or getting messed-up songs and all that stuff. Most of the time what I think about is just making sure I'm being positive and spreading that message to people. If I'm being positive and spreading that to people, and being real with people, especially being real with fans, they pick up on that and appreciate that more than some contrived message that a lot of rock bands give out now. That's not what we're about.
Rock At Night: How would you sum up the album to describe it to someone that is new to the music of Adakain? What can they expect from the album?
Ryan: It's obviously going to be heavy and in your face, but there's also going to be times when you're going to be able to think about what's being said. You can understand the lyrics and what's being said so that helps too. It's going to have something for everybody as far as the rock gamut goes.
Rock At Night: What inspired you to choose Never Coming Home as the title track?
Ryan: It's pretty simple really because it would obviously be about us never coming home from touring because that's what we need to be doing, being out here and meeting and gaining fans. In rock and hard rock you kind have to go out there and do it one by one, which is fine. We're fine with it. Also, it could be about a father figure never coming home, a mother never coming home, or a soldier never coming home from battle. It can have multiple meanings…you know, that type of thing.
Rock At Night: You've toured with some great bands so far like Crossfade, Pop Evil, Korn, Slayer, Taproot, and now you are out with Trapt and First Decree to name a few. What's it like being out on the road? Many people have the perception that it's wild and crazy. What's it really like?
Ryan: It can be wild and crazy if that's what you're doing, like partying and all that stuff. We're not into drinking and drugs like we were when we were younger. We're just not. For instance, the reason this interview started late is because our battery in our van was drained by a mistake (with a big smile, Ryan looked at Cory and said, "see that's how you don't throw anybody under a bus during an interview"). I had to take the battery out of the van and have someone take us… thankfully the House of Blues in Orlando had an intern here that was willing to take us Auto Zone to charge the battery and come back. During all that time I was rescheduling interviews and calling the bank to find out why our band business card is on hold. The bank is seeing all these different charges for different states. While dealing with that and some other stuff, we're coming back, putting the battery back in, changing, getting up here for the interview… that's the kind of crazy stuff we deal with. The rest of it's what we're here for.
We love playing the shows. You're always going to have equipment stuff happen. You know, the monster in the machine as they call it. You can plan as much as possible but you can't plan for everything. Those types of things happen. We get along with everybody because we're not out here trying to swing our dicks around like we're something we're not. I'm happy for everyone's success. I'm happy if another band achieves some success. I know that there's an inherent competition-like thing and it doesn't need to be that way. I know there are a lot of bands out there and there's only room enough for so many, but if you just keep working hard for what you want and are genuinely happy when other people achieve success then good things are gonna come your way. It's the same way with life as it is with this. That's what I believe and follow and it's worked out for us just fine.
Corey: Yeah, we don't really follow the party atmosphere anymore these days. It's legitimately about the music and building Adakain. We want this to flourish and make the band well-known. So partying isn't going to help that.
Ryan: We obviously want our band to grow and we want to have a positive message be heard. You can't do it for selfish reasons. I think it would be irresponsible to have any type of platform like this and not have it further humanity. I know that sounds cheesy but it's really not, because we're all one thing.
Rock At Night: What do you do when you're not out on the road touring?
Ryan: Play music. I play gigs, cover gigs and that type of thing. I build stuff.
Rock At Night: What do you build?
Ryan: Everything… whatever you want.
Corey: I'm a gym goer. That keeps me level headed. When I'm home I have my day job and I'll hit the gym.
Ryan: All of us stay in pretty good shape. It helps us.
Corey: It helps with the tour life because it's hard on your body.
Rock At Night: This tour runs through mid-December. What's next for Adakain after that?
Ryan: We have a show at home with Drowning Pool at Trees in Dallas for Toys For Tots, which is of course a benefit show. After that, we'll be touring most of next year supporting the album.
It was such a pleasure chatting with Ryan Ray and Corey Goodwin. I, for one, cannot wait for the album to come out, and to see what the future holds for this band.
Band members: Ryan Ray – Lead Vocals & Guitar, Corey Goodwin – Guitar, Ryan Carroll – Drums, Anthony Morel – Bass
PHOTO GALLERY
Adakain "Hey Girl"
https://www.youtube.com/watch?v=15dbXEWomLI
Adakain -"We Crawl"
Check out their tour schedule to find a date near you and make sure to head over to iTunes to pre-order your copy of Never Coming Home.
https://itunes.apple.com/us/album/never-coming-home/id1043261984
You can find out more about Adakain on their website and social media pages.
Website    http://www.adakain.com/
Facebook  https://www.facebook.com/adakain
Twitter       https://twitter.com/Adakain
Instagram  https://instagram.com/adakain/
YouTube   https://www.youtube.com/user/adakainofficial
The images may not be reproduced, copied, transmitted or manipulated without the written permission to Rock At Night and the photographer. Use of any image is a violation of the United States and International Copyright laws.
Latest posts by Vicki DiAddezio
(see all)